As much as I love the beautiful island of Kauai, it certainly has more than a few places that cater to tourists. After a month on the island, I was craving to go behind the curtain and explore the true local culture.
And by local culture, what I really mean is the local food.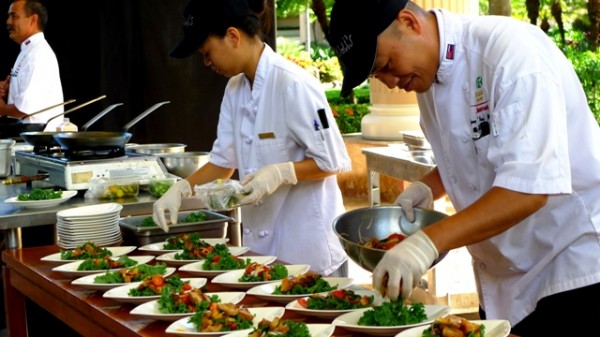 I started browsing online to get a better understanding for the local food scene on Kauai and came across the website, Tasting Kauai, which is a site dedicated to bringing awareness to the sustainable foodie scene on the island.
Score!
Wanting to learn more, I emailed the owners of Tasting Kauai, Marta and Dan, to introduce myself.   They quickly responded and invited me and Tony, along with Josh and Caroline of Traveling9to5, to join them on their upcoming "Farm to Fork Culinary Tour" of the island.
Once a month, Marta and Dan (who is also a professional photographer on the island) take locals and tourists alike around the island for a food tour of the best local spots on the island.
Pumped for the 6-hour gluttonous food journey ahead of us, Tony, Josh, Caroline, and I piled into our car and made our way down to the East side of the island to join in on the fun.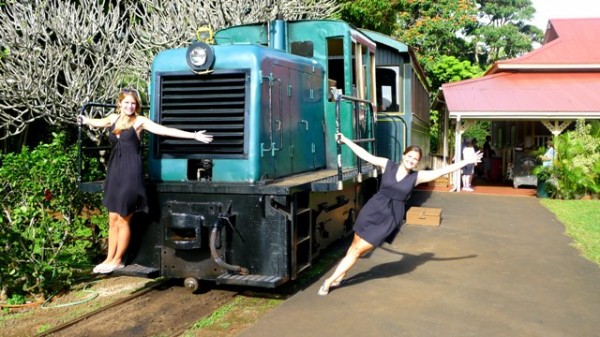 Along with roughly 20 other guests, Marta and Dan first took us to the Kilohana Plantation to tour the property and learn about the local produce grown on the island.  It was a beautiful sunny day and we had a marvelous time walking through the fields lush with sugarcane, apple bananas, rambutans, and pineapple.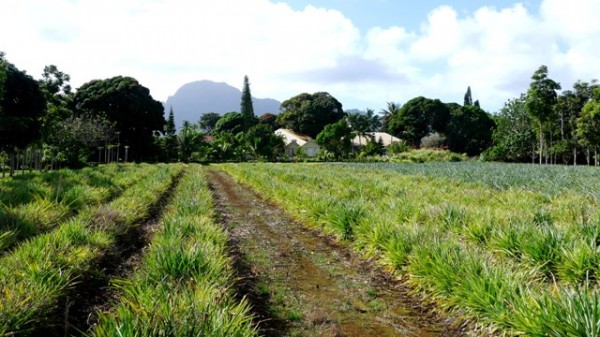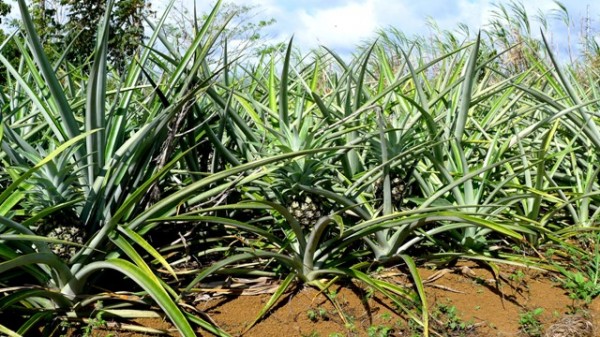 While we were soaking up the sun, we also soaked up some serious fruit knowledge.  Here are some little nuggets of information I learned that day:
Apple bananas are the world's largest herb
Pineapples take 2 years to grow
3 feet of sugarcane makes just 1 tsp of sugar!
Who woulda thunk it?!
During our tour of the plantation, we also got to sample Mercot Honey Tangerines right off of the tree and got to indulge on a phenomenal fruit salad of all the fruits grown fresh on the plantation… It was a great appetizer to get our pallets ready for the upcoming 4-course lunch at the Marriott.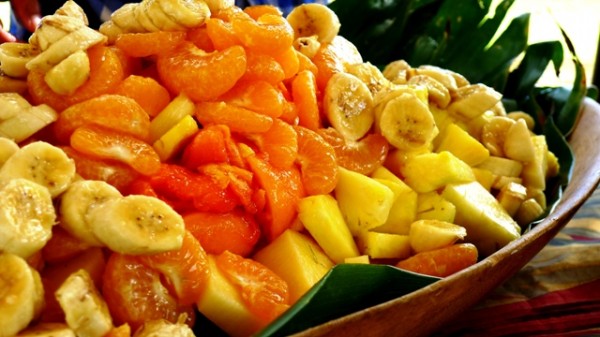 Our next stop was the beautiful Kauai Marriott Resort in Lihue, where we got to participate in an outdoor cooking demonstration with Executive Chef, Guy Higa.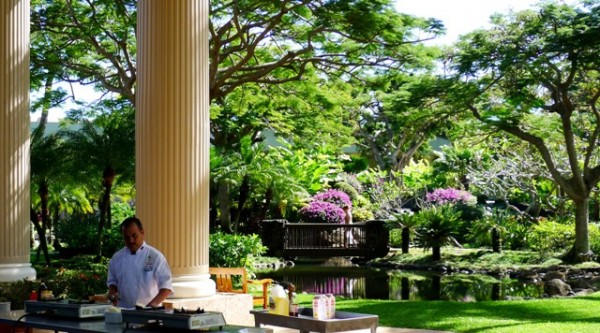 Guy has worked at the resort for 18 years and prides himself on providing the most locally sourced food as possible in his restaurants.
Aside from whipping up delicious food for thousands of guests each year, his second passion is caring for his quarter-acre home garden.  He grows all his own herbs and various fruits and vegetables (all pesticide and fertilizer free!) that he in turn puts into his food at the Marriott.  The four of us luckily got the privilege to tour his garden and got a first look into his impressive hobby.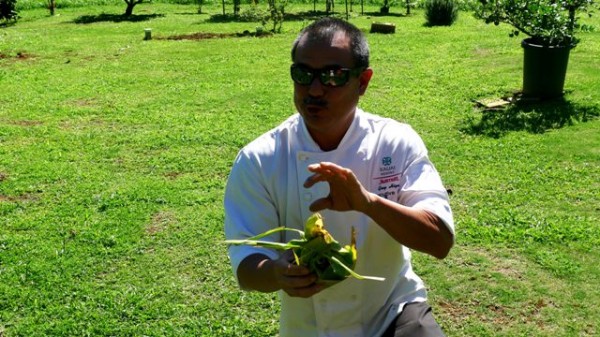 During the cooking demonstration at the Marriott, we watched Guy cook us:
Twice Fried Kaneshiro Farms Crispy Pork Belly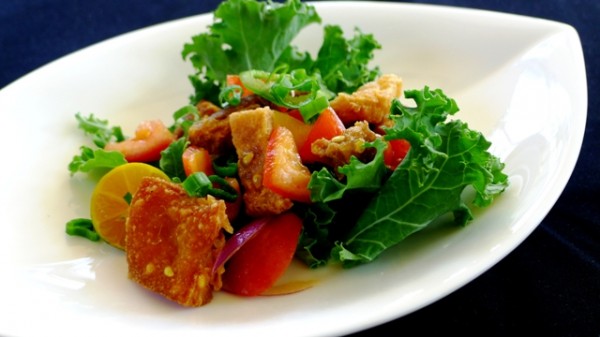 Garden Salad and Lilikoi Vinaigrette (made with Hawaii chili pepper, Thai fish sauce, black pepper and citrus vinaigrette)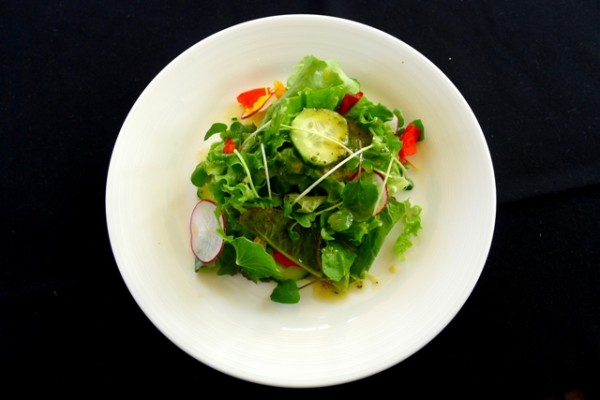 Kauai Shrimp, Wailua Herb Butter and Fresh Homemade Herb Pasta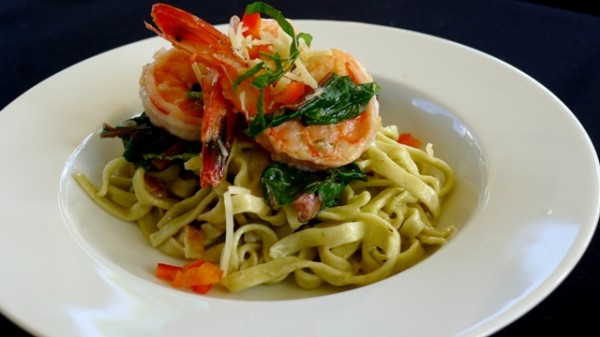 Kauai Coffee Espresso Cheesecake with Poha Berry Sauce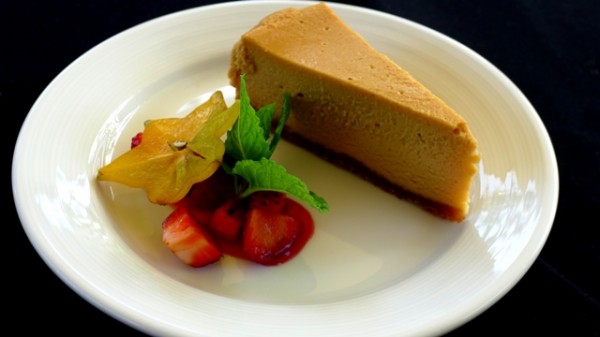 Everything was remarkably tasty, but I personally loved Guy's homemade pasta.  It was loaded with subtle herbs and was so simple… yet absolutely flawless!  I also was completely blown away by the Espresso Cheesecake.  I am not a cheesecake fan, but this cake was light in texture and heavy on the espresso flavor.
Being a coffee fanatic, I worshiped this cake.
After feasting at the Marriott, we worked off a very little bit of our food and walked over to the famous Feral Pig across the street.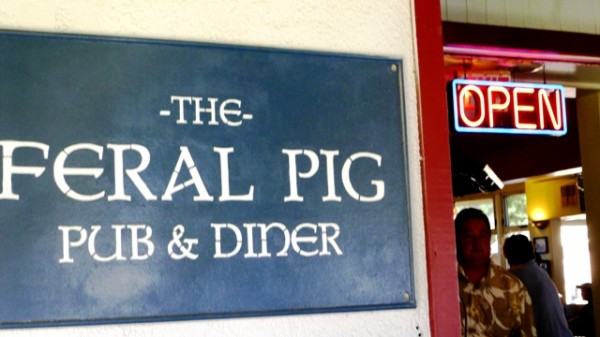 The Feral Pig has become an icon on the island and serves up one foodgasmic burger…. The Feral Burger (an off-the-menu item).  It is a ½ beef, ½ pork patty served with pork belly bacon (whaaaaat?!), caramelized onion, cheddar cheese, and a taro bun.
Holy heck.
There will be an article on our relationship with this burger to come… but before I go down a meat rabbit hole, I will refocus back to the food tour!
Burger talk aside, the Feral Pig serves up excellent cocktails.  But before we could sample some bevies, we were given a presentation from the PR Director of Koloa Rum Company on Kauai (opened in 2009).
During this presentation, we got to learn all about the different rums that Koloa is famous for (and has won awards for around the U.S.) and got to learn how to make our own sour recipe using the company's rum.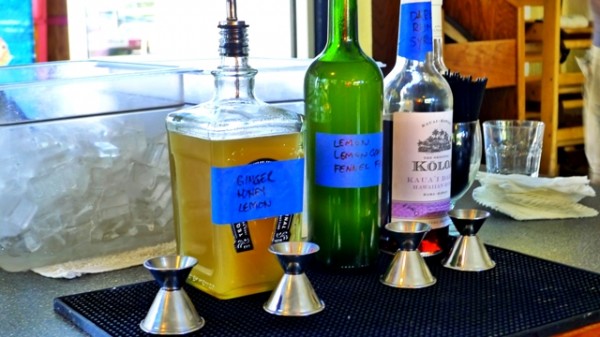 The outcome: a deliciously refreshing "Starter drink."
After getting an initial buzz from my sour, the owner of The Feral Pig, Dave (whom is not just an entrepreneur but a fabulous bartender/mixologist), made us customized drinks to our particular tastes and likes. As we lined up at the bar, he asked each of us which spirits we liked, what our favorite drink was, and what flavors we loved the most.
From this, he would in turn make us our very own cocktail.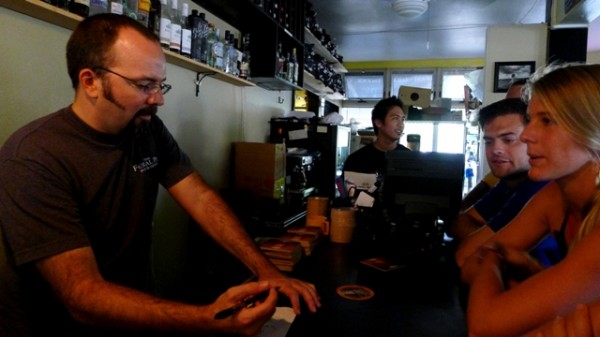 I had a refreshing drink made of grapefruit and tequila (a girley drink with class!) while Tony sipped on the "Toronto": Rye whiskey, Fernet, sugar, OJ, and lemon.  Both were spectacular and perfect for us!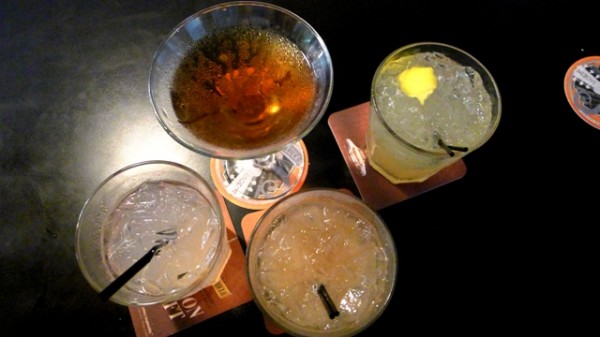 By the end of the day, the four of us had delightful buzzes and full bellies… It was clearly a good day.
I cannot wait for Marta and Dan to open up a tour on the North side of Kauai (where my parents live), but until then, I highly recommend BOTH tourists and locals to experience the culinary tour in Lihue.  It is such an enriching way to experience the island culture… and is worth loosening your belt for!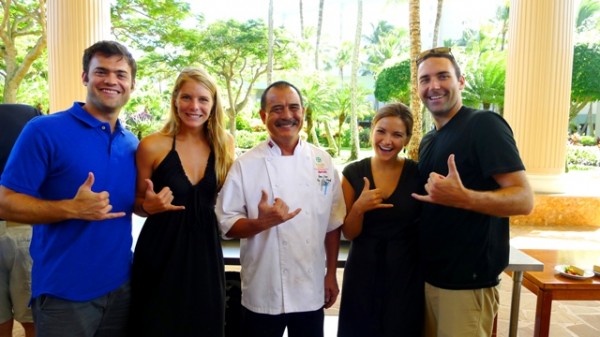 Our day with Tasting Kauai was sponsored, but all opinions (as always) are our own.
About Meg
Exhausted from traveling every week as a Business Management Consultant early in my career, I took a year off in 2012 to travel at my own pace. I am a high-energy girl that loves being active, eating food, drinking wine, and exploring the world with my partner-in-crime (and husband), Tony! I now reside in Portland, Oregon and continue to write about travel, food, wine, and the awesome adventures we have in the Pacific NW!