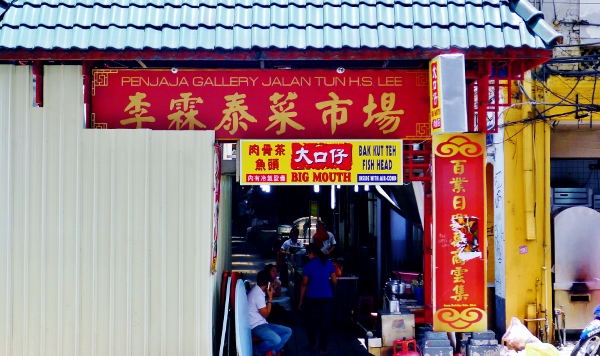 Petaling Street is the main drag in Kuala Lumpur's Chinatown and is (in)famous for the street vendors selling pirated DVD's, the delicious food stalls, and the vibrant mix of tourists and locals.
With little room for new items in our 32 liter backpacks, we're not big on stuffing our bags… only our bellies!
So in that spirit, let's take a look at the amazing food that Kuala Lumpur's Chinatown has to offer.
How To Enjoy Kuala Lumpur's Chinatown
1) Street Food Sampling
Street food. A backpackers dream.
Delicious, cheap, and with infinite variety.
If in Malaysia and staying at one of the many hostels or hotels in Kuala Lumpur, you have to visit Chinatown. No visit to a good market is complete without sampling from the many street vendors… and the experienced traveler knows that there is nothing to fear from street food.
It is often safer than restaurant food because you get to witness how it is made. Just be sure to eat from places that see a lot of turnover, serve things piping hot, and have a decent stream of locals stopping by.
Fried Sweet Potato Balls
Everyone we passed upon entering the busy market in Kuala Lumpur's Chinatown seemed to be eating these.
Not sure what they were, but knowing we had to try them, we ordered a bag and dove in hoping that it wasn't something too unique.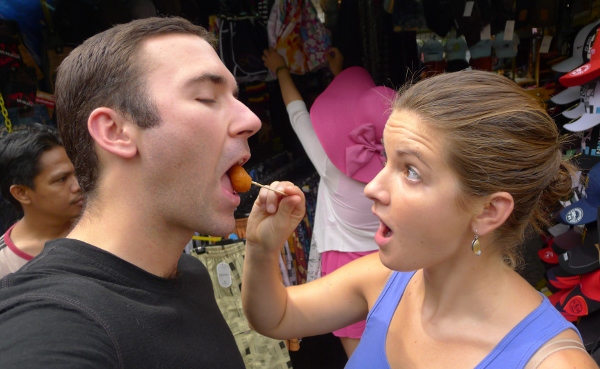 But potato? We would have been less surprised to discover they were fried chicken liver than something as simple as sweet potato.
Fried anything is tasty, so are you shocked to find out that fried potato balls are any different? Crispier than a French fry on the outside, but mushier on the inside… a perfect snack.
Soy Bean Smoothies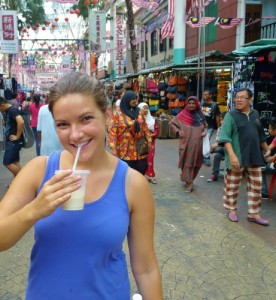 Lots of locals were in line at this stand, so you know we had to try it.
Now here is where I would normally set you up with a "you would think blended soy bean with sugar would be disgusting…" only to surprise you with how tasty it actually was.
But no.
Blended soy bean with sugar really looks, feels, and tastes pretty gross.
Chicken Coins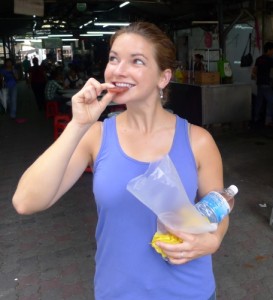 It might be from the fond memories of coined themed snacks from all of my friends Bar Mitzvah's when I was growing up, but I love food in coin form. Chocolate, candy, and now apparently chicken.
Now this pretty much breaks every street food rule that I outlined earlier… but these chicken coins were basically the most tender jerky ever. Marinated in some kind of ginger garlic spice and hopefully jerkified enough to kill all bacteria, these lukewarm treats were AMAZING.
Do yourself a favor and buy a bag of these to snack on while you're people watching in Kuala Lumpur's Chinatown.
2) Large Alley With Made-To-Order Food Vendors
Sorry folks, no name on this alley so you'll just have to follow your nose!
We love finding where locals eat, and while the snacking in Chinatown was fun, it still felt pretty touristy. So when we saw a large alley filled with food stands and small tables to sit filled with locals, we knew we had found lunch.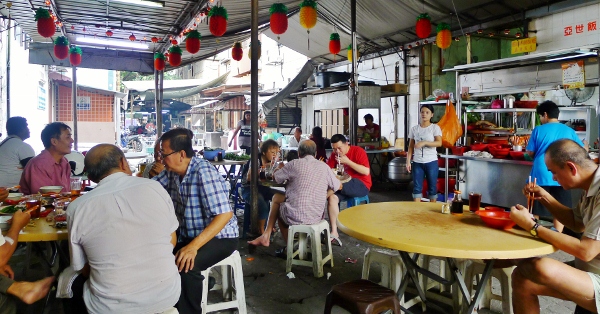 Meg grabbed seats at the only open plastic table as I found the waitress and pointed to a few of the dishes I saw other people eating. Despite my severe language limitations, I never seem to have too much issue communicating in food.
Within a few minutes, we had two steaming hot dishes arrive at our table.
This sautéed carp was supremely tender with a ton of flavor in the ginger sauce. The only downside for me was all the bones, but Meg had no problem chowing down like Gollum.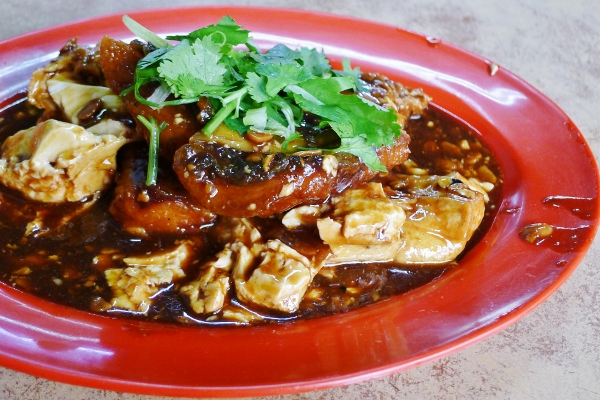 The other dish we shared was this succulent pork with steamed kale. Combining this with the sauce from the carp was perfect and definitely my favorite meal of the day.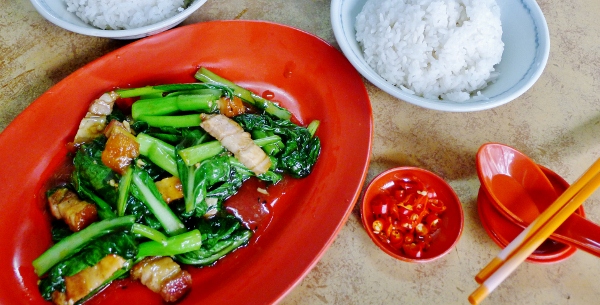 We were able to get both of these dishes plus two drinks for under $9! So cheap… And that was definitely the tourist price, as the locals seemed to be paying much less.  Oh well, Meg and I were way too hungry to even attempt to negotiate.
3) A Visit To Madras Lane
Much of Kuala Lumpur's Chinatown is street vendors selling Gucci and Addidas knockoff bags. But if you really want to discover what makes this Chinatown so great, you need to visit Madras Lane.
Many of the winding alleys will lead you to it, but for the uninitiated, your safest bet is to find one of the two entrances with the large red sign hanging above (first picture of this post).
It really won't look like much upon entering, so you're just going to have to trust us. On our first time in, we passed this butcher with cats in a cage next to the butcher's block… we didn't ask.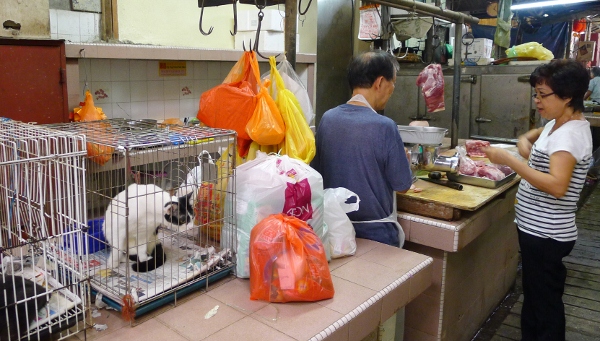 But if you follow the labyrinth back into the belly of Chinatown, you will find a bustling food court with amazing noodle and dumpling stands.
There is a very famous buffet style cart named "Madras Lane Tau Fu Stall" that gets rave reviews from others, but we were on a hunt for something else. The "Laksa Man" himself said that we had try Curry Laksa while in Malaysia and we finally found some under a yellow noodle sign diagonally across from the buffet stall.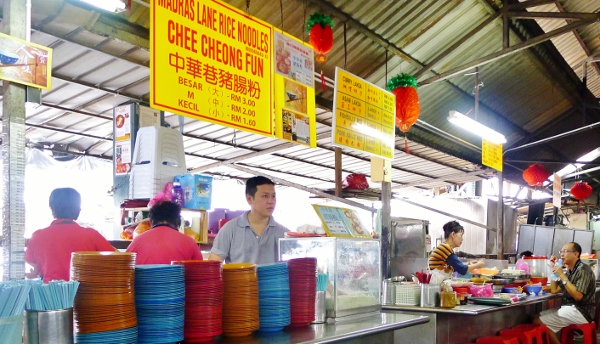 Every stall was busy making food to order and every chair was filled with locals.
We ordered our Curry Laksa with my usual pointing and miming technique and sat down to wait.
After a few minutes, out came this steaming soup of fried pork skin, vegetables, hot peppers, and fatty broth.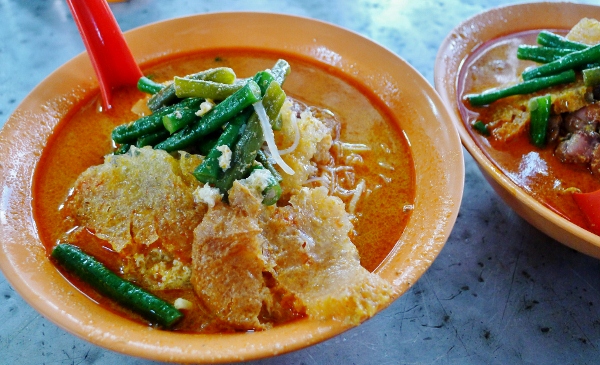 Utterly delicious.
We devoured our Curry Laksa without speaking. The sweat beaded on our foreheads as the heat of the day combined with the spice of the dish.
Stuffed from the Curry Laksa, exhausted from the spice and heat, we paid our $3 ($3!!!) and ambled on back to our hostel.
There isn't great signage for finding your way around Kuala Lumpur's Chinatown, so if you're interested in visiting some of these delicious places, shoot us a note and we will try to direct you. You'll be in for a treat if you can get there!