Now that Tony and I have finished our RTW trip and are a little more settled in Northern California, we are craving to break out our kitchen gadgets and test out the Pinterest Recipes we have accumulated over the year. One of our favorite past times before our trip was cooking together – And we are ready to get back into the culinary groove now that we are home!
This past week, I had some great feedback from friends on what Pinterest recipes I should take on first. While all the votes/picks looked and sounded delicious, I had to pick ONE.
For our first of many dishes, we will be going with Steph's (from Twenty-Something Travel) pick. Steph and I first met in Buenos Aires, where we ate our way around the city together for several weeks… So at this point, it's safe to say that she knows my eating habits and preferences inside and out.
So it was no surprise when this recipe for Healthy Chicken Tamale Pie by Pinch of Yum won my heart… Thanks Steph for the AWESOME suggestion!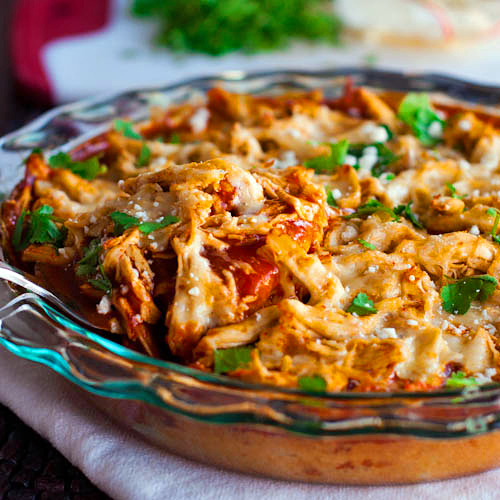 Photo Credit via Pinch of Yum
My reasoning for cooking this Tamale Pie dish came about after Tony and I spent the past couple of weeks visiting with Josh and Caroline of Traveling9to5 in Northern Cali, where we spent each and every night cooking up delicious family-style meals over good wine & beer… And our favorite evenings (without question) were our taco nights! Zesty Chicken and steak combined with homemade guacamole, black beans, warm tortillas, sauteed veggies, and and INSANE amount of hot sauce = Delicious!
I am loving our recent Mexican kick and I cannot wait to test out my mad Mexican magic (say that five times fast) with this NOM-worthy Healthy Chicken Tamale Pie. Thanks Steph for the recommendation and stay tuned folks for how this experimentation shakes down!
Your Turn: What is your favorite Mexican dish to cook? Is there anything Tony and I MUST try? Please share any suggestions and recipes below in the Comments section!
About Meg
Exhausted from traveling every week as a Business Management Consultant early in my career, I took a year off in 2012 to travel at my own pace. I am a high-energy girl that loves being active, eating food, drinking wine, and exploring the world with my partner-in-crime (and husband), Tony! I now reside in Portland, Oregon and continue to write about travel, food, wine, and the awesome adventures we have in the Pacific NW!