It's embarrassing for me to admit this but when people ask what I missed the most from the states when traveling around the world in 2012, my answer is always:
My kitchen!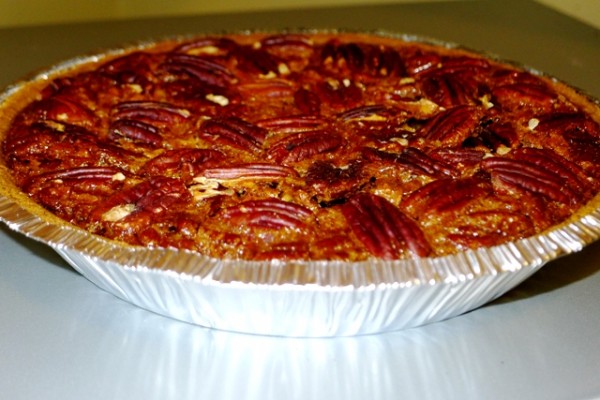 It was a LONG year without my homemade Pecan Pie!
Yes, I love food so this is no big surprise… but what I love more than the food itself is being able to cook it! Back when Tony and I lived in Miami, our favorite evenings were spent with a glass of red wine in hand absolutely destroying our kitchen attempting to make a new recipe that we were dying to try.
We loved cooking so much that we also made sure we operated with only the BEST utensils: Our VitaMix, Cuisinart, popcorn maker, and EPIC ceramic knives were just a few of our most missed treasures when on the road.
Sure, we tried to cook on the road as much as we could… but it wasn't the same.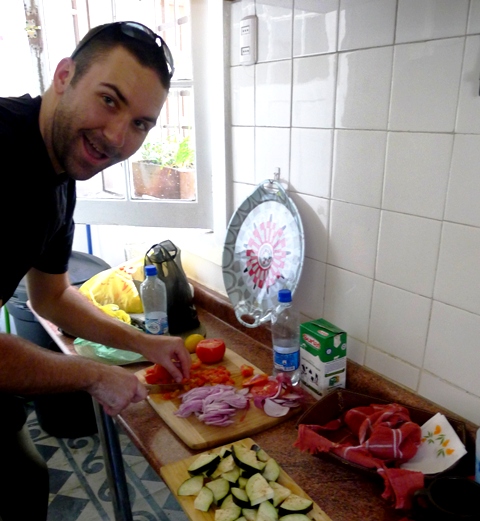 Tony getting creative in a hostel kitchen in Chile
We were never in any place for long enough to justify stocking up on kitchen staples and ingredients… And don't even get me started on the quality of the kitchen utensils found in hostel kitchens. Blah!!!
To add to my kitchen nostalgia, 2012 also seemed to be the year of PINTEREST. I don't even know why I signed up for a Pinterest account while traveling… It was pure torture. Every day I would log into my homepage and practically drool all over my keyboard just scanning all the beautiful and delicious Pinterest recipes posted from Pinners I was following.
I couldn't really re-create any of these dishes in a shared hostel kitchen… And forget about finding the ingredients for chocolate chip cookies in Asia!
But why am I telling you about these past RTW frustrations right now?
Because my cooking luck has recently changed!
Tony and I just started a petsitting job in the beautiful Sierra Nevada mountain region of California and we will be here for the ENTIRE summer. We haven't been this stationary in over a year and a half and I am so excited to finally settle in, stock the beautiful (and functional) kitchen here and just go crazy! Not to mention, we are living in the middle of nowhere in the mountains and I am going to need a side project to keep me from writing REDRUM on the walls when Tony is sleeping at night.
Here's where I need your help:
For all of 2012, I started recipe boards that I wanted to "save for later use". Well, now I have hundreds of Pinterest recipes that I am dying to try. And since I am the most indecisive person IN THE WORLD, I will need your help deciding which recipes to give a go.
Since Tony and I are looking to be healthy over the next few months, I have attached a link to our "Healthy Eats" Pinterest board below:
My EPIC "Healthy Eats" Pinterest Board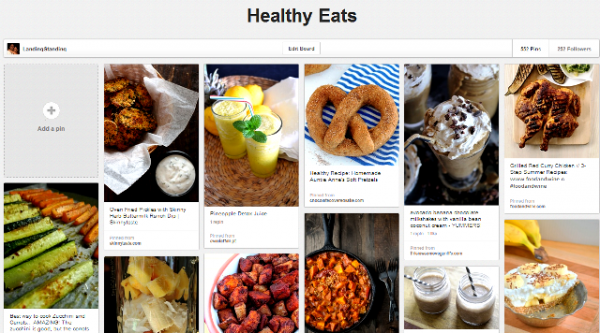 Please review all these scrumptious recipes and let me know which one is your favorite. I will then take the top picks and begin whipping up some amazing meals and treats for Tony and I… And of course, I will be reporting back on my experiences and results with each dish.
Or let me know if you have a recipe outside of Pinterest you would like me to try out. I know many of our readers are world travelers, so spice things up and send me some international dishes you want us to test. We accept the crazy and the weird recipes… As long as they have the potential to be TASTY!
These next few months are all about experimenting, so throw me some curveballs!
About Meg
Exhausted from traveling every week as a Business Management Consultant early in my career, I took a year off in 2012 to travel at my own pace. I am a high-energy girl that loves being active, eating food, drinking wine, and exploring the world with my partner-in-crime (and husband), Tony! I now reside in Portland, Oregon and continue to write about travel, food, wine, and the awesome adventures we have in the Pacific NW!