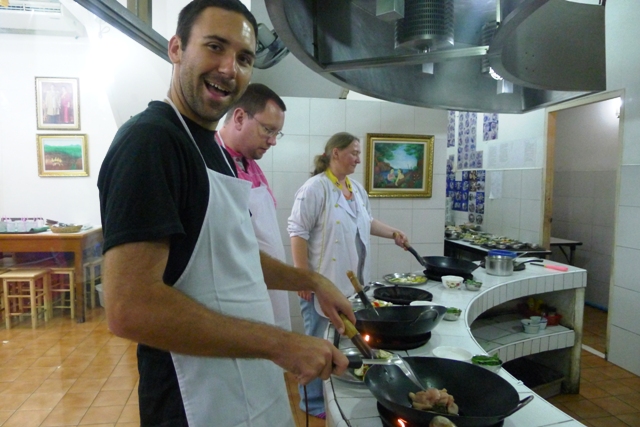 When it comes to eating, I am both perplexed and in awe of Thailand natives. Since arriving in Thailand, I have noticed a couple common themes:
Thais are ALWAYS eating
Thais are ridiculously thin
As someone coming from the most obese nation in the world, these paradoxes boggle my mind!
But then 3 weeks into our trip, I hopped on a scale and realized that I had lost 7 lbs…
I
Love
Thailand.
So I tried to figure this whole phenomenon out and here is what I came up with on why people here are so skinny (including myself):
Portions are itty and oh-so-bitty.  Actually, they are probably normal sized portions… It's America that has it all wrong! Order an entrée in Thailand and you get ¼ of the food you would get served back in the states.
Dairy is non-existent in traditional Thai food:  Milk, cheese, ice cream – Nope!  Think coconut milk instead.
The only starch that is really consumed here is rice.  No heavy bread in this hot climate!
Wine in Thailand is scarce and expensive, so my love for this drink has been replaced by fresh fruit smoothies… Let's just say I'm not complaining.
It is so friggin hot here and you sweat ALL THE TIME.
With this breakdown, I thought I had it all figured out.  But then Tony and I were invited to take a cooking class at the Samui Institute of Thai Culinary Arts (SITCA), where we got to learn a great deal about Thai cooking and culinary traditions in this fascinating country.

SITCA is an internationally recognized center for learning Thai cooking. They offer daily cooking classes (3 hours each) of classic Thai dishes as well as fruit carving classes in their state of the art cooking and dining facility.
It also offers six day and twelve day intensive training programs. According to the co-founder of SITCA, Martin, these courses are popular with working and aspiring chefs from all over the world. Culinary professionals from over 35 countries have joined SITCA for these highly esteemed programs.
Arrival
Upon arriving at our cooking class, I was immediately impressed with the interior of the school.  The SITCA facility was modern, spacious, and came equipped with air conditioning, which felt sooo good on this particularly hot day.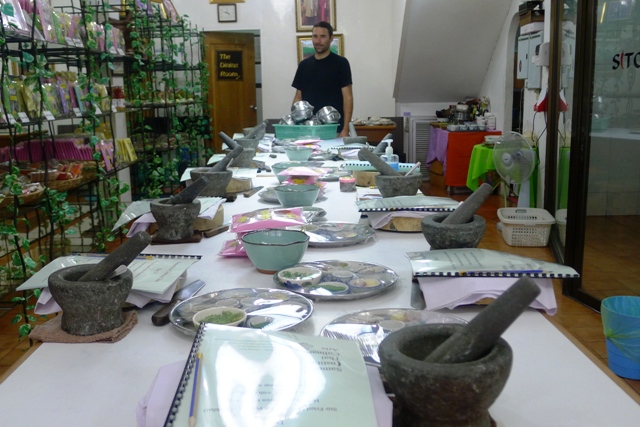 At SITCA, all their produce and meat is fresh and purchased daily from the local markets.  In addition, they sell their own collection of spices and special ingredients on-site.  Before the class began, I had a wonderful time browsing the "store" for all of their great cooking products that are indigenous to Thailand.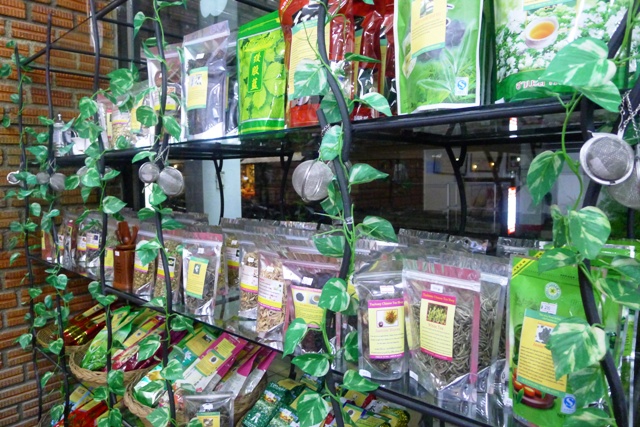 Class
Once the class began, our class of 12 students was greeted by our instructor, Roong.  Roong was the most adorable lady I have ever encountered.  She was excitable, funny, and kept the class engaged and lively at all times.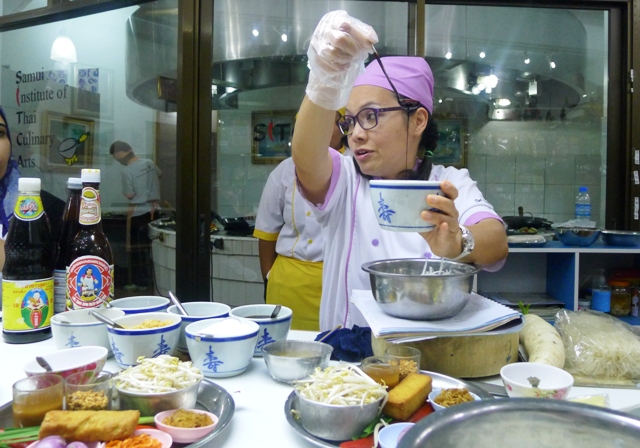 While we were seated in the prep area engaging with Roong and assembling our dishes, the staff of SITCA kept bringing us refreshing Thai iced tea to sip on during the lesson. It was such a lovely treat!
In previous cooking classes we attended, much of the lessons were simply viewing the chef at work from the sidelines and occasionally lending a hand.  But here at SITCA, it was 100% hands-on throughout the entire 3 hours, as both Tony and I were equipped with our own prep station and burner/stove.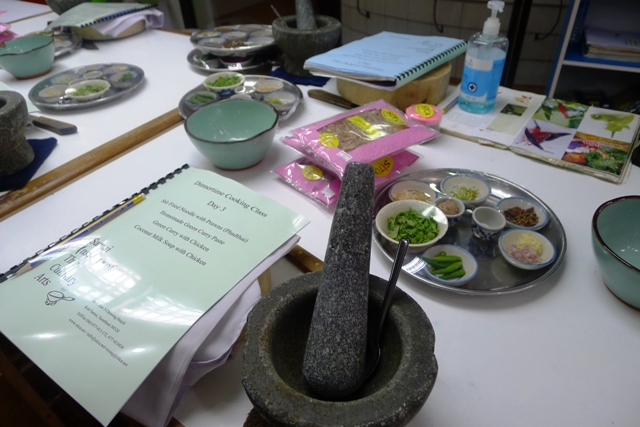 Some of the dishes we learned to make during our 3 hour lesson were as follows:
Stir Fried Noodles with Prawns (Phad Thai)
Homemade Green Curry Paste
Green Curry with Mixed Vegetables & Tofu
Coconut Milk Soup with Chicken
Throughout the lesson, Roong educated us in detail about each ingredient that we used and its nutritional health benefits.  She told us about how the Thai put the utmost care and emphasis in their cooking and make everything from scratch.
Each dish we made had a TON of herbs, vegetables, and spices blended into the mix… With all these nutrient-dense meals that that Thais prepare and eat regularly, it is no wonder they are so healthy and lean!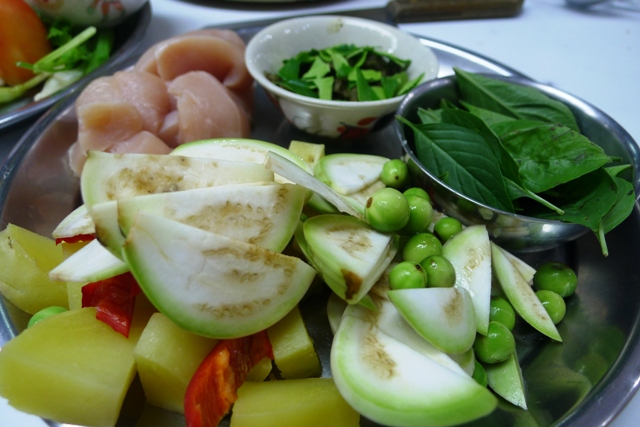 Roong also said the trick to Thais staying so thin is that they eat many small snacks and meals throughout the day to keep their metabolism humming.  I'm no scientist (and neither is Roong) but something seems to be working in this country!
Yes, genetics probably play a huge role… But genetics aside, I think we could all agree that eating smaller meals and cooking all your food from scratch (using natural ingredients) isn't bad for you, am I right?!
Okay enough on my healthy eating lecture.  Back to how the class went…
Not only did Roong give us a tutorial on each-and-every ingredient used in the dishes, but she also taught us how to understand and pronounce these dishes in Thai.  I got an excellent Thai cooking tutorial AND I learned a little bit of the language to boot!
What made the whole experience even better was that all of the ingredients we were using were already pre-chopped and organized out for each student… I can only imagine how much of a time saver this was for our 12-person lesson.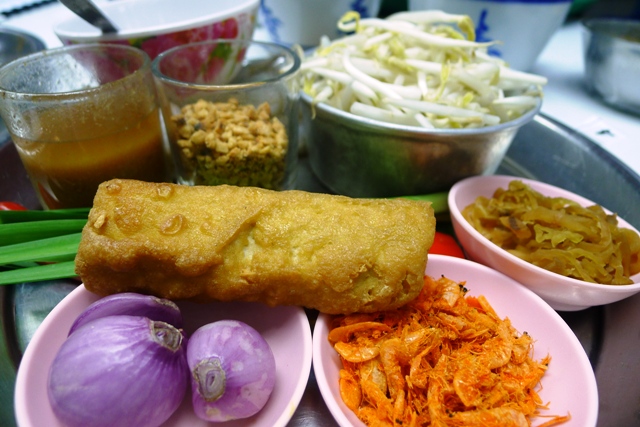 Once our dishes were all assembled and ready to be cooked, we all reconvened in the cooking kitchen, where we were each given our own burner to operate.  In here, we had assistants helping us with the gas burners and with our stations, while we whipped up our delicious treats.  All the dishes we cooked were one-pot meals that were made up in a flash. Being in this fast-paced kitchen was a whirlwind and incredibly fun!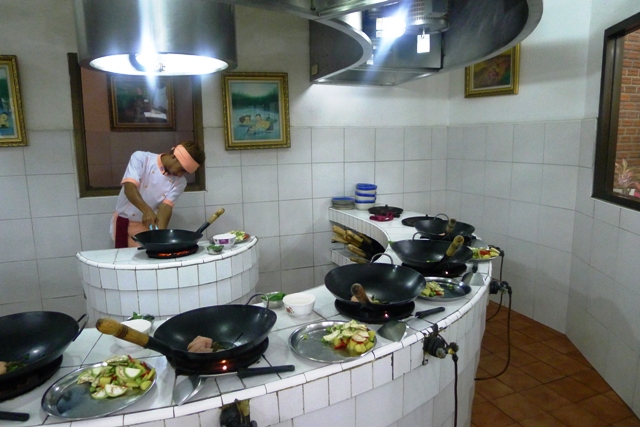 After we were done preparing all of our dishes, the class was ushered to the upstairs dining area where we ate our personally prepared dishes together.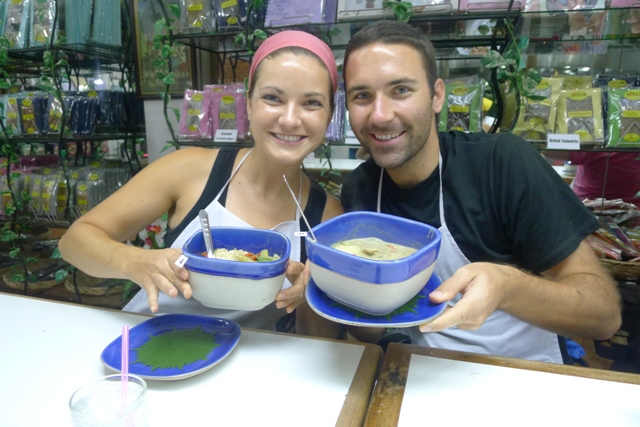 So Much Food
Now I know I mentioned previously that portions in Thailand are very small, but that was NOT the case for this class.  Each recipe we made was big enough for two people… And Tony and I each made our own dishes, so we had enough for four people in front of us.
At SITCA, they have all the students make enough food to feed two people, in case someone would like to invite a friend or family member to join them for their completed meal at the end of the class (at no additional charge). I thought this was such a nice and unique feature to the cooking class, and I saw several people take SITCA up on their generous offer.
But Tony and I of course just decided to stuff ourselves silly and eat for 4 people!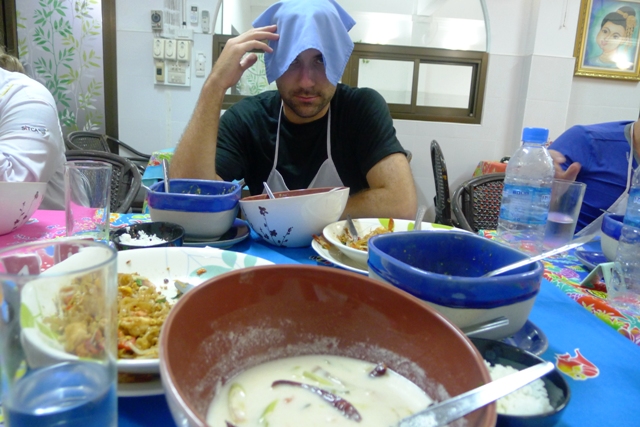 Tony needed a quiet moment after gorging himself…
What can I say?  The dishes were so tasty that it was impossible not to at least TRY and eat it all.
Of all the dishes we made, I was a huge fan of the green curry, which was spicy yet sweet. I also loved that I got to make the green curry paste completely from scratch, instead of buying it at a store, which is always the easy way out.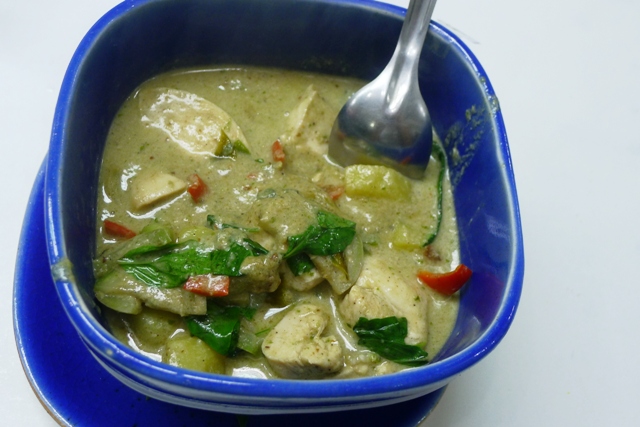 Tony personally adored the coconut milk soup with chicken.  With all the herbs that went into this soup, it was bursting with flavors.  It also had the perfect amount of spice to clear out the sinuses and break a sweat.
I am a firm believer that this soup can cure the common cold much better than any traditional chicken noodle soup back home… Boom!  There I said it.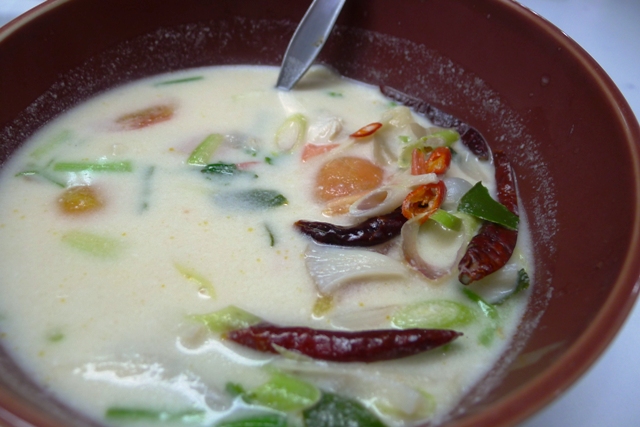 And of course, the Phad Thai was BOMB.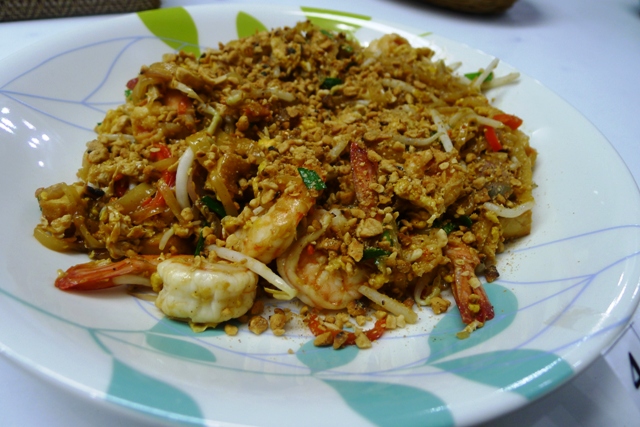 By the end of the night, my belly was stuffed with yummy homemade Thai dishes and my mind was stuffed with some crazy Thai cooking knowledge.
Roong graciously gave us recipe books of the dishes we made to take home with us, along with an instructional DVD… And of course our doggie bags of unfinished food.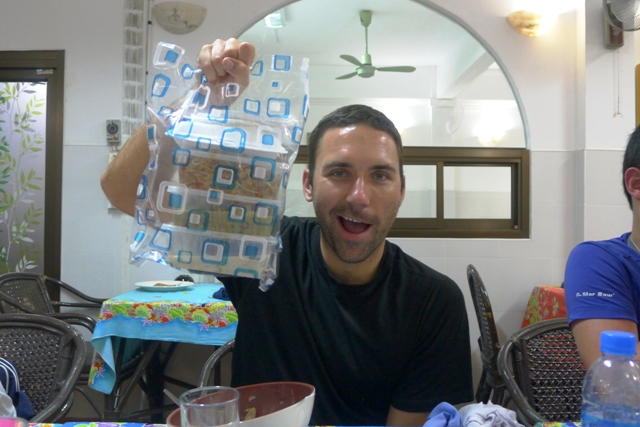 Tony and I can eat like baby dinosaurs, but this was an INSANE amount of food… There is no way we could have finished it all in one sitting!  But it did make for some amazing leftovers the next day.
The whole evening was an unforgettable experience.  It was by far the most hands-on cooking class we have ever attended and we would recommend it to anyone traveling to Koh Samui…. Foodie or not, you will love Roong and the wonderful class she offers.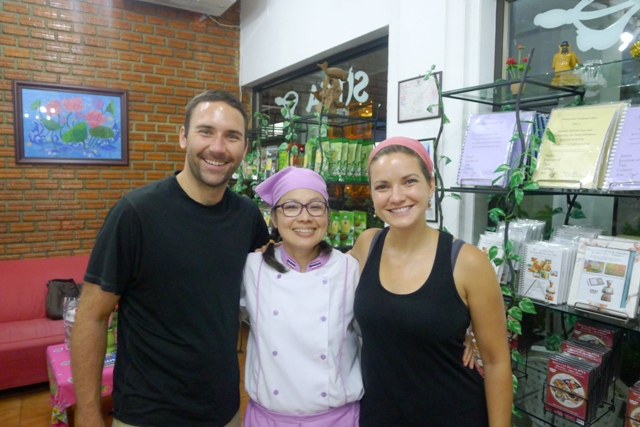 And most importantly, the food you make during the class is phenomenal!!
Your turn: Have you ever taken a cooking class?  Tell us about your experience (good or bad) in the Comments section below!
Many thanks to SITCA for sponsoring our wonderful cooking class and meal.  All opinions, as always, are our own.
About Meg
Exhausted from traveling every week as a Business Management Consultant early in my career, I took a year off in 2012 to travel at my own pace. I am a high-energy girl that loves being active, eating food, drinking wine, and exploring the world with my partner-in-crime (and husband), Tony! I now reside in Portland, Oregon and continue to write about travel, food, wine, and the awesome adventures we have in the Pacific NW!