Roughly one year ago today I had my first experience with FEAST Portland. It was during this weekend that I came to fully understand what was unique and special about the culinary scene here in the small city of Portland, Oregon.
Feast is an annual four-day food festival in Portland running from Thursday, September 15th through Sunday, September 18th that showcases the energy of innovative chefs from all over the country and the world.
I am even more excited for FEAST this year, as this will be FEAST's five-year anniversary, which means this feast-ganza is going to be a BFD.
Additionally, fast forward a year since FEAST 2015 —  I feel so much more immersed in the food culture in Portland this time around. I have become close with many other food bloggers who will be attending the event, I have had the chance to participate in some incredible media events (hosted by Little Green Pickle), and I have come to know some of the famed chefs that make this city such a remarkable food destination.
This year, one main event I will be participating in at FEAST will be the Night Market (sponsored by USA Pears and Alaska Airlines).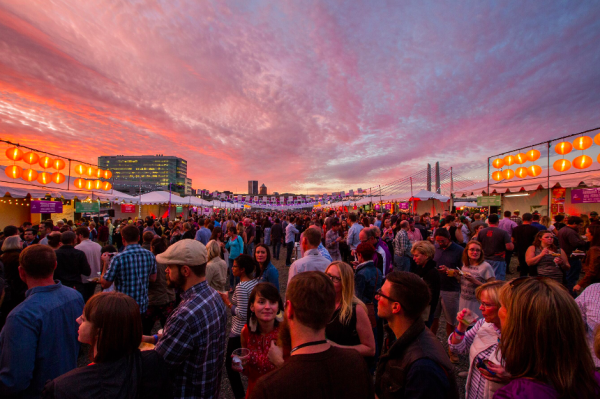 Night Market 2015 – photo credit FEAST Portland
Here's a recap: The sold out Night Market kicks off at the foot of Portland's iconic bridges at Zidell Yards. "Feast Portland's Night Market features a light-strung village of stalls serving up a crazy slate of street food from a hand-picked line-up of inspired chefs from Portland and beyond. This year's theme: Playful Latin cooking, from Mexico to Madrid. With taco mashups, reimagined grilled Argentine meats, and inspired Spanish bites, the Night Market delivers a night of Latin song and sauce with the energy and excitement you've come to expect."
I haven't had much exposure to Latin cooking here in Portland, so I decided it would be wise to get some "studying" in before FEAST.
Thankfully, the waterfront restaurant, Lechon, recently hosted a media Happy Hour to kickoff the 2016 Olympics. They also showcased its craft cocktails and South-American inspired  "What the Chef is Eating" menu that was featured throughout the 2016 games.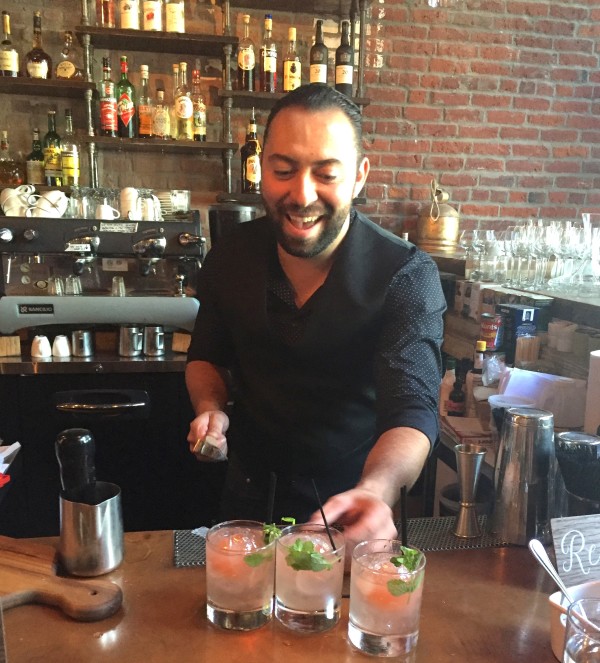 While Lechon isn't participating in FEAST this year, it is THE place to get some extraordinary South American food and cocktails here in Portland.
During the media happy hour, I had the privilege of meeting the executive chef, Jaco Smith. Executive Chef Jaco Smith transports guests to South America with an array of diverse, yet approachable dinner entrees. With 75% of the menu items coming straight from Lechon's wood-burning grill, guests can enjoy both the incredibly simple to the downright elaborate dishes Jaco creates.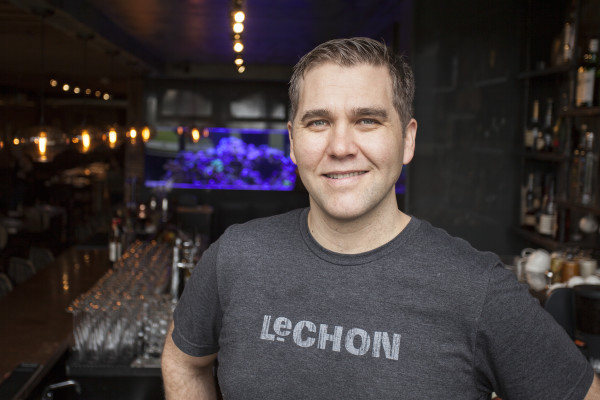 While talking to Jaco, I was inspired by how Jaco combined his South African roots with his love for South American cuisine into his work at Lechon.  I immediately asked if I could interview Jaco, as I love showcasing chefs on our blog that think beyond borders in their cooking.
I hope you enjoy Jaco's story, along with some tips on his favorite wines, food, and places to eat across the globe:
Prior to your culinary career, you grew up in a large family of cattle, sheep and grain farmers and cooked at a young age with your mother. How did this upbringing ignite your passion for food and cooking?
The biggest thing for me was seeing where the vegetables were being grown and seeing the cattle and sheep on our farm in South Africa. Everything was self sustained. We utilized all the ingredients from our farm in the family kitchen.
My mom loved cooking and would always cook elaborate meals at our home, where everything was organic. I began helping her in the kitchen at the age of 5. We also had a chef that helped in our home's kitchen that I learned a great deal from.
One memory that stood out is that my mom would host these themed dinners for dignitaries at our house, and I would help prepare the dishes for these dinners. During these dinners, my mom explored cuisines from all over the world — Chinese, Japanese, French, Italian. She would even decorate our home for these dinners. For example, all the chairs at the Chinese dinner were low to the ground and the decor was complete with Chinese umbrellas. She really went all out.
What values and lessons did you learn growing up through your exposure to farming and cooking, and how do you apply those skills into your work today at Lechon?
Knowing where your ingredients come from is so important. We stay true to this at Lechon and work with roughly 14 suppliers in the local area. Cascade Farm is where we get our meats, Our Table supplies our produce, and so on. I want everyone we work with to succeed and have an opportunity to showcase their ingredients, which is why we place an importance at Lechon on supporting small farmers.
I knew Portland was an excellent food scene, and all these wonderful ingredients would be available to me here, which definitely drew me to this area.
How do you combine your South African roots to your passion for Latin and South American cuisine?
Lechon was the only executive chef job available when I came to the city. I was intimidated, but had nothing to lose. I learned South American cuisine at my home over the course of three months. Through my studies, I actually learned that South Americans (Argentinians in particular) taught South Africans how to cook on the parrilla. As I started diving into the stews, the ingredients, etc., things started making sense for me.
There is a lot of cross-over between the two cuisines. In South America they use cilantro. In South Africa, we use coriander — it was all about making small tweaks. I had to shift my brain a bit, but the styles and techniques were all very similar.
What inspired you to launch Lechon's Supper Series and Wine Dinners? 
I read before that international cuisine is the hottest thing right now in the culinary world. I have done such extensive travel, having traveled through 33 countries, and worked in a lot of them too. I wanted to bring these flavors to life. Experimenting with international cuisines also challenges us as chefs and cooks and inspires us to be better about our craft.
At the same time, I want to help people experience something that they haven't experienced before. How many people have had a meal from Mozambique or Costa Rica? The Supper Series dinners will explore these lesser-known cuisines.
At Lechon we love to learn and dive deep into a cuisine, so we can celebrate that cuisine as much as we can. It's an educational piece.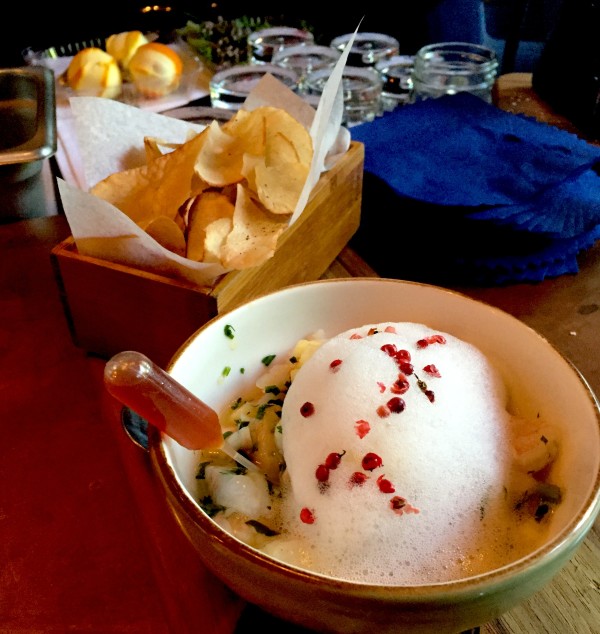 A portion of the proceeds from Lechon's Supper Series are donated to a variety of international organizations. Can you tell us about some of these organization and what motivates you to give back to these causes?
This little girl, named Maeve, asked me to contribute a vegetarian recipe for her cookbook, Saving Pan — she's 8! Maeve and and her friends are collecting recipes (Portland Chef, Jenn Louis of Lincoln and Sunshine Tavern, submitted a recipe too), testing them, and compiling the vegetarian cookbook to raise awareness and money for chimpanzee protection in Africa. All profits of the book go to Jane Goodall's Tchimpounga Sanctuary, and will help transport orphaned baby chimps to the sanctuary and help get them the care that they need.
It is meaningful for me to support Maeve and Saving Pan through our Supper Series here in Portland.
We also contribute to the Portland Kitchen, The Cancer Society, Hunger-Free Oregon, and other organizations.
What are some cooking fundamentals that you think every home chef must know, but probably doesn't?
When you prepare your meat proteins, you need to let the meat rest before slicing into it, to hold the juices and flavor in.
I also recommend layering. When cooking a sauce, don't put everything in at once and hope for the best. It's easier when you layer things. Put in a little bit of stock, then add wine, etc. If you build the layers up, you will taste the roundedness of a sauce, as opposed to a one-dimensional flavor.
What are your favorite regions (nationally or internationally) to explore/enjoy food and why?
I would have to say South Africa for wineries, especially in in the Capetown region. One place that particularly stands out to me is the farm and hotel, Babylonstoren (featured in Bon Appetit).  They source everything on the farm, grow their own olives, make olive oil, wine, milk, cheese, beef jerky, etc. — all from the animals and produce on the property.
What was one food experience that stands out from your upbringing, travels and/or background in the industry? What made it so memorable?
Blue Hill Farm in New York stood out to me. It's a big farm-to-table restaurant on a large open farm in upstate. They grow all their vegetables right on the farm that are featured on the menu.
What is your most popular dish at Lechon? What is one dish at Lechon that doesn't get much attention, but is one that you think every diner should experience?
The grilled octopus with chorizo is always the crowd favorite here at Lechon — served with fried potatoes, salsa verde, and preserved lemon.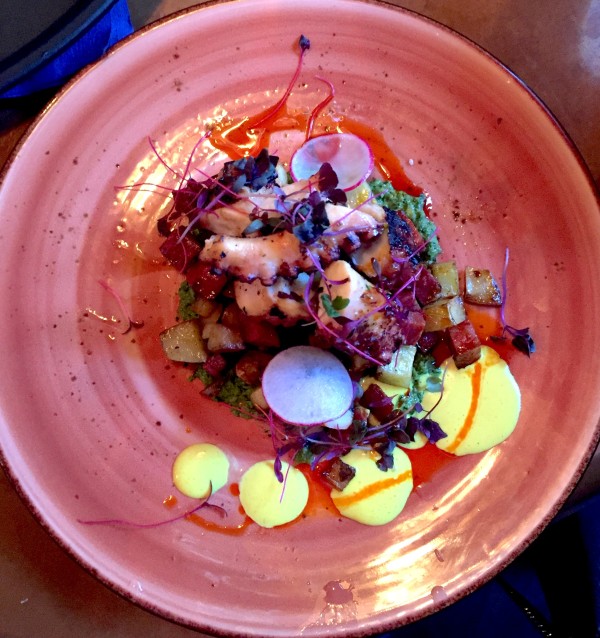 I think the Sea Beans dish (sea beans, sugar snaps, asparagus, smoked cashew puree, pink peppercorns) is one all diners here at Lechon should experience. Sea Beans are the small, fleshy stems and branches of salt-tolerant and salty seacoast plants in North America, Europe, Asia, and Australia. Their are salty, crisp, and crunchy with a fresh, briny flavor. Many people shy away from a menu item labeled "sea beans," but they are fantastic.
I hope to see Jaco and his Lechon team at FEAST 2017 — And I STRONGLY encourage people to visit Lechon for brunch, lunch, dinner, and/or cocktails soon… Just be sure to go on an empty stomach!
About Meg
Exhausted from traveling every week as a Business Management Consultant early in my career, I took a year off in 2012 to travel at my own pace. I am a high-energy girl that loves being active, eating food, drinking wine, and exploring the world with my partner-in-crime (and husband), Tony! I now reside in Portland, Oregon and continue to write about travel, food, wine, and the awesome adventures we have in the Pacific NW!