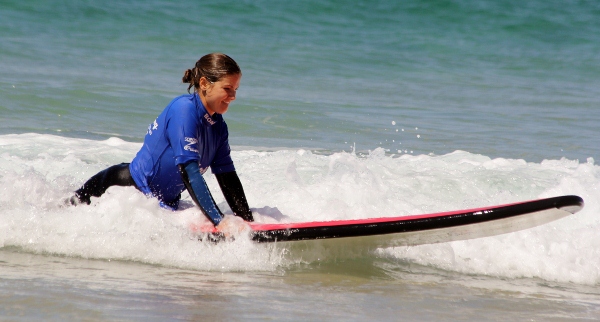 When I think surfing, there are only a few places that immediately come to mind: Hawaii, Australia, and Bali.
I crossed Bali off of the list in October when we took our first surf lesson and will be crossing Hawaii off of the list shortly as Meg's parents are buying boards for the family to use at their home in Kauai.
So when we were in Australia and staying near Bondi Beach (one of the most famous beaches in the world), I could not pass up the opportunity to get back out on a board.
Only having spent a few hours in the water with a surf board, I was still in desperate need of a lesson. Meg reached out to the top rated Bondi Beach surf school on TripAdvisor, Let's Go Surfing, and booked the 2 hour intro course… yes, we took another intro course after our first one in Bali!
Why A Second lesson?
Great question.
Meg actually had a surf lesson when she was younger and has always been a natural at any sport in the water. She can pretty much stand up on a surf board within 3 waves whether she has an instructor or not.
But me? I am a whole other story…
When I wasn't face-planting while trying to catch a wave in Bali, I was typically seen tripping over my own feet as I rose to stand. Our instructors were good enough teachers that I eventually was able to ride a few in, but there was definitely work to be done on my technique.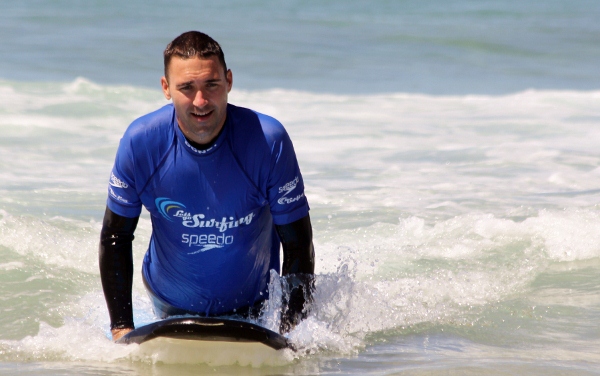 As simple as surfing can look on TV or from shore, once the wave is starting to break and I am trying to stand, most of what I was taught disappeared. That is why I was really excited to get a second lesson. Maybe this time (after a few hours already trying to surf), some more of the lesson would stick while out on the water.
Our Day
If you're facing Bondi Beach, Let's Go Surfing is located at a small shop just across the road from the far left end of this massive beach.
Since the water is cold, they provided us with wet suits in addition to our boards. I don't need any more help looking like a seal to a hungry shark with all of my flapping around in the waves, so I've always been a little nervous wearing a wetsuit in the water. Luckily, I was assured by our instructor that there has not been a shark attack at Bondi in 80 years.
After a little research when we got back to the apartment later, I discovered this wasn't quite true. While there has not been a day time shark attack at Bondi in over 80 years, there was a Great White that took of a man's hand in 2009 when he was surfing at dusk at Bondi. Thankful for the little white lie by my instructor, I was able to spend the day anxiety-free while in the waves.
Let's Go Surfing's intro course was really for all skill ranges, as my 10 person class had two instructors with students who had never surfed to some that were looking for more advanced tips… Perfect for me and Meg!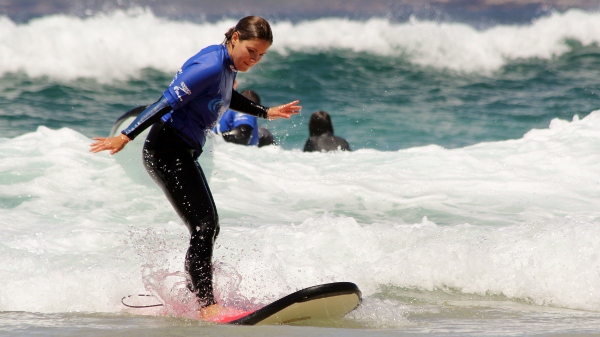 After a few surfing tips on land, our instructors got us out into the water to start riding waves. They also took time to help each of us catch a few easier waves as they pushed our boards into the slow breaking "green" waves.
With a few key reminders that I had already forgotten from my first lesson, I was able to ride more than a few waves all the way to shore. While my face plants never went away, my instructors did get me to a point where I at least knew what I was doing wrong on each one.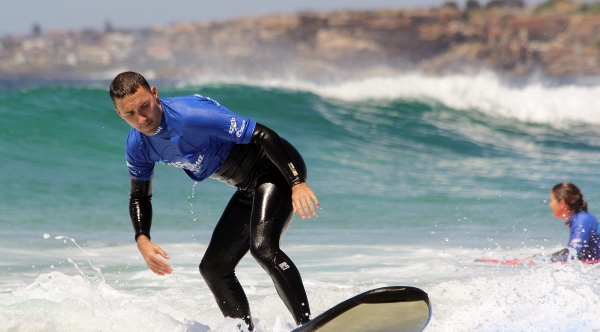 So after two separate intro lessons, I think I am finally ready to take on the waves by myself. Now that we are in Hawaii, I'll put that theory to the test!
Our surf lesson was sponsored by Let's Go Surfing! All opinions are our own.