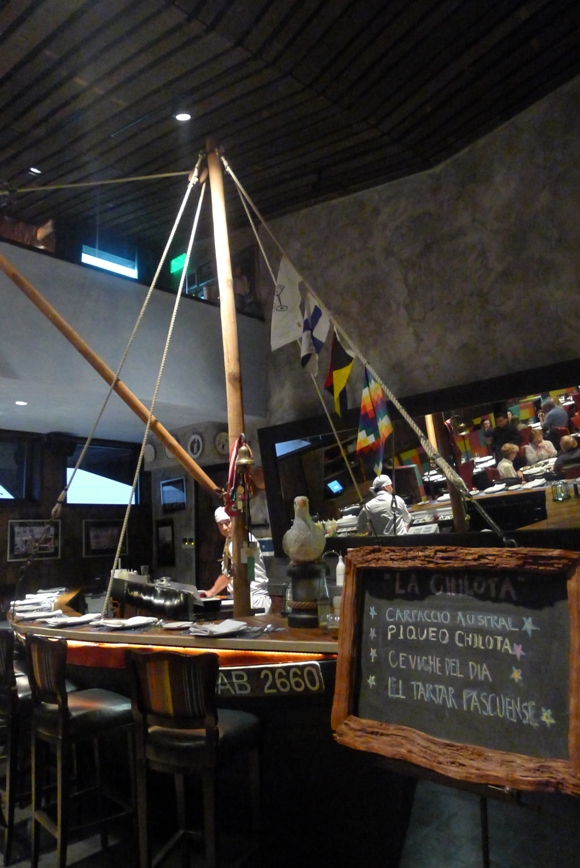 Before our trip began, Tony and I set a budget for the year and vowed to spend (on average) less than $100 USD per day.  You may think that's a lot, but once you add in our high-maintenance travel insurance, airfare, and lodging, you really aren't left with much to spend.  That means dining, entertainment, and all other miscellaneous expenses are on the cheap!
Luckily, Tony and I planned to depart for our trip right after Christmas (not strategically of course!), so many of the gifts from family members were centered around our RTW adventure.  Two gifts in particular (one from my sister-in-law, Maggie, and her Fiancé, Barry, and one from our Uncle Mike and Aunt Stacie) were straight up cash to spend on a Mony (our celebrity couple name) date night upon arriving in Chile. Cha-ching!
After a couple of days of eating mayonnaise-doused Chilean hot dogs and ghetto meals cooked in the hostel, Tony and I were ready for a baller meal.
Maggie and Barry read about this Santiago hotspot, Aquí Está Coco, from Frommers.  As Maggie points out, this restaurant is named after it's eccentric owner, Jorge 'Coco' Pacheo.  It has every kind of seafood available in Chile, an English menu, and attentive service.
As a warning, it attracts gingos… but the locals love it too!
My initial thoughts were "this place sounds amazing, but since it was published in Frommers, is it a tourist trap?" If I learned anything from watching endless hours of Anthony Bourdain's No Reservations, it's that you should eat where the locals eat… No questions!
I was skeptical but then one of our favorite travel bloggers, Emily In Chile, wrote about her amazing experience with this restaurant… So the locals DO in fact love it too.  Okay, gotta try this out!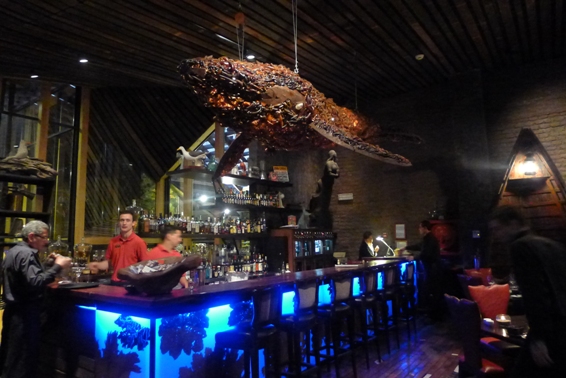 We arrived for dinner at 8PM right when the restaurant opened for dinner (yup, we're gringos!).  The place was stunning, barely anyone was dining in AquíEstá Coco yet (except a few elderly early birds), and the interior décor was a little over the top with an iron whale hanging from the ceiling and a sail boat taking up the back half of the restaurant.
Skepticism started seeping back into my veins, but it didn't last long…
Per Emily's recommendation, we started off our meal with the Easter Island Tartar.  This tower of magnificence was incredibly refreshing after a long day touring the city.  And the crispy little bits on the top of the tartar gave the velvety dish a perfect crunch.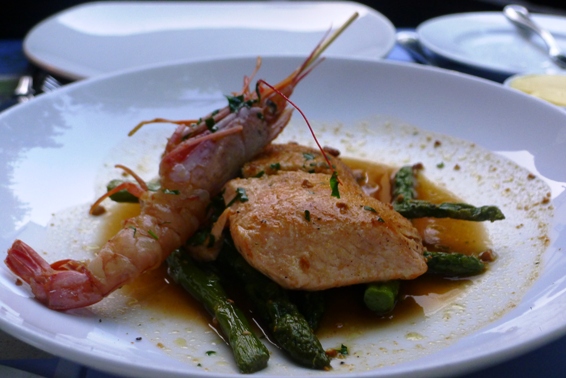 For our main course, we were hoping to order the trout stuffed with King Crab (per Maggie's recommendation via Frommers) but it was no longer on the menu, so we decided to settle on the Land and Sea Salmon. It was a great dish but the Tartar overshadowed it in awesomeness.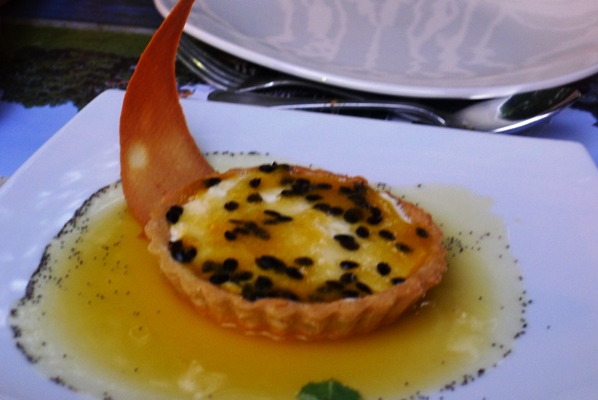 Since Emily really blew our minds with the Tartar recommendation, we decided to stick with the pro and order her favorite dessert, the Passion Fruit Tart. Now, I am a chocolate devotee till death do us part, but holly lord this dessert was stupid good!
I can't even describe it to you, other than that I was making foodgasm noises the entire time I ate it.  I think Tony got a little jealous of the chemistry I had with this tart, but for the entire 10 minutes I was enjoying my treat, I had forgotten that he was even at the table!
After having food sex with the tart, I decided to go inside the restaurant to be an annoying tourist and take photos of the place.  When I walked in I was greeted by this upbeat employee:
He did not speak a word of English and talked español muy rapido… so naturally I didn't understand a word he said either.  Nevertheless, the two of us struck up a full blown conversation in our own languages.  He saw me with the camera and immediately started gesturing for me to follow him.
As he was breezing through the restaurant in private backrooms and through the wine cellar, I was snapping pics left and right. With my little knowledge of Spanish, I just kept saying "Que bonita!" "Que bonita!" to show him my gratitude.
After a few minutes of the restaurant tour he started to lead me down these dark passages to the back of the restaurant.  The overly cautious American girl in me was screaming "stranger danger!"
But as soon as I started backing away, he blew open the doors to the restaurant kitchen…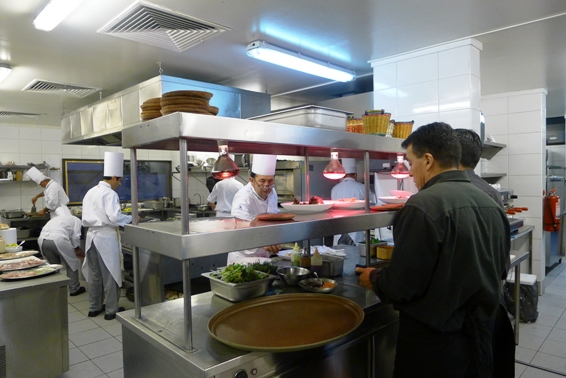 Whaaaat?!?
This was so cool!  I was being shown the heart of the operation.  I felt like such a celebrity as he was introducing me to the chefs at the ceviche and grill station.
That's right Chile…I don't know how to put this but I'm kind of a big deal.
After the tour was over, I returned to the outdoor patio (where we ate dinner) and bragged to Tony about my ability to charm my way into an impromptu restaurant tour.  What a perfect way to cap the evening off!  Looking back on the experience, the employee probably just wanted to earn good karma by reaching out to an American frittata and he was probably making fun of me in Spanish to his colleagues in the kitchen the entire time… but whatever, I had a blast!
So thank you Maggie, Barry, Mike, Stacie, and Emily for helping make this dinner an unforgettable first fine dining experience on our RTW journey.  I would recommend Aquí Está Coco to anyone travelling to Santiago (or to any local for that matter) and I hope Tony and I can someday go back to this scrumptious restaurant… If our wallets let us!
About Meg
Exhausted from traveling every week as a Business Management Consultant early in my career, I took a year off in 2012 to travel at my own pace. I am a high-energy girl that loves being active, eating food, drinking wine, and exploring the world with my partner-in-crime (and husband), Tony! I now reside in Portland, Oregon and continue to write about travel, food, wine, and the awesome adventures we have in the Pacific NW!