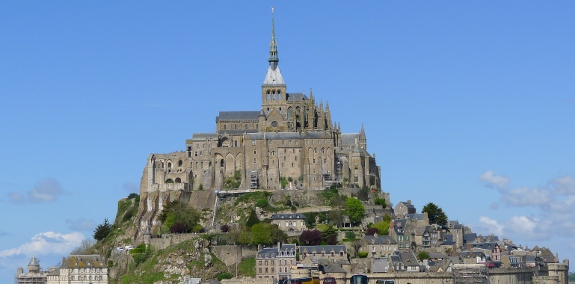 Here is where you and I have a problem.
I have been on the road now for over three months and for the past month you KNEW that I was going to Normandy… yet you never once mentioned the ridiculousness of Mont Saint-Michel.
But when I tell you that I decided, on my own, to go there? You are all: "Of course you have to go to there. It is unbelievable. So cool. A definite must-see."
Thanks. So glad you told me when I was planning my trip. I easily could have missed it!
Since none of you gave me the heads up in advance, let me save others from potentially missing one of THE coolest sites to see in Europe by giving them the full details on this place.
The Mystique of Mont Saint-Michel
Legend has it that the Archangel Michael appeared to St. Aubert, the bishop of Auvranches, in 708 AD and repeatedly told him to build a monastery on the rocky outcrop in the tidal flat. Not one for being ignored, the Archangel Michael burnt a hole right through his skull with only his finger…
And that is how St. Aubert became considered so holy! Boom… ROASTED!
Part of the UNESCO list of World Heritage Sites, Mont Saint-Michel was originally established in the 8th century as a Monastery. Besides being exactly what you imagine an ancient  monastic castle to look like, it is built on a rocky tidal island that is surrounded by sand at low tide.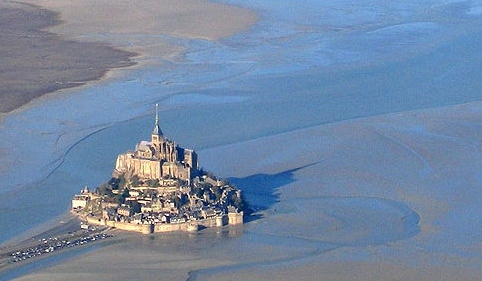 But be careful! This place redefines the meaning of high tide as the incoming tide has been described as a flood of water with the difference between low and high tide being as great as 14 meters (46 feet)!
Why You MUST Check Out Mont Saint-Michel
Iconic – There are tons of cool castles and monastery's in Europe, but none that are as visually staggering as this. Most cathedrals in Europe have had cities rise up around them, which leads to not such great views. Being built in a tidal flat has its perks, and Mont Saint-Michel takes full advantage.
Easy To Get To – If you are in Normandy, it is probably no more than a 2 hour drive… at most. Located only 2 hours from the D-day beaches, you can do a couple days at some WWII sites and then make an easy day trip out of the monastery.
History Built Upon History – Considered strategically important by hundreds of years worth of rulers, the Monastery has passed through numerous hands and seen numerous wars. As you walk through the monastery, you will see large dining room built in the 14th century on top of living quarters from the 11th.
Easy Self-Tours – The inside of the monastery is easy to walk and numbered so that you can learn everything you want to know (and more) by paying a few dollars for the audio tour. Definitely get the audio tour.
I will let you off the hook if you honestly had never heard of Mont Saint-Michel… but from everyone raving about it after I told them I was going,  it sure is hard to believe that there are any of you who hadn't. But if you really have never been, then I hope you trust me when I say that you must go.
Still not convinced? Just check out all of these UNREAL pictures.