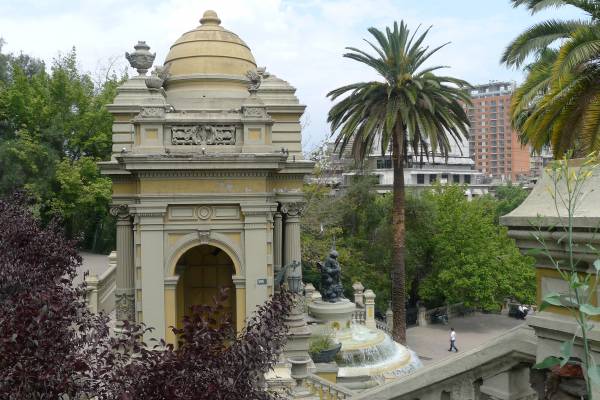 Ladies and gentlemen, our RTW trip has officially begun! Tony and I arrived in our first destination, Santiago, two days ago and are loving the nomad lifestyle in this great city.
We spent all day yesterday acting like tourists and hitting up all the must-sees of the city.  We always said that we didn't want to travel like tourists this year, but we woke up yesterday feeling like kids in a candy shop – we wanted to see it all!
Fortunately, this city is huge and even with all the sightseeing we did, there is still so much to explore in Santiago.  I look forward to writing more posts about our time here, but for now I wanted to share with you my first impressions of this South American gem.
To help keep me from rambling, I broke down my thoughts on Santiago into different categories… Enjoy!
The City In General
Santiago is currently in the middle of summertime so the weather is stunning. Since we have been here, it has been roughly 80 degrees and sunny everyday with zero humidity and a nice breeze – perfection!
Santiago is very modern for a South American city, but also has beautiful historical architecture. Being the capital and the only major metropolis in Chile, Santiago is large (and in charge) and spread out. The one thing that really makes Santiago gorgeous is the views of the Andes mountains you can enjoy in almost any place in the city.
It is an extremely relaxed city with warm, friendly people and any fashion style is acceptable… especially the 80's baby!
  Transportation
When we first arrived here, we had to take a bus and train from the airport to get to our hotel. Luckily, the public transport here is cleaner and more user-friendly than most cities in the states. The bus was a charter-style bus with air conditioning – which was an amazing treat after exiting the sweltering airport!
After getting off the bus, we headed to the train station and found the train system very relatable – even when the station signs and maps were all in Spanish. Just like the bus, the train was clean and comfortable.
Food
Being a fat kid at heart, it is my firm belief that the key to a city's greatness lies in its food scene. I wish I could say that I have been dining at Santiago's greatest restaurants and sampling all the delicious local delicacies. Unfortunately, Tony and I are trying to start our trip following our daily budget that we established prior to starting our journey, and food here isn't as cheap as we initially thought.
Thus, we have been taking advantage of the free buffet breakfast at the Hyatt (and stealing food for later in the day), grocery shopping for dinner, and carefully inspecting every restaurant menu for prices before stepping in the door.  Once we get into the groove of things, we plan to treat ourselves every now and then to a good meal… but for now we will be cheap!
Some trends I have noticed is that people love their Chilean hot dogs topped with mayonnaise (and really anything topped with mayonnaise) and the city is big on fresh seafood (Mercado Central is one giant fish market). Produce is mainly sold seasonally, so apples (my daily treat) are nowhere to be found – outrageous! The one thing I love is that there is an ice cream shop/stand on literally every block… It's like I was meant for this city.
Bathrooms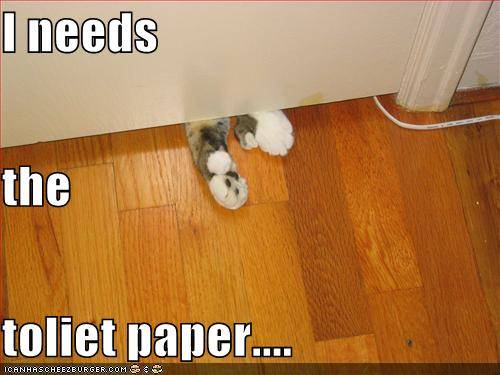 Normally I would not dedicate an entire section of my post to toilet drama, but some practices in Santiago have disturbed me deeply.
First off, you have to pay to get into public restrooms.  I know this is pretty standard outside the states… but come on people!  I have the bladder of a toddler and need to pee every 5 minutes.  I did not factor this into our daily budget!
Secondly, in restrooms the toilet paper dispenser is outside the stalls.  So you need to grab the toilet paper before you go into your stall to do your business.  Let's just say that I have forgotten this rule every single time I have gone to the bathroom and always discover my mistake a little too late.
It's upsetting.
Finally, plumbing in the city is subpar and places do not encourage you to flush – especially with toilet paper.  To solve this debacle, the stalls have large waste bins next to the toilets where you can throw out your used toilet paper (and whatever may come with it)… Icky!
Other Thoughts
Barely anyone speaks English, which I love since it really helps Tony and I learn Spanish (and look like idiots in the process).
Around 2PM on Saturday everything in the city shuts down until Monday… Time to relax!
There are stray dogs and blind people everywhere, which Tony finds fascinating.
For now, that's all I've got on Santiago but I cannot wait to discover more that this city has to offer… stay tuned!
As I learn more about this city, I have made some corrections to my article… Thanks Emily in Chile for helping out a Santiago newbie!
About Meg
Exhausted from traveling every week as a Business Management Consultant early in my career, I took a year off in 2012 to travel at my own pace. I am a high-energy girl that loves being active, eating food, drinking wine, and exploring the world with my partner-in-crime (and husband), Tony! I now reside in Portland, Oregon and continue to write about travel, food, wine, and the awesome adventures we have in the Pacific NW!