If there is any wisdom I could pass along to other backpackers travelling the world, it is to MAKE FRIENDS!
It seriously will change the entire outcome of your trip in the best ways imaginable. Interacting with others will be stimulating and enriching. It will also allows you to do things during your travels that you may have not even known about or may not have done without friends to share the adventure with.
Since arriving in Buenos Aires, Tony and I have met some extraordinary travel buddies such as Michael from Art of Backpacking, Stephanie from Twenty-Something Travel, and Leanne and Leah from Start Somewhere.
It is through them that we learned about (and experienced) the city's infamous drum rave, La Bomba del Tiempo, ate the best tacos in Buenos Aires (and possibly the world), laughed our asses off at a gringo comedy club, stuffed our faces at an indoor Argentinean Asado, and (my personal favorite) dined at the closed door restaurant Cocina Sunae.
Another piece of wisdom I will give you: If you are ever in Buenos Aires, DO NOT miss the opportunity to dine out at one of the city's many closed door restaurants. 
For those of you unfamiliar with closed door (or underground) restaurants, here is Wikipedia's detailed definition:
An underground restaurant, sometimes known as a supper club or closed door restaurant, is an eating establishment operated out of someone's home. They are, in effect, paying dinner parties. They are usually advertised by word of mouth or guerilla advertising, often on Facebook, and may require references to make a reservation.

Underground restaurants are popular in Latin America, where they're known as either a paladar or a restaurante de puertas cerradas (closed door restaurant). They've been built into the culture for decade and are becoming increasingly popular in the U.S

The attraction of the underground restaurant for the customer is to sample new food, often at low cost outside the traditional restaurant experience, which can be expensive and disappointing—underground restaurants have been described as "anti-restaurants." They also generally provide a more intimate, dinner party style experience. For the host, the benefit is to experiment with cooking without being required to invest in a restaurant proper.
Michael and Stephanie were the ones that told us about these closed door restaurants in Buenos Aires and I was immediately captivated.  We got a group together (Leanne and Leah included) and made a super secretive reservation with Cocina Sunae… Okay, so we just went to their website to make the reservation, but it still felt badass.
Cocina Sunae is run by a Philippine-American named Sunae. Having worked in Asian restaurants in New York, she was ready to open a Southeast Asian eatery out of her home in Buenos Aires.
Cocina Sunae is open every Thursday, Friday, and Saturday night and the address of her home is only revealed upon a reservation confirmation in the form of a 50% deposit.  It is here where you can enjoy a four-course, home cooked Asian meal that combines wonderfully spicy, tangy and sweet flavors in every dish.
I was originally skeptical about eating an Asian meal in Buenos Aires of all places – Why eat Asian food when I could be having a steak dinner?!
However, it turned out to be the best meal I have had in South America yet.
We arrived at Sunae's home and were greeted by a doorman who led us through a beautiful outdoor patio area into the dining room of the home.  The dining room looked similar to any restaurant dining room, but it only held 25 tops.
What I was most amazed with was the fact that the entire restaurant operation was run out of a kitchen no bigger than my mom's.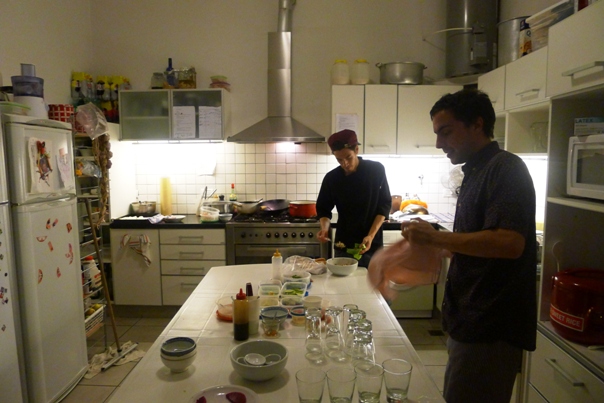 Since the menu was prix fixe, we could just let the night unfold by itself without having to scour the menu for dinner options. The only thing we had to make a decision on was the wine.  And of course, with our thirsty group, we ordered a couple for the table.
It took awhile for the food to arrive (small kitchen, remember?), but it was well worth the wait.  Here were the dishes we enjoyed throughout the meal (and since there were six travel bloggers at our table, there were LOTS of food pictures taken).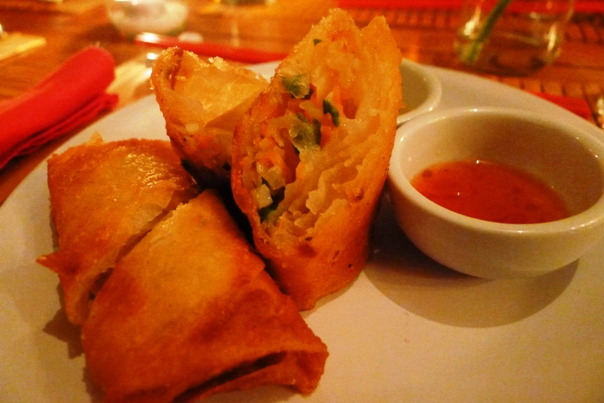 Fried shrimp spring rolls and vegetables served with Garlic shallot sauce and sweet chili dipping sauce: This dish had all the benefits of spring rolls and egg rolls combined.  They were light and clean, yet fried just enough to give them that desired crunch. What really knocked these out of the park though were the dipping sauces.
Tony loved the sweet chili dipping sauce and I loved the huge chucks of freshly minced garlic in the shallot sauce.  I actually loved both so much that I started doing the double dip of the spring rolls in both the shallot and chili sauce… Epic combo right there.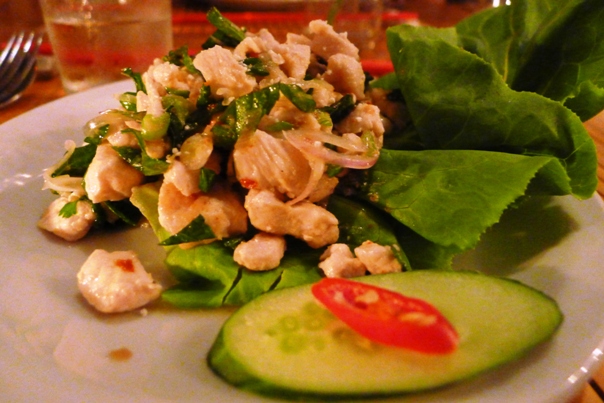 Spicy chicken tossed with fresh lettuce wraps, mint leaves, cilantro, roasted rice and citric crush dressing:  In this dish, you could really taste the difference in home cooking versus restaurant cooking.
I was a fan back in the states of P.F. Chang's chicken lettuce wraps (never again!), but these tasted so darn light.  The chicken was so tender… and simple.  It tasted like something your mom would cook you at home. The only additive to the chicken was the citric crush dressing that had a delicate spiciness to it.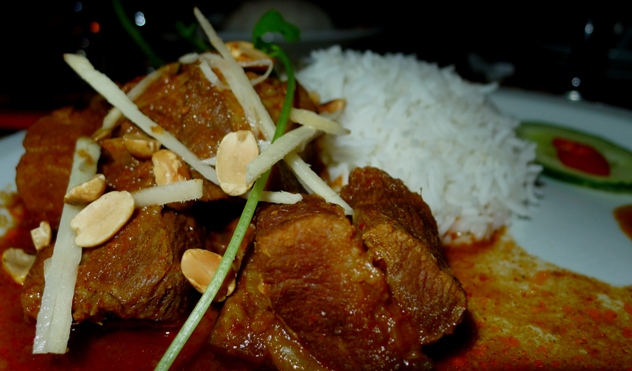 Pork braised in Chiang Mai curry with cumin, turmeric, ginger and peanuts, served with steamed rice: Best. Pork. Ever. Braised meat always turns out AMAZING and this pork was melt-in-your-mouth succulent… It was almost cheating!  The curry was also a flavor explosion in your mouth.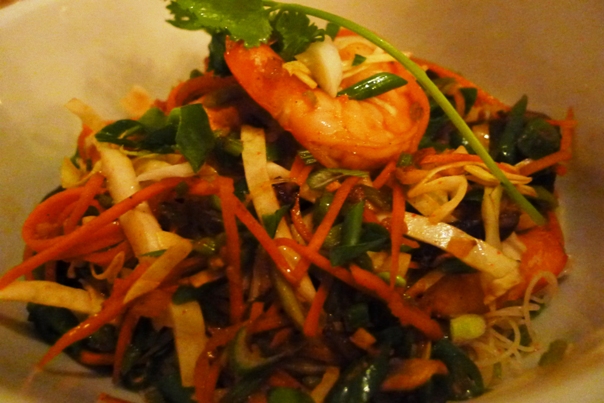 Vermicelli rice noodles sautéed with chicken, prawns, shitake mushrooms and vegetables with lemon sauce: So I said this was a four course meal but we had the option between two main courses (the pork and the noodles) so, naturally, I made Tony split his with me as well.
Wise decision on his part.  No need to end a completely happy marriage over restaurant greediness.  Sharing is caring.
Anyways, this dish was also fantastic.  The noodles were paper thin and married well with the stir-fry they accompanied.  They also had a homemade spicy sauce at the table that I doused my bowl in, which made this dish muy caliente! Tony is a HUGE fan of Pho, and I think this dish will hold him over until we get to Vietnam in the summer.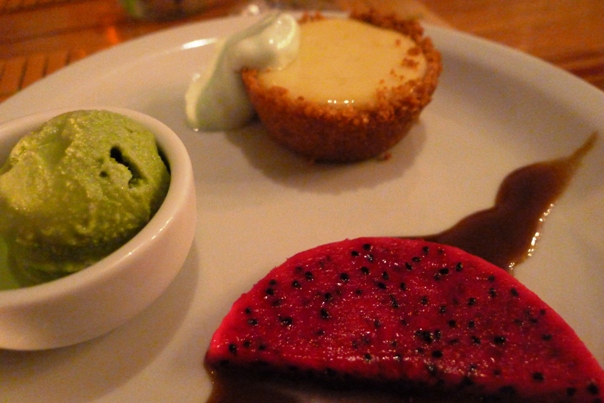 Homemade key lime pie with ginger cookie crust, meringue pandan and green tea ice cream:  Having travelled a lot in the Caribbean and having lived in Florida for two years, Tony and I have consumed a TON of key lime pie in our past.
I may be going out on a limb here, but this could have been the best (at least the second best) key lime pie we have ever had.  It was the perfect combination of tart and sweet and the ginger cookie crust was simply genius.  Plus, the green tea ice cream went surprisingly well with the dish… Who woulda thunk?
After the dinner was over, I was full but everything was so good that I wouldn't have put it past myself to eat another round (or two) of everything we just ate.
Now, I am a total fat kid and think most food is epic, but my dining pals were equally enthusiastic about the meal we just had.
I am so glad Michael and Stephanie introduced us to the world of closed door dining.  It truly is the best of both worlds, combining the comforts and freshness of a home cooked meal with the formality of an intimate night out.
Cocina Sunae was absolute perfección!
About Meg
Exhausted from traveling every week as a Business Management Consultant early in my career, I took a year off in 2012 to travel at my own pace. I am a high-energy girl that loves being active, eating food, drinking wine, and exploring the world with my partner-in-crime (and husband), Tony! I now reside in Portland, Oregon and continue to write about travel, food, wine, and the awesome adventures we have in the Pacific NW!