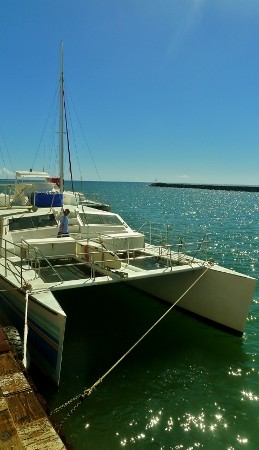 If a 36 ton Humpback whale jumps clear out of the water only a few feet away from you, but you were stuck inside napping and missed it… did it really happen?
Based on the sounds from my sailing companions: A resounding YES.
We were cruising up the west coast of Kauai on a 65 foot catamaran with our friends Josh and Caroline.
The humpback whale swimming next to our boat was swimming just under the surface at over 18 mph. How do I know this? Because at 18 mph, a humpback whale can breach with 90% of its body clearing the surface of the water.
And this whale, so I was told, easily got 90% of its 35 foot body out of the water as it leapt only 40 feet off the starboard (the right side for you landlubbers) side of our catamaran and sprayed salty mist on those luckily enough to witness the event.
I say, so I was told, because I was inside the cabin resting my eyes since it was 9am and I had already been up since 4am.
I completely missed the up close breach!
Running outside at the sound of "oooo's" and "ohhhhh's," I just caught the enormous salt water splash crashing back down into the sea.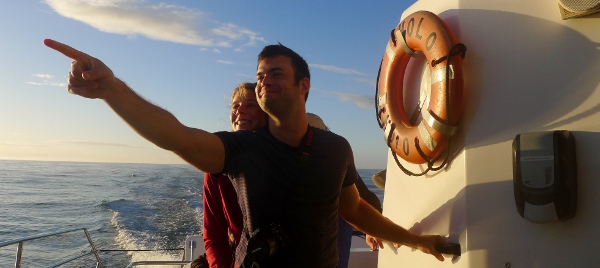 Josh, still basking in the glow of the close-up whale breach, re-enacting his initial reaction with Caroline.
Quickly looking to Meg for confirmation and consolation, she said (as every great wife should), "It wasn't that great. We'll definitely see better later."
Ok. Perfect. I didn't miss, what from the initial reactions, sounded like a tremendous event.
But then I turned to Josh…. "That was hands down, THE SINGLE GREATEST THING I HAVE EVER SEEN! I CAN'T BELIEVE THAT JUST HAPPENED! Seriously. That was incredible. I can't believe you missed it."
Thanks, Josh.
Catamaran Cruising In Kauai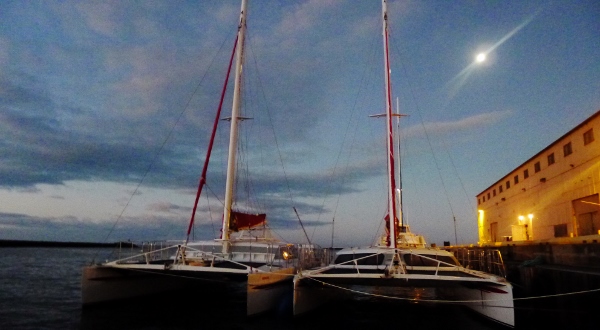 We had heard rave reviews from everyone who visited Kauai about the catamaran cruises. Not only did they offer the potential to see a crazy amount of whales and dolphins, but they climaxed at the Napali Coast: One of America's truly incredible natural wonders.
We were sailing that day with Holo Holo Charters and had started early. The meet-up at the company store was 6am and departure was scheduled for 7am. For those of you allergic to early mornings and concerned about the meeting time, being on the water at sunrise was definitely worth the sleep-induced grogginess.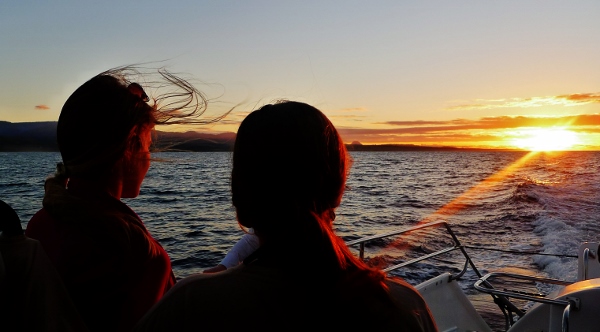 The goal of the day was to cruise North to see the Napali Coast and to then sail out to the small private neighboring island, Niihau. Unfortunately, due to the large waves often found during the winter in Hawaii, our voyage over to Niihau was cancelled by the Captain. This just meant more time at the Napali Coast and whale watching, which was fine by me…
Because it turned out that the whales were going crazy the day we were on the water. Back on land, we even heard a few locals call it a whale "fracas." Gotta love anything called a fracas.
In order to protect the whales in Hawaii, it is illegal to approach them when you are within 100 hundreds. While we were limited in our distance, they were not. Which meant as long as our boat idled, any curious whales were welcome to get as close as they want. So that explains how the Humpback whale breached so close to our boat!
Even though I missed the one insanely close breach of the day, I did witness numerous others. We saw a mama Humpback teaching a calf how to breach and a few older Humpbacks leaping in succession. We could not go 15 minutes without stopping for another whale sighting.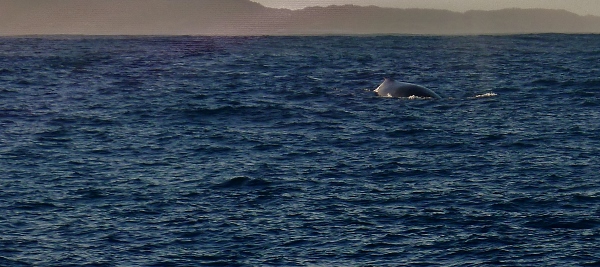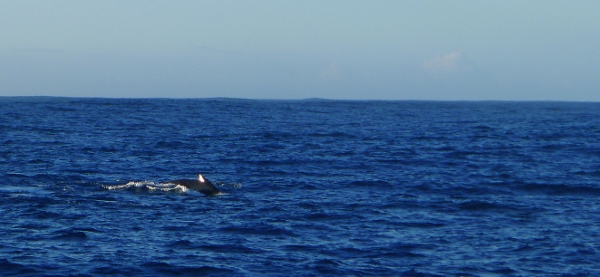 And just in case whales weren't our thing, a pod of 300 dolphins decided to cruise right under our catamaran. In talking with the crew, we learned that multiple dolphin pods can combine to form a "super pod" and that last year they witnessed a 5,000 dolphin pod. Crazy, right?
The captain eventually had to tell us that he was going to power north as there were too many whales and dolphin pods to stop for each one.
Reaching The Napali Coast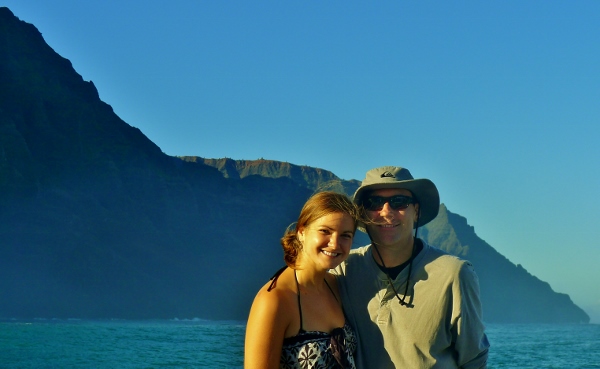 After 3 hours of motoring north, we reached the Napali Coast.
While Kauai is the oldest of the major Hawaiian Islands, it was formed just like the rest. Originally a volcano centered over a large magma plume, tectonic forces shifted the magma plume so that the volcano cooled. Oxygen, plants, and rainfall then had their effects felt as they too shaped the island. Due to the chemical instability of volcanic soil, all of these forces combined with strong pacific waves to create the Napali Coast.
There were hidden caverns that could be explored on days with less surf and even beaches that are only reached by boat or by hiking a strenuous 11 mile trail (aka the Napali Coast hike). But today was not the day for exploring the caverns. 15 foot waves constantly buffeted the boat with the occasional 25 foot wave making every one dive for a hand rail. Luckily, the crew was more than up to the challenge of dealing with us as they were experienced with tourists in waves up to 40 feet!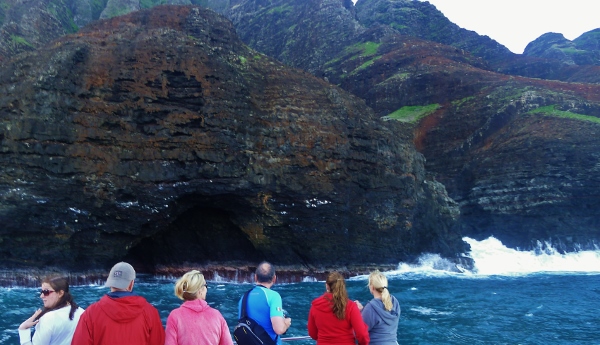 After a close-up tour of the Coast, we sailed to a quieter cove where we all got to dive into the water and snorkel. The crew said that there were better spots to snorkel, but that the surf was not being accommodating. There were a number of fish to see and the crew had good gear for us to use, but the marine life was not nearly as good as we had seen in Southeast Asia. But if you don't snorkel frequently, you definitely will still enjoy this part of the day.
What You Get & What It Costs
For a 7 hour day with Holo Holo Charters and 6 hours on the water, we were able to: See way more whales and dolphins then I had ever previously seen in the wild, get a up close glimpse of the Napali Coast, snorkel for up to an hour (if we wanted), eat breakfast and lunch provided by the crew, and sip on beers and wine as the catamaran cruised back to port.
We loved our day on the water, especially because our 65 foot catamaran only had 18 people on board… Gotta love the low season! The boat can fit 65 people, but the company says they limit themselves to a max of 49 in order to keep everyone comfortable.
If you're interested in checking out the Napali Coast and possibly seeing Niihau Island on a low-surf day, we definitely recommend checking out Holo Holo Charters on Kauai. If you are interested in the exact tour we did, an adult ticket is $195 while kids pay $139 (pro tip: check in online to save $20).
Our day on the water was sponsored by Holo Holo Charters. All opinions, as always, are our own.