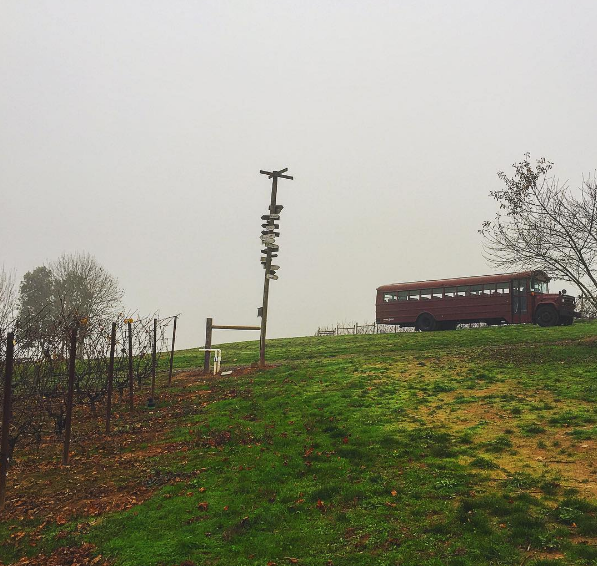 May is a magical, magical month here in Oregon. This month kicks off Oregon Wine Month, the official state-wide month dedicated to all things wine. Throughout this month wineries, tasting rooms, bars, and restaurants are opening their doors to showcase the quality and diversity of the region's best wine.
In the spirit of celebrating my favorite beverage (besides coffee!), I wanted to put together a list of my favorite places to drink wine in Portland and the surrounding area. With summer just around the corner, now is the perfect time to kick back and enjoy a glass with great company at one of these hot spots:
Portland
Division Wines – Tony and I spent this past year living in the Richmond neighborhood and Division Wines became our favorite local hangout. Division Wines was previously just a bottle shop (selling over 800 bottles), but roughly a year ago, they opened up a wine bar off to the side of the shop. Here at the bar, you can order full glasses, half glasses, and wine flights from their small and curated wine list. What I love is that they are constantly changing their wine menu, so each time you come here, you can try new featured wines. The owners and staff are so knowledgeable and friendly and will nerd out over their wine, while letting you taste any wine you're curious about. I always love to sit at the bar and chat it up with whomever is working behind the counter.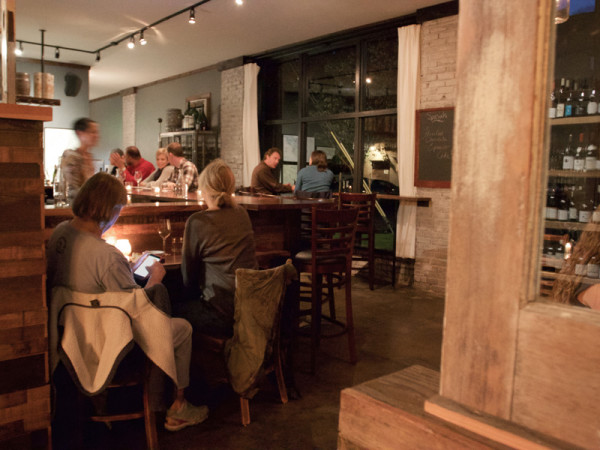 Photo credit Division Wines
Division Wines also serves fantastic cheese and meat boards. It's the perfect place to grab a pre-dinner drink and snack before a night on the town.
SE Wine Collective – Just kitty-corner to Division Wines is SE Wine Collective – a community urban winery and wine bar featuring an extensive wine menu of wines made both here in Oregon and outside the state. The staff here will always help you pick the perfect wine, and the ambiance in here is idyllic for a cozy date night.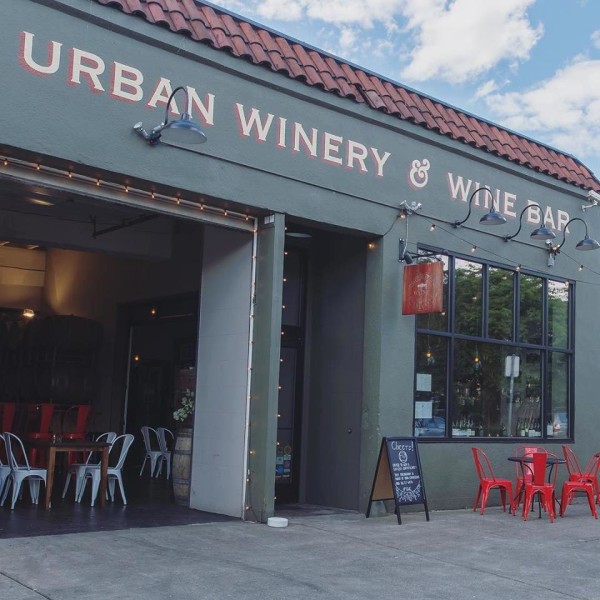 Photo credit SE Wine Collective
Pro tip: Come hungry to SE Wine Collective because their food is out of this world! You would never think it, since the focus here is wine… but every single dish they serve is damn good. My current favorites are the popcorn, asparagus & ricotta toast, pea salad, and the lemon orecchiette.
M Bar – This used to be my go-to watering hole in the Northwest! This place is Sterling Coffee Roasters during the day — and while it's a bar at night, it has the delicious smell of roasted coffee beans in the air around the clock. It's open late 7 days a week, and they have an incredible happy hour deal from 6-8pm, which is on the later side for happy hour in Portland. My favorite deal is their $3 off wine glasses, with some glasses starting at $6. They only ever have 2-3 reds, whites, and rose's on the menu at any given time, but each one is carefully curated and outstanding.
TeSoAria – The TeSoAria Winery is located Roseburg, OR, but their tasting room is conveniently located on North Williams Ave here in Portland if you cannot make the trek out to wine country. As a girl that loves full bodied red wines, their Bulls Blood and Barbera is where it's at.
They have an excellent selection of wines, a great outdoor seating space (perfect for summer nights), and their staff is amazing! Whenever I come here, I admittedly end up drinking WAY more than planned… Their staff is so energetic and enthusiastic to have you try their wine, how can you say no?!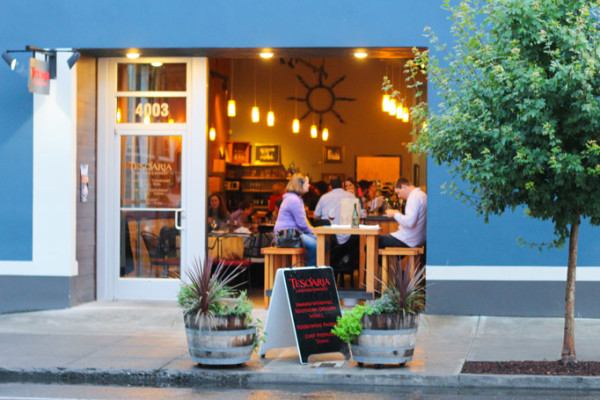 Photo credit via Platings & Pairings
They also have Pizza Tuesday and other great events, although I haven't been to any yet.
Thelonious Wines – Located in the heart of downtown/the Pearl, Thelonious Wines is a great new wine bar and bottle shop that opened in July of 2016 by sommelier couple, Kelsey Glasser and Alejandro Marchesini. They only carry 100 or so wines, but their tasting menu is extensive and the space is full of light and very cozy… Just think if your living room had a wine bar attached to it!
I came here with a group of girlfriends and it was the perfect spot to grab a glass of wine after work. They even have the mythical orange wine on their menu!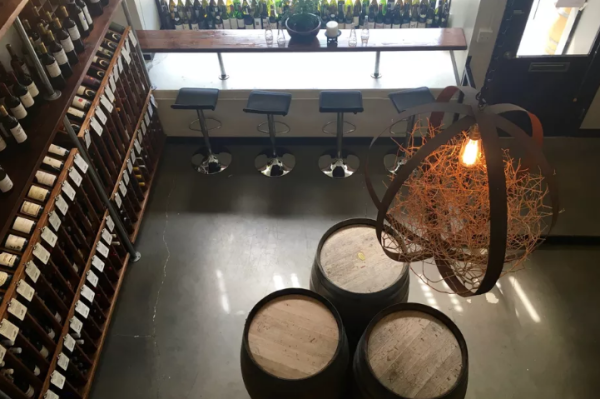 Photo credit Eater PDX
Surrounding Area
Aniche Cellars – If you're in the Hood River area for a day trip, stop at the family-owned Aniche Cellars just across the river in Underwood, WA… You won't regret it! The winery and tasting room is situated on the top of a hill overlooking Hood River and the Columbia River. Not only is their wine delicious and the staff casual and fun (a tasting with them is always a blast!), but ambiance here is on point.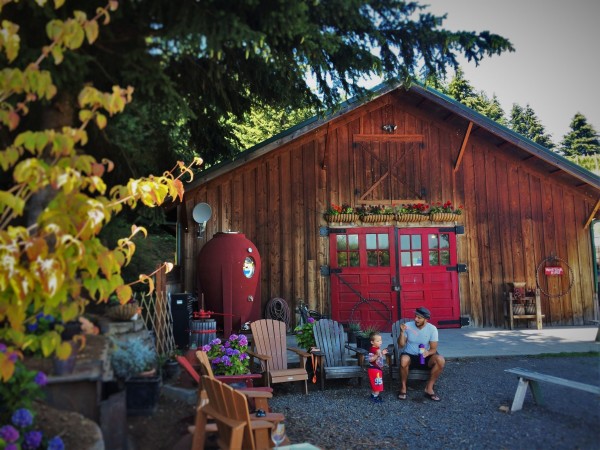 Photo credit via 2 Travel Dads
Come here in the summer, do a tasting of their wines, purchase a glass of your favorite wine, sit out on their patio, and take in the beauty of Oregon!
Angela Estate Wines – Located in Dundee, OR, Angela Estate Wines is the perfect stop in the heart of wine country. They offer delicious pinots (i.e the wine what has made Oregon wine country famous!) and their staff is extremely entertaining throughout the entire tasting experience. I had the pleasure of visiting the tasting room with a few of my girlfriends and the Little Green Pickle team, and the General Manager, Jessica, did our tasting… she was wonderful and so funny.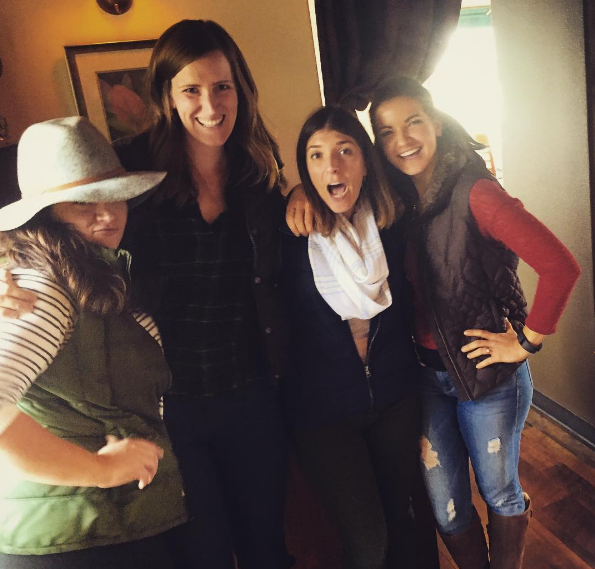 Shenanigans with the PDX blogger ladies at Angela Estate Wines
Some other great PDX wine spots to check out for Oregon Wine Month (and beyond!) are ENSO Urban Winery + Tasting Lounge and Coopers Hall!
What are your favorite places to drink wine in Portland & Oregon? Please share in the comments!
About Meg
Exhausted from traveling every week as a Business Management Consultant early in my career, I took a year off in 2012 to travel at my own pace. I am a high-energy girl that loves being active, eating food, drinking wine, and exploring the world with my partner-in-crime (and husband), Tony! I now reside in Portland, Oregon and continue to write about travel, food, wine, and the awesome adventures we have in the Pacific NW!