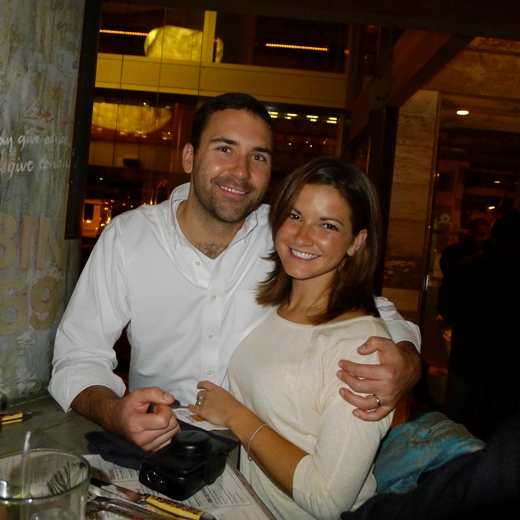 In Tony's recent article, he wrote about our big move from Miami to Boston (the first real step of our RTW adventure) and the highlights from this incredibly long (yet always entertaining) car ride North with our U-Haul in tow.
What he failed to mention in his post is that we planned our ENTIRE trip around the meals we were going to eat…What can I say?  We fat kids love our food!
So forget the tourist stops along the way and the city exploring. This article is all about the good stuff.
Here were the highlights from the most important part of our road trip North:
Being the Type A planner and foodie that I am, I started researching restaurants for our road trip a month in advance.  I came across The Olde Pink House on Yelp, which had 4.5 stars out of 294 reviews…UNHEARD OF.  I instantly made reservations and was counting down the days to our roadtrip to dine at the restaurant.  I was initially worried that I built it up too much in my head and that it wouldn't live up to my expectations.  Boy was I wrong.  This place was RIDICULOUSLY good.
It was situated in an old colonial Southern home and served Southern classics with a modern flare.  The first dish we ordered was the BLT Salad, which was also featured on The Best Things I Ever Ate on the Food Network.  Brown sugar dusted bacon. Lettuce. Fried green tomatoes.  Buttermilk dressing.  Heavenly. The bacon was so thick that the waiter brought out a steak knife with our salad to cut it… Enough said.
For the second dish, we ordered their shrimp and grits, which was Tony's first experience with shrimp and grits….And he was not disappointed.  The dish was served with shrimp, country ham gravy and cheddar cheese grits cakes that were flash fried to perfection… Amazing!
To finish off the incredible dining experience, we got the blue crab stuffed grouper, which was so scrumptious and soul comforting.
If you are ever in Savannah, do NOT leave the city without visiting this Southern gem.
Getting 4.5 stars on Yelp, this café seemed like a Savannah landmark that was a must for breakfast.  It was such a cute little breakfast spot with plenty of breakfast options from omelets to pastries – but Tony and I were still full from dinner at the Olde Pink House that we decided to just settle on a bowl of traditional oatmeal.  Lame… I know.
As Tony mentioned in his post, we were happy to discover that Charleston was only 2.5 hours from Savannah and since we were planning this road trip around meals, we decided to take advantage of this opportunity and do lunch in this historical city.
Continuing our lameness from breakfast, we decided to go light on lunch.  Luckily, The Amen Street offered up great oysters and delicious half portion fish dishes.  Overall, this place has great food, ambiance, is in a very central part of downtown, and is the perfect dining option for a light, casual lunch.
After a night in Raleigh, NC (no food to discuss at this stop since we were stuck eating at the Marriott Courtyard Café) we headed to Washington, D.C. to visit Tony's cousin, Tina, and her boyfriend, Stephen.  When we arrived in DC, the weather was incredibly miserable – cold with a mixture of snow and rain.  Yuck!  When we got into town that afternoon, we were hungry and were craving something hearty and warm.
Our hotel was in downtown Silver Spring, MD and we were looking for a quick place nearby to satisfy our tummies.  We came across this Vietnamese restaurant in a shopping center that specialized in Pho.  We have heard great reviews on this dish from foodies such as Anthony Bourdain and countless travel bloggers…Even though we knew Pho from a shopping center in Silver Spring was not all that authentic, we thought "why not?!"
Boy, were we glad we made that decision.  It was DELICIOUS.  It was the perfect dish to warm me to the core on a cold rainy day.  The mixture of meat, vegetables, noodles, broth, and spices was the perfect combination of awesomeness.
I do have to warn you though – Pho is not easy on the stomach (at least my bowl wasn't).  It could have been the amount of spices I added to the soup, or simply the enormously large bowl I downed in 10 minutes, but it sank to the bottom of my stomach like a ton of rocks. Furthermore, after eating this delicious dish, I was feeling ultra-ambitious back at the hotel gym and decided to go for a run on the treadmill.  Let's just say that I now know what heartburn (and death) feels like!
After the Pho had settled in my belly and the run on the treadmill got my appetite back up to snuff, we met up with Tina and Stephen (with a guest appearance from Tony's sis Maggie) for dinner in downtown D.C. at the Founding Farmers.  This restaurant specializes in serving local sustainable food and was phenomenal.
The décor in the restaurant was cozy and hip all at the same time, which perfectly set the tone for the three hour meal ahead of us.  We eased ourselves into dinner by starting our night downstairs at their bar with drinks and appetizers.  Their drinks were exquisite – served by not just bartenders but "mixologists" (baller).
Tony was wow'ed by their Sazerac and I had their delicious pumpkin beer.  Their appetizers were tasty and unique, such as the brown sugar bacon lollipops (OMG amazing) and the ranch flavored popcorn, which is a snack that I would never think to order at a restaurant (come to think of it, I have never even seen it on a menu)… but I couldn't get enough of it!
For dinner, Tony and I shared two dishes of roasted butternut squash-mascarpone ravioli and scallops with butternut squash risotto.  Between the pumpkin beer and the main course dishes, I may have been going overkill with fall vegetables, but both Tony and I were missing the autumn wonders while living down in Miami.
Along with dinner, our table also decided to order hot Beignets with a trio of raspberry, caramel, and chocolate dipping sauces.  I have never been a fan of donuts (especially for dinner) but oh my lord, these were melt-in-your-mouth good!
Similar to the Vietnamese Pho, Tony and I have never tried Ethiopian food, so Tina and Stephen thought this was a great opportunity to take us to their favorite Ethiopian restaurant in the city. We ordered a big mix veggie and meat platter for the table, and the platter that came out was the size of a manhole.
This cuisine is perfect for anyone with an open mindset to food and for anyone suffering from food A.D.D (such as myself) because there must have been 20 different vegetable and meat preparations on the platter to sample with the traditional Ethiopian spongy bread.  It wasn't my favorite meal of the entire trip, but it was a great experience shared with great people!
Graffiato (Washington, D.C.):
Tina was dying to take us here, as it was the restaurant from Top Chef Contestant, Chef Mike Isabella.  This restaurant specialized in "Jersey Italian", which I am not exactly sure how Jersey Italian is different than regular Italian (I was immediately trying to remember the dishes they cooked before a belligerent night out on The Jersey Shore), but it was darn good.
We decided to splurge and ordered the chef tasting menu and must have had about 15 dishes brought out to us.  Some of my favorites included the meat-tastic Porky's Revenge brick oven pizza, the veal bolognese, and the hot pumpkin donuts… Yes, we had donuts for dinner a second night in a row.
I was in love.
Eno Terra (Princeton/Kingston, NJ):
Once we made it to Princeton, New Jersey (where I work and where Tony dropped me off for the week), I wanted to take him to a local favorite of mine, Eno Terra.  This restaurant serves up excellent farm-to-table fare and lives up to it's  "eat locally, drink globally" motto.
Their ambiance has a cozy warm feel to it that is a perfect setting for dinner on a cold fall night.  What I also love about this place is that they only serve small plates, which allows you to sample a wide variety of dishes.  Our favorites were the arancini (fried risotto) balls, the scallops with sage pesto, carrot & apple puree, and the pear cobbler for dessert…Yum!
After this epic lineup of meals that we had on our road trip North… it was time to hit the gym!
…Up next from me: A dining guide from our upcoming West Coast road trip, which will touch up on some hotspots in the foodie-centric towns, such as San Francisco, Portland, and Seattle. Stay tuned!
About Meg
Exhausted from traveling every week as a Business Management Consultant early in my career, I took a year off in 2012 to travel at my own pace. I am a high-energy girl that loves being active, eating food, drinking wine, and exploring the world with my partner-in-crime (and husband), Tony! I now reside in Portland, Oregon and continue to write about travel, food, wine, and the awesome adventures we have in the Pacific NW!