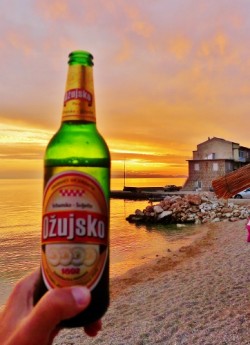 Sometimes you all surprise us…
We have loved Croatia since we stayed there for 5 weeks in the early summer of 2012. We have also told everyone we meet that it was one of the best places we visited as far as food (big Italian influence), people (incredibly friendly), and price.
While everyone we tell about Croatia usually acts surprised, they don't seem to interested in visiting. But then, you all started to email us asking for advice.
Apparently more than a few of you have had your curiosity piqued about this great country and wanted tips based on our experience. So since you all have been asking, I thought I would deliver a comprehensive breakdown of our time in Croatia.
Where We Stayed
Located on the Southern coast of Croatia in the region of Dalmatia, Drasnice was the perfect place to recharge our batteries.
A town of 2,000 at the peak of tourist season in the summer, we stayed there just before the flood of visitors arrived. This meant it was just us and 200 locals in this sleepy seaside town.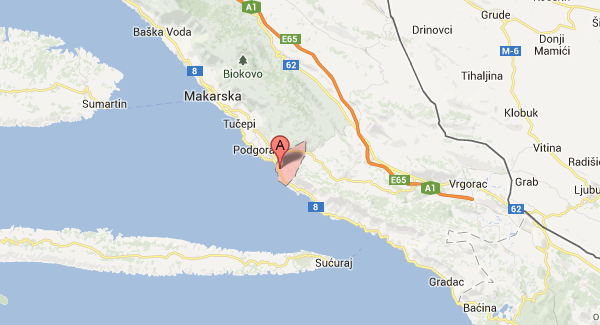 Most restaurants were not open yet and the ones that were had limited menus. We didn't care. There was a small grocery store in town that had just enough not-rotten (wouldn't call it fresh) produce and plenty of canned goods to keep us happy in our tiny kitchen.
Because it was a small town and we were the only visitors, we apparently stood out during our 5 week stay.
One day at the grocery story, I found a credit card on the ground by the cashier. I handed it over when I checked out and made some hand gestures letting the cashier know it wasn't mine.
Three days later I was sitting by the beach side bar having a beer at sunset when a 50 year old woman came strolling up to me and handed me a bottle of homemade wine (at least 20 proof… yikes!) and a delicious strudel. Pulling out her wallet and pointing to her credit card, she nodded her head and walked away. Instantly realizing that this must have been the owner of the credit card I had found at the grocery story, I laughed trying to imagine what was said to find me:
"The Americans found your wallet. Yeah, the only tourists in town. You can always find them down at the bar. They like to drink, so bring them some of your crazy alcoholic wine!"
The Apartment
This place was vintage… straight out of the 70s. Orange kitchen counters and furniture, brown carpet, and what looked to be a first generation color TV. The bathroom was so small that you had to squeeze around the half open door, step into the shower, and then shut the door to even have privacy.
But if was perfect for us.
Found on airbnb for $20 per night, we could not have been happpier. Despite the tiny bathroom and lovely décor, it had a functioning kitchen, was above a beach side bar, and was 30 feet from the beach. Pure bliss.
Where We Visited
Drasnice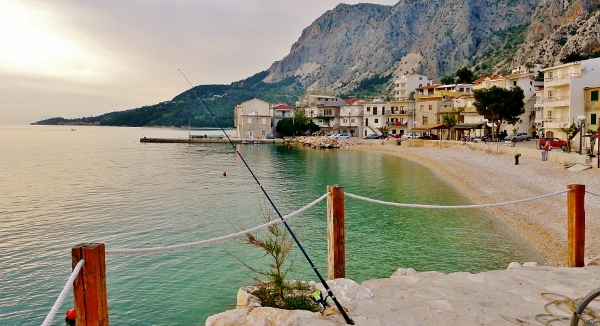 We spent most of our time working and relaxing in the town of Drasnice. Not typically a final destination for most, you would normally pass it by bus when traveling between the larger cities of Split, Makarska, or Dubrovnik.
Makarska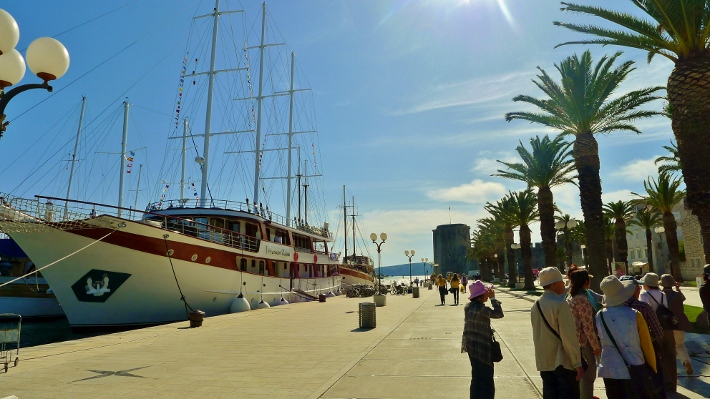 Located 20 minutes north of Drasnice, we often saw this town referring to itself as the Croatian Riviera… while definitely a destination for yachts and with a nice seaside atmosphere, this claim seemed a little bold. Definitely a beautiful place to walk around for a few hours though.
Split
For a place I knew nothing about, I was blown away by Split. Because Croatia was once part of the Roman and Venetian empires, you can feel the influence in a lot of places. Giant Roman walls are visible throughout Split and old forts can still be walked by tourists. The food is also excellent and is a combination of classic seaside fare mixed with Italian.
Zagreb
We were only in the Capital city for a full day and night before we had to fly out of its airport. We stayed in the historic section of the city and were impressed with the cool architecture and the fairly lively night scene. It was much more appealing than I first thought it would be and possibly worth a stay of a few days.
Transportation
Bus travel up and down the coast is incredibly easy. Used by most of the locals, you will have no problem navigating the system. As long as you know the name of the town you are going to, your bus driver will get you there. I would advise you also write down the names of towns surrounding yours, just so you can notice when you are getting close. You don't want to be at the mercy of a bus driver who forgets to tell you that you're at your stop!
Best Time To Visit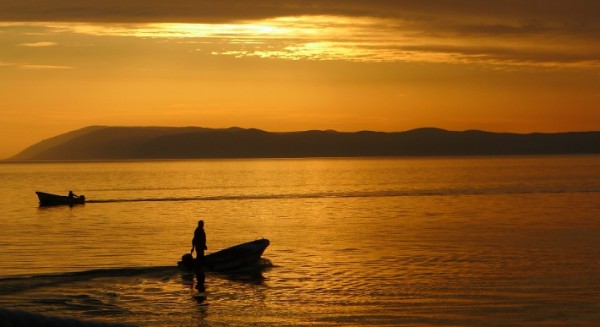 We stayed in Croatia for all of May and would highly recommend this time of the year to travel there. It is the shoulder season for Croatia, when the weather turns beautiful and the cities and town are still untouched by tourists.
The local bartender that we lived above in Drasnice said that June-August is swamped with tourists. Now, maybe you aren't like us and are interested in doing more than working and relaxing. If so, maybe you would like it when the tourists come. As our bartending friend said, the parties rage all night and just continue into the next day. But for us? We'll take the peace and quiet of May.
How We Got There
There are a few options to get to Croatia if you are traveling in Europe, but we wanted to try something a bit different. Since we were in Umbria, Italy before we went to Croatia, we found a fairly cheap ferry from the eastern coast of Italy to the west coast of Croatia. While an experience, we opted not to pay the extra few dollars for guaranteed seats thinking that we could just find some open ones when we boarded the ship. Big mistake. Take the overnight ferry to Croatia if you want… but pay for seats!
How We Left
We flew to Turkey after Croatia and left from the international airport in the capital city of Zagreb. Again, the bus system made everything easy and we found a nice 5 hour bus ride from Drasnice to Zagreb.
Places We Most Want To Visit In Croatia For Our Next Visit
Two places that everyone loves that we didn't get to see: Dubrovnik on the southwest coast and Plitvice Lakes National Park in the center of Croatia.
Dubrovnik is a major tourist destination and is listed as a UNESCO heritage site. In the middle ages it became known as a maritime republic and was the only eastern Adriatic city-state to rival Venice.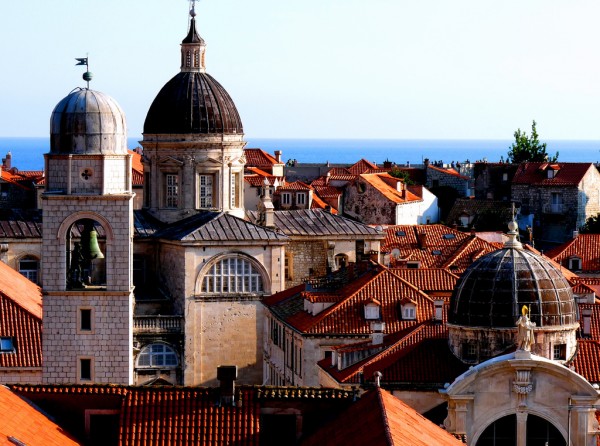 Venice! If that doesn't interest you… I don't know what will.
The Plitvice Lakes National Park is just ridiculously stunning. I have seen numerous pictures of this place from friends and every time I can't believe it's real. Lagoons and waterfalls the color of liquid diamonds.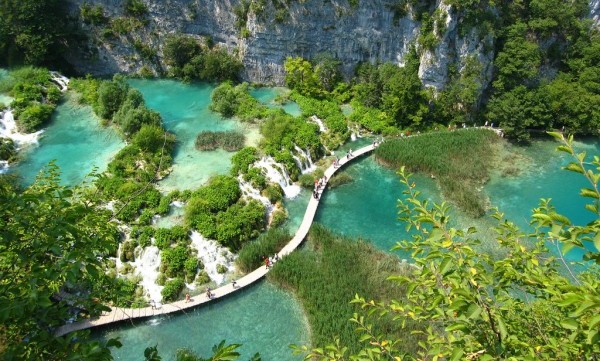 Just do a Google image search of it to see more of what I am talking about. It is incredibly high up on my list of places anywhere in the world that I want to visit next.
Our Articles About Our Time In Croatia
If you want to read some of the adventures we had in Croatia, try out these articles:
Further Reading On Travelers' Experiences In Croatia
We did a lot of research before we made it to Croatia and have kept reading about it since we left. Here are some of our favorite articles on Croatia that entertained, educated, and made us desperate to visit again.
Adventurous Kate found the most beautiful village in the world during her travels in Croatia.
Would you expect the best museum you've ever experienced to be in Zagreb? Michael Hodson probably didn't… but it was.
Still need inspiration? Check out the 10 most beautiful places in Croatia.
What About You?
Have you been to Croatia? We would love to hear about your experience there and if it was as great as ours. Thinking about going? Ask us your questions in the comments and please share on Twitter and Facebook. Let's get the Croatia conversation started!
About Tony
Quit his job to try actually following his dreams for once... and is currently loving it. He is working hard to to make this life-style permanent by writing about his adventures and brainstorming money making opportunities with his partner-in-crime, Meg.