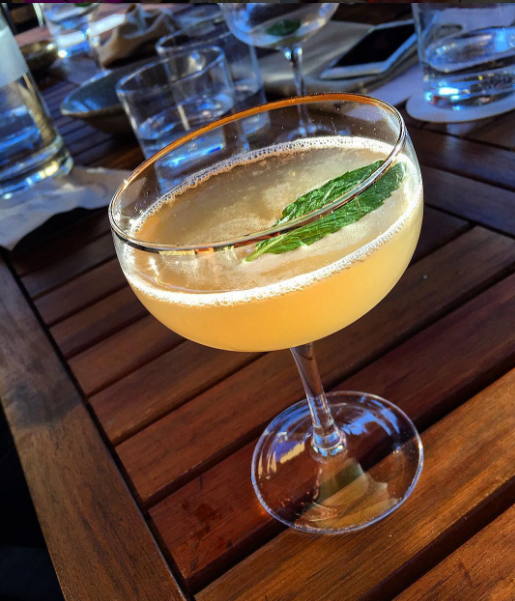 Over the past several months, Tony and I have been quite busy with visiting guests in town. Even traveling all the way from Australia, our friends have been dying to visit us in our new-ish city. Each of these opportunities have allowed us to explore what Portland is known for: Food & Drink.
Therefore, I thought it would be fitting to do a round-up post of all of my favorite Portland bars to bring out of town guests… or just go to with friends living in town on a casual afternoon.
Before you dive in, please remember that this is just a select group of places I have featured. I honestly love 50+ places in Portland, but don't have the time (or energy) to name them all here! #Lazy
Also, if there are any Portland bars, breweries, or restaurants you think we should feature for a future article, please let me know in the comments. Tony and I are always looking for new places to try in the city!
The Best Places to Grab a Drink in Portland
Best Drinks
Multnomah Whiskey Library: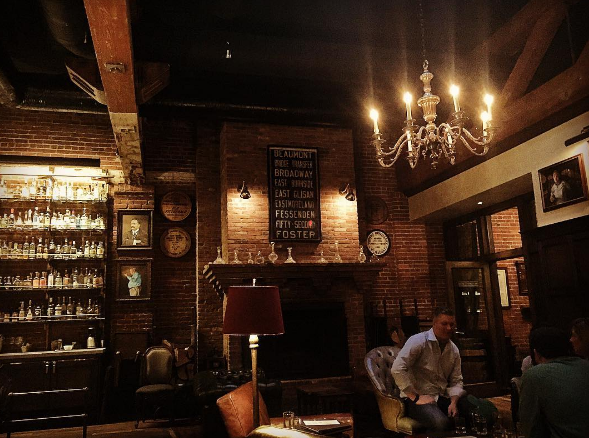 The Multnomah Whiskey Library holds an exhaustive collection representing all major, and lesser, styles of distilled spirits known to the modern world. But more than anything, Multnomah Whiskey Library has an amazing ambiance. We love the decor with the brick backdrops, the old furnishings, the comfy couches, and the library-style study tables.
Everyone here makes you feel like a VIP from the moment you step in — and the table-side cocktail service is a nice treat from the typical bar experience. The staff is incredibly knowledgeable about their extensive whiskey menu and featured cocktails. I'm a newbie whiskey drinker and the bartenders are always super gracious in helping me select a drink, and have enthusiastically crafted some amazing tequila drinks during the times I wasn't in the mood for whiskey. Tony and I agree their Old Fashioned is the best in town!
Multnomah Whiskey Library is on the pricey side, with featured cocktails starting at $12 and wines going for around $14 (although, they do steep pours!)… but it's worth it for the occasional splurge.
Other things: The wait here can be long if you aren't a member, so I would recommend coming between 4:00-5:30pm on a weekday to beat the crowd. We haven't tried the food here, but it looks really good!
Renata:
Renata is the PDX dark horse that snuck up on me! Normally known for it's delicious Italian food, you rarely ever hear about their drinks… but MAN are they good. The cocktails they offer during happy hour are some of the most creative and delightful cocktails in the city. My favorite is the Paper Moon with pisco, vermouth, bay leaf, perfectly whipped chamomile egg white, and a dash of lemon.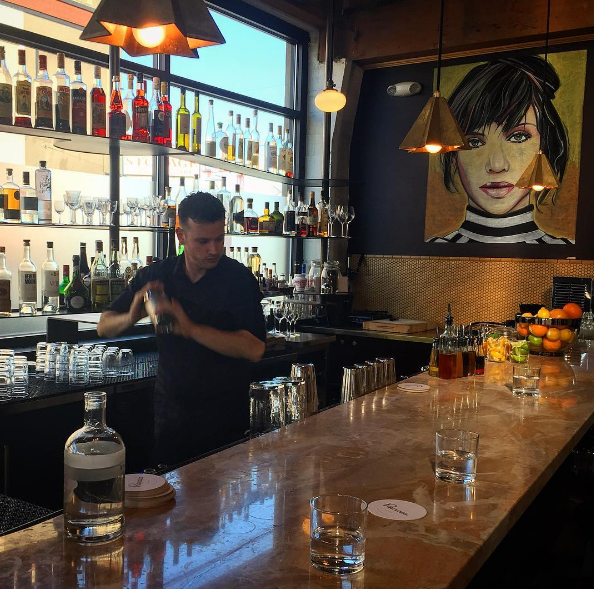 Renata even has a fantastic outdoor patio to sip your cocktails and enjoy some of their Italian small dishes to share on a summer day.
Whiskey Soda Lounge:
Whiskey Soda Lounge is home to my favorite cocktail in town, the Heat Ray: Tequila, Som celery drinking vinegar, fresh lime and Thai chile, served up!
We first visited the Whiskey Soda Lounge before dinner at the famous Pok Pok a year ago. We came in around 5pm on a Friday and it was dead, which meant we got all the attention of the bartender. We sat right up at the bar and got into a great discussion with the bartender on his favorite drinks and whiskeys they serve at WSL… He was very attentive and fun to chat with.
They use house-made Asian drinking vinegars in their cocktails, which cuts out a lot of the sharpness of many hard alcohols. Aside from the Heat Ray, I love their Hunny drink with fresh grapefruit juice, honey drinking vinegar, and tequila.
Cocktails are around $10, which is pricey for Portland, but well worth it!
As a bonus, they sell the Pok Pok's famous Vietnamese Fish Sauce Wings at Whiskey Soda Lounge! Next time you are on Division Street, skip the crowd at Pok Pok and just go for drinks and wings at WSL!
Muselet Wine Bar:
WOW! I did not know this place existed in Portland. I am never over at the South Waterfront, but I may have to visit more often now that I know Muselet is in the hood.
The wine list here is extensive, with a great selection of delicious cocktails (my favorite being the Laka) and bubbles. The owner, Ron, was a delight to talk with and I had a great time geeking out with him on all the wines I had throughout my dinner. He knows so much about the industry and different varieties and will help you pick the perfect pairing with your food.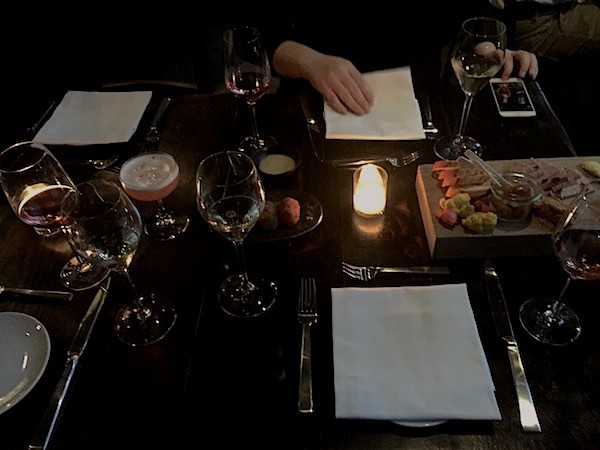 Aside from the wine, the food here is dynamite. Everything I tried was exquisite. I am normally not a fan of pate and foie gras, but these blew my mind. Some other favorites included the wagyu, porridge, and sturgeon. Also, leave room for dessert — the chocolate terrine and goat's milk custard-streusel were spectacular.
Overall, the staff here is friendly, the ambiance is modern (yet inviting), and the wine & food is out of this world! I can't wait to come back.
See my recent interview with Muselet owner, Ron Acierto.
Great Notion:
Great Notion Brewery has some of my favorite beers in Portland. I don't typically like sours, but their Blueberry Muffin Sour Ale is not to be missed. In colder months, they also have their Double Stack Stout, which tastes like homemade pancakes drenched in maple syrup and topped with your morning coffee. Great Notion also has a killer outdoor patio for those nice summer nights.
Secret Society:
Secret Society is such a quiet, elegant, and cozy place for a date night. We typically come here before dinner at neighborhood hot spots like Ox and Toro Bravo, so we haven't tried the food yet… but it looks really delicious.

This place has a lovely ambiance, settled in the back room of a victorian-style home. Just picture your grandma if she were hipster and served incredible cocktails out of her living room… and there you have Secret Society.
The cocktail list is extensive and creative, with seasonal specialty drinks. They also have a solid roundup of beers on draft, wine, and champagne. Come during happy hour, as they have good discounts on select cocktails and their wines/beers/etc.
Best Patios Bars
With Summer in full swing, the weather has been getting nicer and nicer here in Portland, which has me incredibly excited to check out all the patio bars in Portland this summer. There are plenty I still need to check out, but here are some of my favorites in the meantime….
Interurban / Rambler / Bar Bar trio:
If you are looking to hop around some bars on the Mississippi Avenue strip, these bars should definitely be on your list.
Interurban has great deals during happy hour, with a beautiful outdoor patio in the back that is shaded, quiet, and intimate from the hustle and bustle of Mississippi.
Rambler is situated in a old victorian-style home. It is such a cute place, complete with $3 tall boys, a fire pit that faces Mississippi (perfect for people watching), AND an outdoor Bocce court on the side of the bar.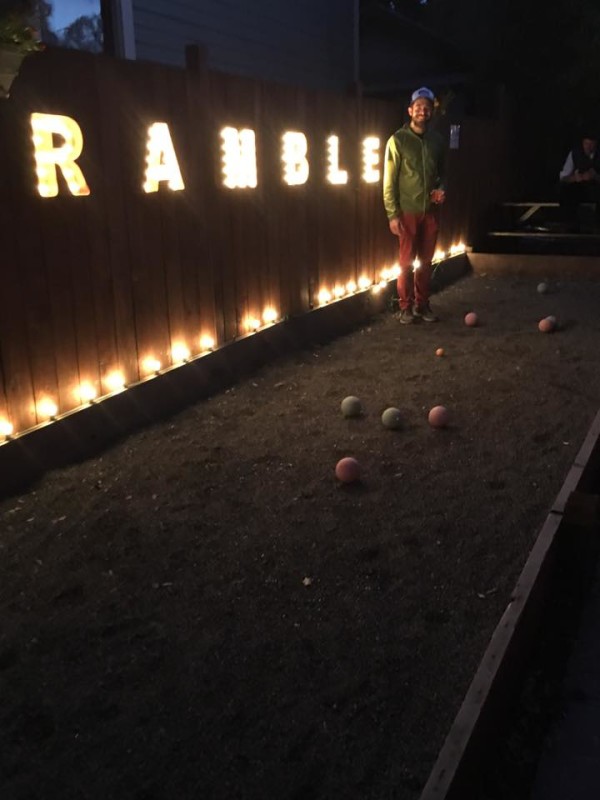 I came to Bar Bar for the first time a year ago for the NoPo run club and immediately fell in love. They have a massive outdoor patio and delicious cocktails, with their margaritas being some of my favorite in PDX.
Lucky Lab:
While the beers at Lucky Lab are not my favorite, I do love the outdoor patio in the Northwest district, which is very laid back with picnic tables and umbrellas, as well as an area covered by a roof, in case your group needs some shade. You can even bring your pup here to sit with you while you enjoy your beers.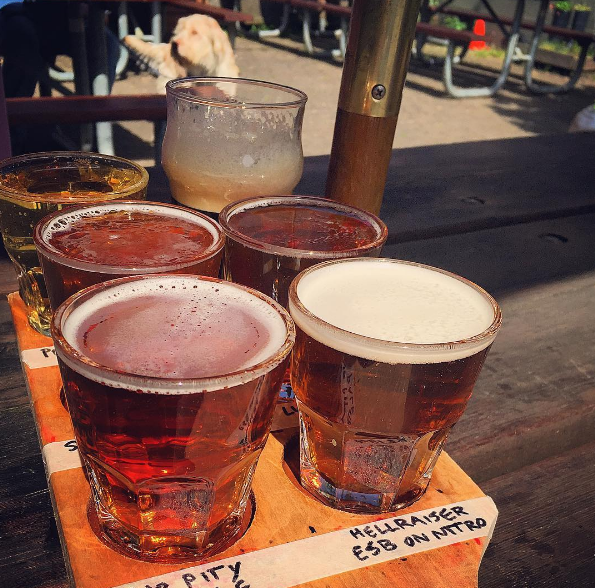 10 Barrel:
I fell in love with the 10 Barrel brewery in Bend and was pumped when I heard they were opening up a satellite location in the Pearl District. We personally always go for their $10 sampler platter of 10 beers, which is a great deal and MORE than enough beer to share between two people.
What's great about 10 Barrel in the Pearl is their new roof deck bar. Be warned though: This roof deck is the hot new place to be, so it gets CROWDED on the roof deck, no matter how early you make it there on a nice day. I have my fingers crossed that this dies down a bit in the coming months.
Note: I came to 10 Barrel this past week and didn't really like any of the beers in my sampler platter… maybe an off night?! I'll give it the benefit of the doubt.
Bars with the Best Food
Burnside Brewing Company:
What I love about Burnside Brewing is that they are one of the few breweries in Portland now offering a full brunch menu. It's the perfect meal to wash down their hoppy beers… and what goes better with chicken & waffles and savory egg dishes than beer? Not a whole lot!
Their perfectly and lightly Fried Chicken & Cornbread Waffle rivals Screen Door's famous chicken & waffle (without the 2 hour line), and the Crushed Potatoes are not to be missed. Aside from being a brewery, Burnside Brewing also has a fantastic Bloody Mary on their brunch menu!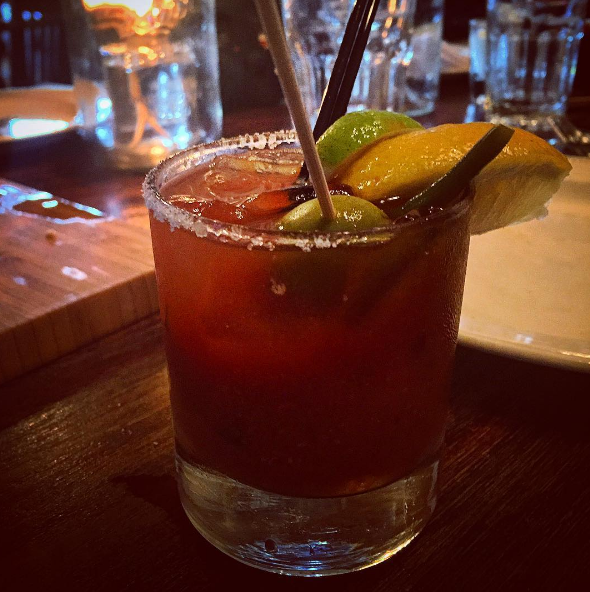 M Bar:
M Bar is my go-to watering hole in the Northwest! This place is Sterling Coffee Roasters during the day — and while it's a bar at night, it has the delicious smell of roasted coffee beans in the air around the clock. It's only a few blocks from my place, open late 7 days a week, and they have an incredible happy hour deal from 6-8pm, which is on the later side for happy hour in Portland. My favorite deal is their $3 off wine glasses, with some glasses starting at $6 (yep, $3 glasses of wine during happy hour!). They serve everything from wine, beer, sake, bubbles, and cider.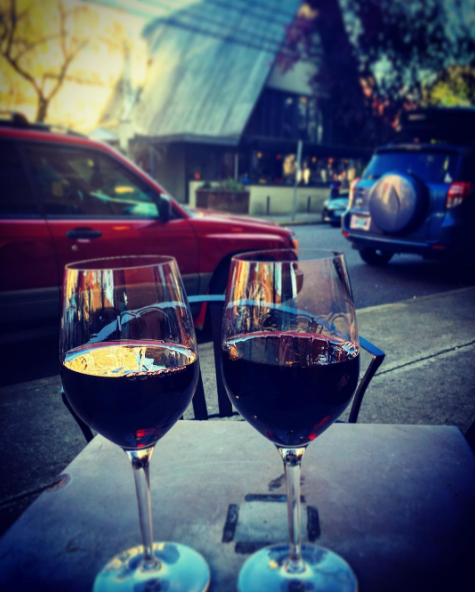 M Bar is uber tiny with only a few seats in the place and is dimly lit by candle, so it is perfect for a date night or with friends. It's often pretty empty at 6pm, but picks up later in the evening. Everyone in here seems to know one another… It's Portland's version of Cheers!
They don't serve food here… So why is it on my food list, you ask?
Well, you can bring your own food. I am a huge fan of either going next door and grabbing some BBQ at Smokehouse 21, or stopping down the street at Trader Joes or City Market to grab some snacks to nosh on before you head over to M Bar.
The service is friendly and the bartenders are fun, knowledgeable about the drinks offered, and also will come and hang out and socialize with the people in the bar.
Notable Mention – Nel Centro:
Nel Centro is in the heart of downtown, a place a rarely venture to. But I came here in the middle of the work week with some friends earlier this month and am glad I checked this place out. Aside from catering to more of a corporate crowd, which isn't typically my ideal vibe, they have some delicious (and reasonably priced) bar food you can share with friends during happy hour. Some of my favorites include the Mussels with Garlic, Parsley & White Wine and the Wild Mushroom & Gorgonzola Pizza.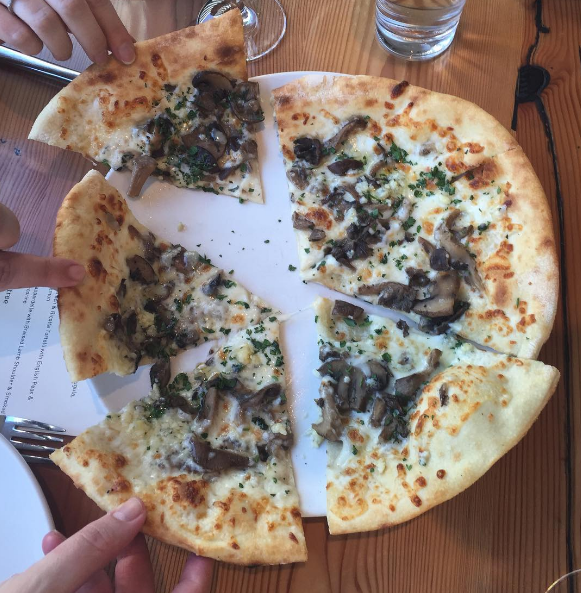 I honestly wasn't a huge fan of their cocktails, but they have some great wines available by the glass and a beautiful outdoor patio to enjoy on the warm summer days.
Your Turn: Where are you favorite places in Portland to grab a cocktail, beer, cider, wine, etc.? I am always looking for new places to try out, so let me know!
About Meg
Exhausted from traveling every week as a Business Management Consultant early in my career, I took a year off in 2012 to travel at my own pace. I am a high-energy girl that loves being active, eating food, drinking wine, and exploring the world with my partner-in-crime (and husband), Tony! I now reside in Portland, Oregon and continue to write about travel, food, wine, and the awesome adventures we have in the Pacific NW!