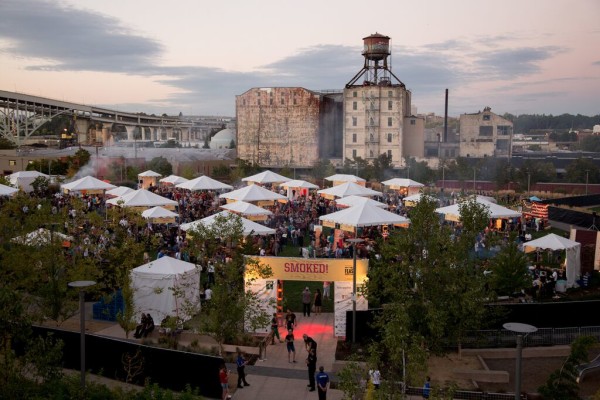 Photo Credit via Feast Portland
I recently wrote on our favorite places to dine in Portland, but I know Tony and I have only scratched the surface of the food scene here. And this became even more paramount after indulging (a little too much) at the four-day Feast Portland extravaganza.
At Feast, culinary giants from all over the city, state, and nation gathered to show off their incredible skills at private dinner series, tasting panels, and main-stage events (such as Sandwich Invitational, The Grand Tasting, and Brunch Village to name a few).
After the weekend of Feast wrapped up, my heart was happy, my belly was full, and my head was a little achy from my slight food & drink hangover… but more than anything, it was swarming with all the new places I wanted to try in Portland after meeting talented chefs and tasting some of the featured dishes at places I have yet to experience.
Here's my post-Feast food bucket list in Portland:
Departure – Chef Gregory brought his A-game at the Sandwich Invitational and won the judges selection with his Pork Pastrami Chinese Crepe with pickled veggies and Hoisin BBQ. It was just as much of a flavor explosion as it sounds. Chef Gregory finished it all off with his own interpretation of a house-made chocolate peanut butter ice cream snickers bar… It's like he knows me.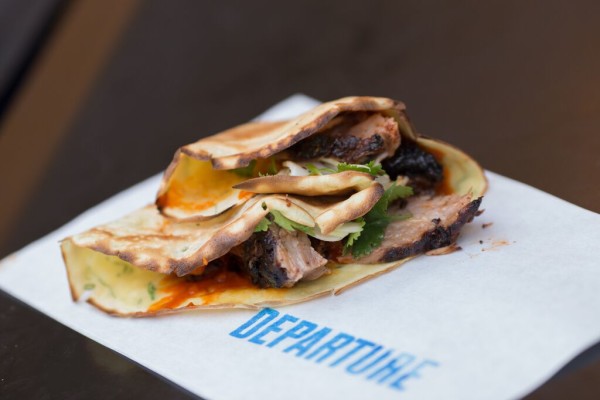 Photo Credit via Feast Portland
Meat, Cheese, Bread – Are you surprised that I want to eat at a place called "Meat, Cheese, Bread?" Yeah, I didn't think so. It's basically my three favorite things celebrated under one roof. Regardless of the restaurant's name, the Grilled Tesa sandwich (A.K.A. Pork Belly – I had to look it up!) with Carrot Kim Chee and Aioli had me weak in the knees.
Levant – Prior to Feast, I interviewed Chef Scott Snyder of Levant and was immediately eager to come back to the restaurant for dinner or brunch. But after trying Scott's traditional Gyro at Sandwich Invitational, I am even more amped up to enjoy Levant first-hand.
Boke Bowl – Boke bowl is in my hood, but I never seem to make it a priority to drop in. Well, all that changed when I tried their featured dish at Brunch Village – A spicy black bean pork stew with turnip and egg, all on top of a Berry Bean steamed bun. Strange? Yes. Delicious? You bet.
Pips Original – Once again, I am writing about how I HAVEN'T BEEN HERE yet… I feel like this is almost becoming a joke. Pips has been on my list of places to check out since the first week we moved here over a year ago. But at Brunch Village, I finally got to sample their freshly fried Raw Honey & Sea Salt doughnuts and house-made chai… several times. Their line did not scare me.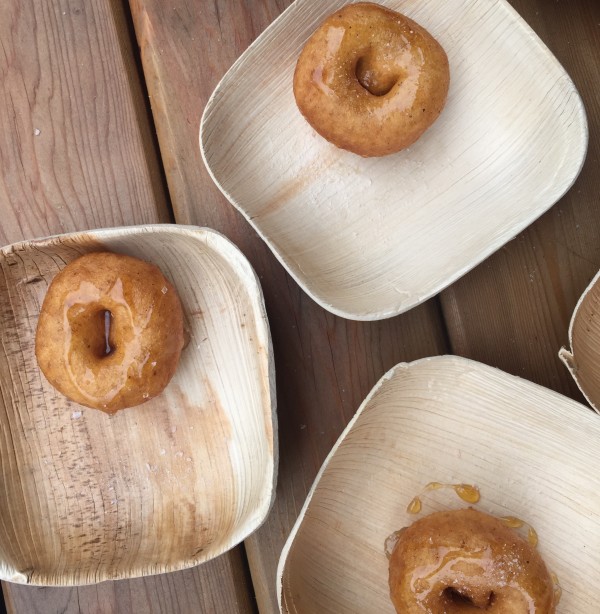 And after trying entirely new dishes at Feast, here are some restaurants I want to experience again:
Imperial – I dined at Imperial during Portland Dining Month earlier this year and just ordered their Coca-Cola & PBR Braised Pork… I KNOW. But after sampling their "People's Choice Award" winning sandwich at Sandwich Invitational, I knew I needed to march back down there to try more of their dishes. This sandwich was my everything (and of course got my vote) – Soy Braised Pork Belly Fry Bread Taco, Spicy Mayo Banh Mi Pickles, Fresno peppers, cilantro. I'll pause here for dramatic effect.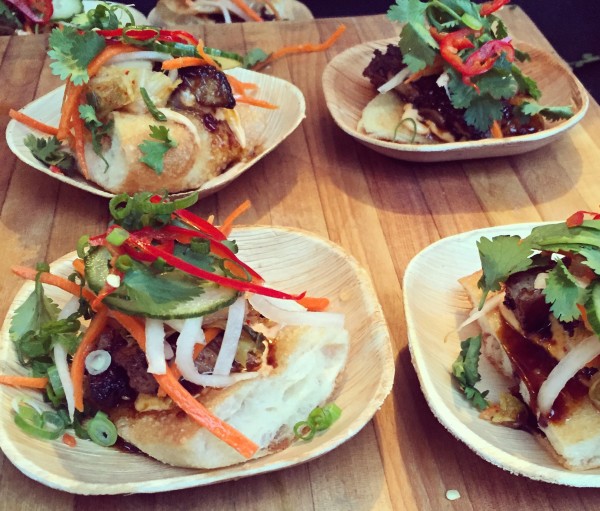 Broder Café – I only have dined at Broder Nord, which does a phenomenal tasting menu during dinner – $25pp for countless tasting plates that never seem to end. Seriously, if you haven't done this yet with friends, do it… You won't be disappointed. But their ebelskivers at Brunch Village had me yearning to check out their Southeast Broder Café for brunch. These puppies were fluffy, jam filled balls of happiness. There's just no better way to describe them, so I'm not even going to try.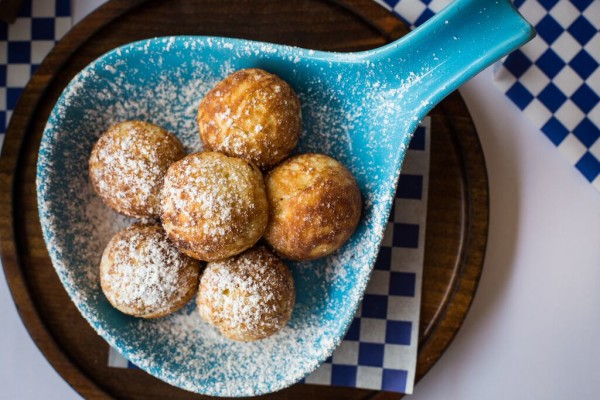 Photo Credit via Feast Portland
Okay, I have some homework to do people! Any other place I  should add while I am at it? Please share in the comments.
About Meg
Exhausted from traveling every week as a Business Management Consultant early in my career, I took a year off in 2012 to travel at my own pace. I am a high-energy girl that loves being active, eating food, drinking wine, and exploring the world with my partner-in-crime (and husband), Tony! I now reside in Portland, Oregon and continue to write about travel, food, wine, and the awesome adventures we have in the Pacific NW!