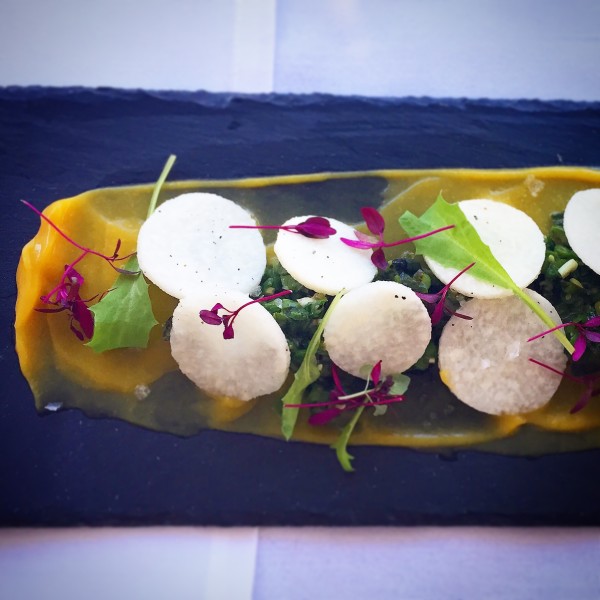 Since Tony and I finally put away our long-term travel packs and set up roots in Portland, OR, I had a weird sense of apprehension to post travel stories when we are no longer traveling internationally (yet).
Pushing this apprehension aside, I decided to think outside the box and maybe, for once, talk about our new city. Since we are new to pretty much everything in Portland, it counts as travel, right???
One story in particular that I wanted to share with y'all is from a recent dining experience we had in Portland… it is a story that culminates all that is unique about this city. And with the incredible and vibrant food scene here in the city, writing on this topic seemed fitting.
But this story is not just about food or the best restaurants in Portland, but the overwhelming sense of community Portland boasts.
The community aspect here in Portland is pretty remarkable. Not only does every business boast signs and advertisements that it supports XYZ local business and "Proudly serving ABC locally-sourced kombucha," but the people here are incredibly inviting and place an emphasis on collaboration.
So let's now get into this dining experience that ties all of this together.
Jump back to two weeks ago, when we attended the Portland Food Adventures (PFA) dinner series at Clyde Common. PFA is a local company catering to the avid food lovers in the Portland area (and that's really all of Portland). It prides itself on being "Oregon's Food Sherpa," and collaborates each month with famous local chefs to curate intimate multi-course dinners.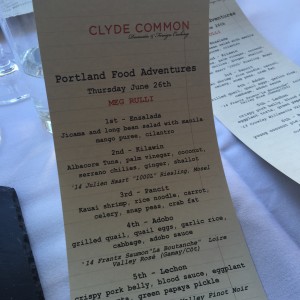 Chris Angelus started the company in 2010 just after an initial idea to host a private food event with people traveling to (and living in) Portland and seeking an authentic dining experience.
After putting a few "feelers" out there in the culinary community, via a Portland brunch tasting event Chris tried to piece together, he was shocked by how many famous local chefs were actually open to inviting Chris and his guests to experience private tastings at their restaurants. Remember how I said that Portland locals and business owners were super inviting? Here's just a small chunk of proof!
Fast forward five years, and here we were at The Clyde Common Dinner celebrating PFA's 50th dinner! And boy, was it ever the celebration.
To preface the night, Tony and I rarely explore the restaurants in Portland. We typically enjoy cooking at home or we dine at the ultra-casual spots… think food trucks. But this extravaganza was anything but casual.
The evening started at a cocktail party with delicious Tom Collins cocktails and classic Clyde Common appetizers in the restaurants upstairs dining area. Shortly after the opening party, we were escorted into the Ace Cleaners private event space, situated right next to Clyde Common and in the heart of the Downtown/Pearl district for the main event. With it's floor to ceiling windows, it was the perfect place to people watch – but I was more interested in watching what Clyde Common's chef, Chef Carlo had up his sleeve for the evening.
For this special occasion, Chef Carlo deviated from his traditional Clyde Common menu and instead wanted to treat the group to some of his favorite dishes (six to be exact) from his home country of the Philippines.
To top things off, each dish was paired with some incredible wines. I remember while in Southeast Asia in 2012, I didn't have a drop of wine, as it was rarely sold in the areas we traveled to… and honestly, I thought the flavors of traditional asian dishes were too bold to pair with wines. But as I tasted each wine with each one of Chef Carlo's dishes, I was blown away by how seamlessly they worked together.
For each dish that was served, Chef Carlo would present his dish to the intimate crowd and dive deep into the roots of the dish and how it shaped his childhood growing up in the Philippines.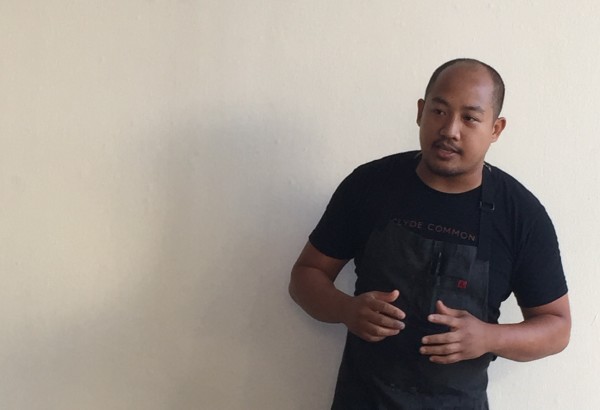 Many dishes he created stemmed from childhood fishing trips, while others reminded him of loved ones that had passed.
Between the delicious food and the moving stories, my senses were in overdrive at the dinner. Some of my favorite dishes included the "Lechon", or crispy pork belly with blood sauce (delicious, I assure you!) and the "Buko", a young coconut pie served warm with salted Pandan fruit ice cream.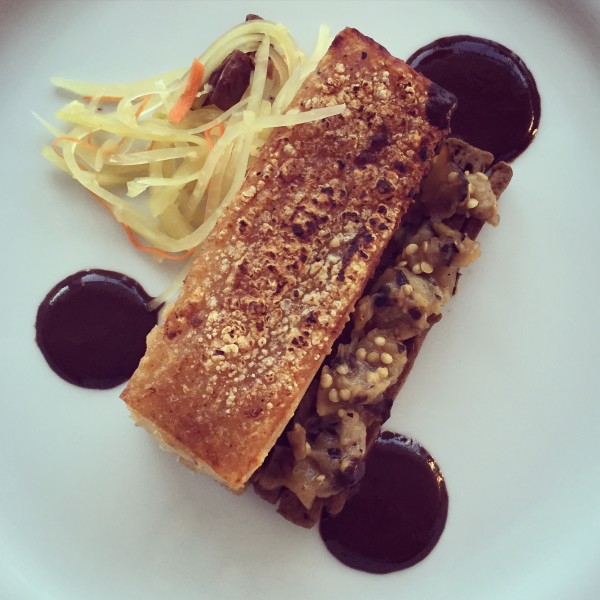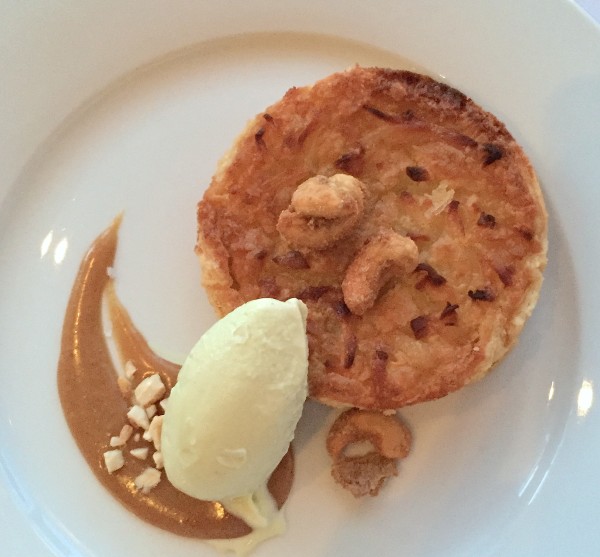 What I love about the PFA events is that you not only learn about a featured restaurant, but you learn about the chef – what inspired them to cook, what their most cherished dishes are, and where their favorite places are to eat in the surrounding Portland area.
During our meal, Tony and I also had the privilege to sit across from Nate and Jamie, Founders of Pip's Original Doughnuts and Damian Magista of Bee Local. While feasting, we were able to learn about their unique businesses and their emphasis on "community not competition."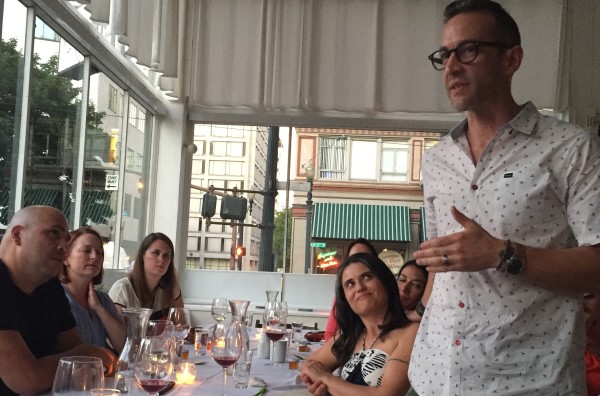 Through learning about Chris' experience working with local chefs and hearing about how Nate, Jamie, and Damian work in concert with other food companies in the local area, I was left with an overwhelming sense of pride in our new city.
We left the dinner with full bellies and little goodie bags full of gift certificates and treats from Chef Carlo's favorite foodie destinations – Pips, Quins, Bee Local, Jacobsen Sea Salt, and Noraneko (local gift certificates are a regular perk of the PFA dinners).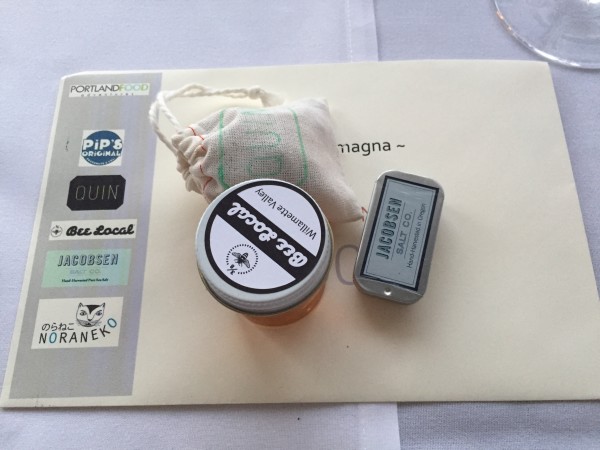 We felt pretty darn lucky to participate in PFA's 50th dinner series event . I wish the dishes Chef Carlo whipped up for the feast were regular items on the Clyde Common menu, but I guess absence does make the heart grow fonder!
I look forward to exploring even more of the Portland food scene in months and years to come… Stay tuned!
As a little bonus lightning round, here are some of our other favorite foodie places in the city thus far (and what we would recommend ordering at each one):
We would love to hear from you: We know we have only touched the tip of the Portland food-scene iceberg. What are your favorite restaurants in Portland and places to eat/drink in this marvelous city? Share below in the comments!
About Meg
Exhausted from traveling every week as a Business Management Consultant early in my career, I took a year off in 2012 to travel at my own pace. I am a high-energy girl that loves being active, eating food, drinking wine, and exploring the world with my partner-in-crime (and husband), Tony! I now reside in Portland, Oregon and continue to write about travel, food, wine, and the awesome adventures we have in the Pacific NW!