After 3,500 miles in the car from Boston on our recent cross country road trip we finally arrived in our favorite city in the U.S. – San Francisco.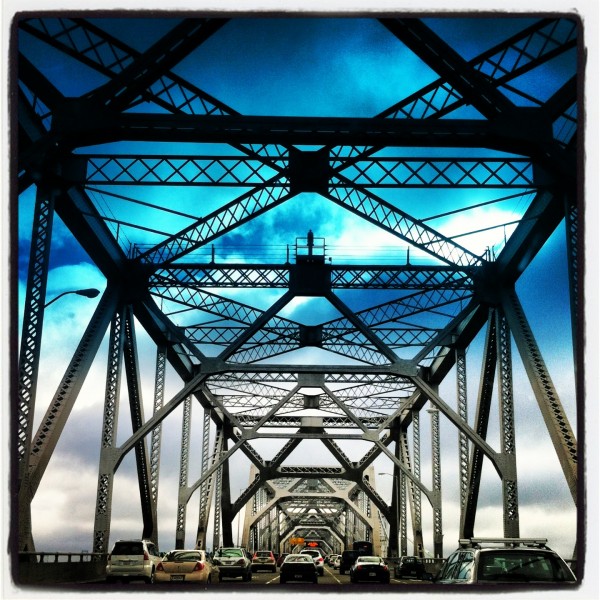 San Francisco holds a special place in our heart. It was where Tony lived for five months in 2009 for his former job at Wells Fargo and we both have fond memories of exploring the vibrant city and all the cute little neighborhoods in the area.
San Francisco is also where we got engaged! But even more wonderful than our love for this city is the great network of friends we have in the Bay Area.
And thankfully, our friends out here all share the same appreciation for food that we do… And how can you not when you live in a culinary melting pot such as San Fran?!
Knowing Tony and I a little too well, our dear friends Leanne and Leah planned out an entire day to take us around their neighborhood in the Mission this past weekend to show us the best cafes and restaurants in the Mission San Francisco… All within a 5 block radius from their apartment.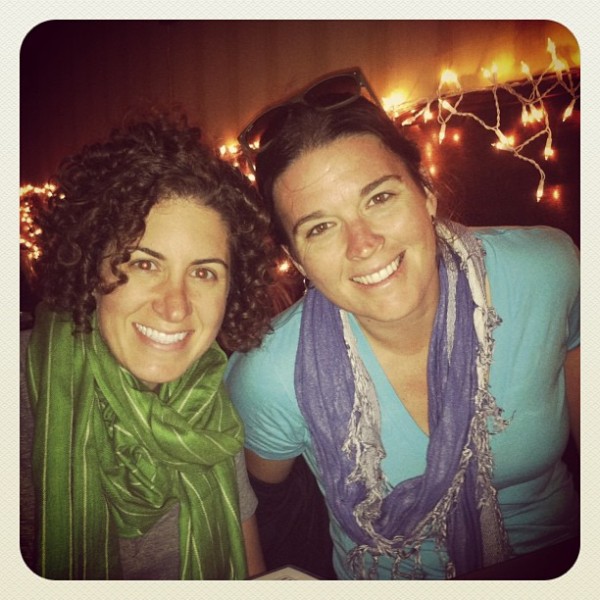 By the end of our epic food crawl, I could barely move and was overjoyed that I decided to wear my uber-stretchy Lululemon pants out on the town.  We ate A LOT of food.
So, if you are ever traveling to San Francisco, do yourself (and your belly) a favor and head on over to the Mission for great sites… and phenomenal bites!
Here are Leanne and Leah's must-see restaurants in the Mission San Francisco that we explored while on our food crawl:
Seeing as how the four of us decided to meet bright and early for our foodie tour (what can we say, we go HARD when it comes to food), we decided the best place to start our adventure was someplace that brews up a good pot of coffee. We dropped by Ritual Coffee Roasters, which specializes in slow drip coffee.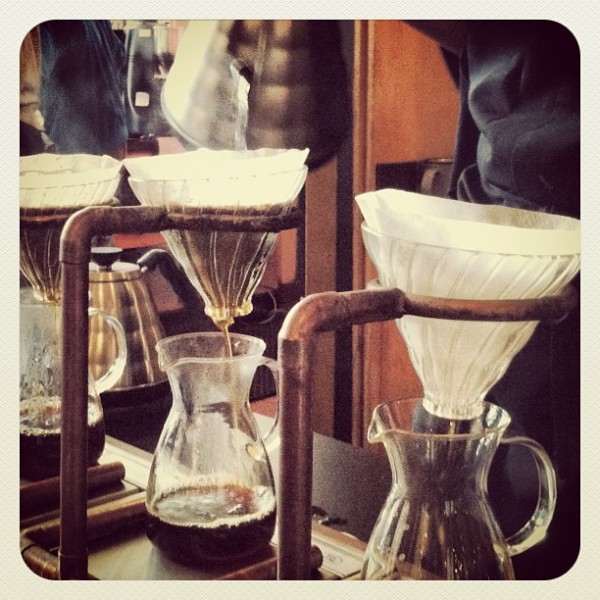 Being a novice to slow drip coffee, I was intrigued by how Ritual treated their coffee like fine wines – they were deeply passionate about the aromas and flavor profiles of their coffee and wanted customers to join in on the fun. I did what any chocoholic would do and ordered the slow drip brew that had flavor hints of dark chocolate cherries and fig.  It was a delicious cup o' joe and was the perfect way to start our day.
With our slow drip coffee buzz at full force, our appetites were aching for some good brunch food. Leanne and Leah had the perfect place for our hungry tummies: Radish.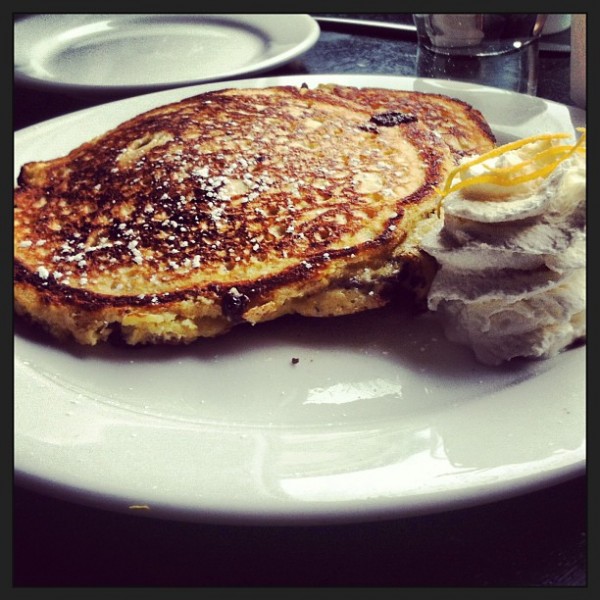 Radish is a Southern-style farm to table restaurant that has one killer brunch menu. Being completely indecisive with all the great food options on the menu, we decided to share everything between the four of us and ordered the steak breakfast tacos, the chocolate chip walnut pancakes, and the daily special of the bacon cheddar waffles. Everything was delectable but the bacon cheddar waffles took brunch to a whole 'nother level!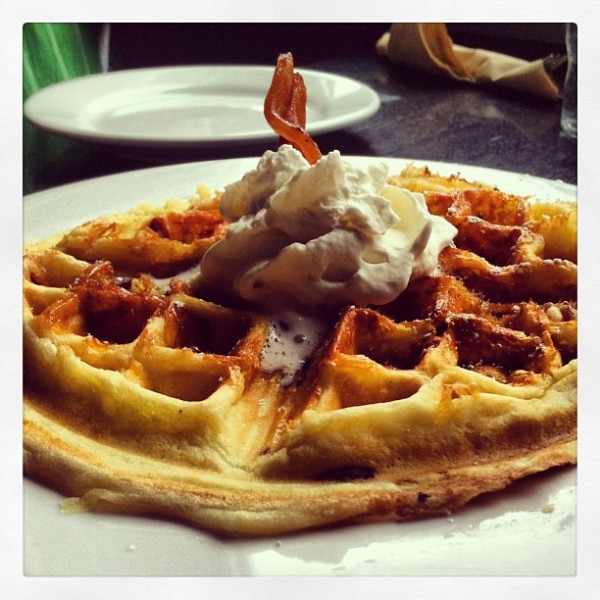 #mindblown
Dolores Park
Not food related, I know. But after a larger than anticipated breakfast, we needed to work our appetites back up again for the rest of the day and the ladies suggested a walk in beautiful Dolores Park.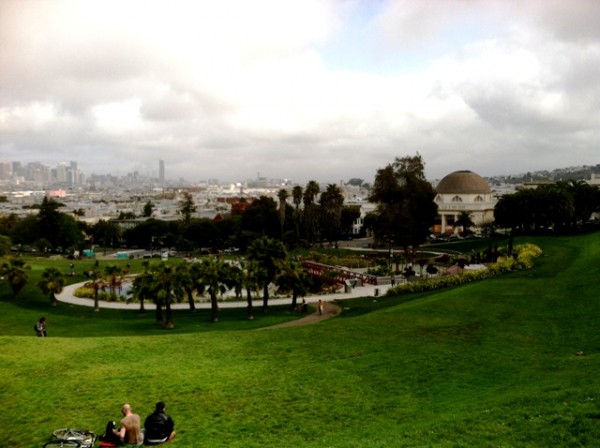 According to Leah and Leanne, the park is usually packed with locals on the weekends, but since we got there early and it was an overcast day, we practically had the entire park to ourselves. Despite the overcast, we soaked in the San Francisco skyline while walking off our food bellies.
For me, our stop to Four Barrel was more of a pee break… But I was delightfully surprised when the coffee and ambiance of the café turned out to be bomb. The Four Barrel Coffee shop was high-ceiling hipster-ish warehouse with industrial sized coffee grinding machines working at the back of the shop… AMAZE!
After yet another coffee buzz, it was time to fill up again on glorious food and hit the neighborhood for a superb lunch spot. When Leanne and Leah traveled to Berlin with us this past summer, we were all obsessed with this Korean place in the city. As such, we decided to keep our Korean food ritual alive and hit up Namu Gaji…
It. Was. Fantastic.
Trying to save room for dessert, we all split two of Namu's popular dishes – The Gamja fries and the Okonomiyaki. The Gamja fries are known at Namu for being a "stoner favorite"… and after tasting them, I totally understood this claim to fame. They were the perfect balance of savory and sinful – hand cut organic potatoes, kimchee, gochujang (I'm going to pretend I know what this is), mayo, teriyaki, and green onions all topped with tender short rib… Nomers!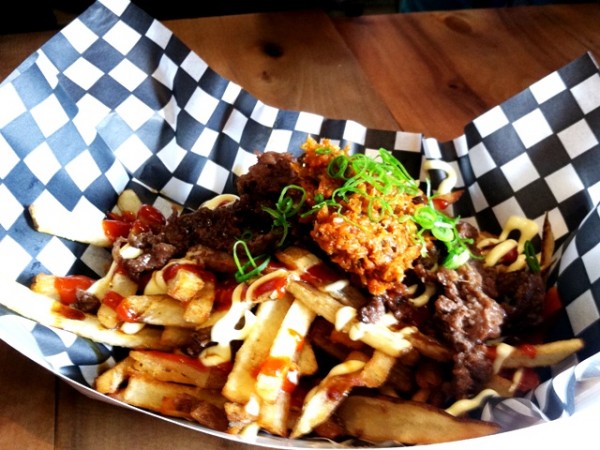 Despite my love for the fries, the Okonomiyaki might have been my favorite of the meal. It was a crispy and gooey savory pancake served on a hot plate with kimchee, scallion, and market vegetables… in other words, the perfect Asian comfort food.
As I previously mentioned, we went light at Namu so we could save room for some afternoon dessert. Leanne and Leah were dying to take us to Tartine Bakery for their famous Coconut Cream Tart… And are you shocked to learn that it didn't take much convincing on our part? I ALWAYS have room for anything in the pie family.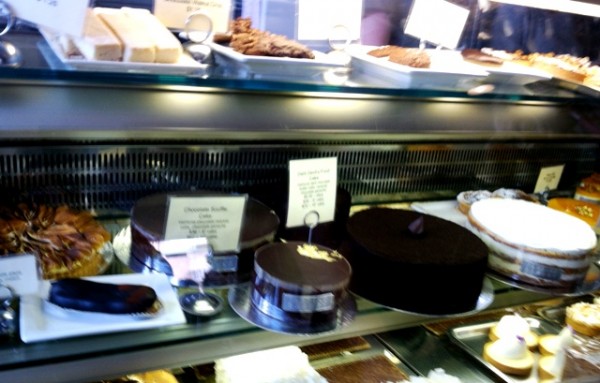 The Coconut Cream Tart definitely lived up to it's stellar reputation. The flaky crust and the hard chocolate layer at the bottom of the tart pulled the entire dish together perfectly. And because the four of us are chocolate fanatics, it only seemed right to also get a chocolate pudding to complement our coconut tart.
Tartine Bakery was hoppin, so we decided to escape the crowd and hit up a local parklet to bask in the sun and eat our treats. It was precious!
Once again, we needed to work off all the food that we just consumed… and Leah and Leanne had the perfect idea of bowling it off at the Mission Bowling Club.
This place was awesome.
This was no run down bowling alley. The MBC was a small hipster bowling club serving up excellent cocktails and gourmet food… Totally San Francisco.
Apparently, the MBC has one crazy good burger (according to our SF buddy, Noah), but we were too full to think of food after Tartine. Instead, we focused just on the great sport of bowling.
And I don't mean to brag, but my game was pretty legit (129 without breaking a sweat!).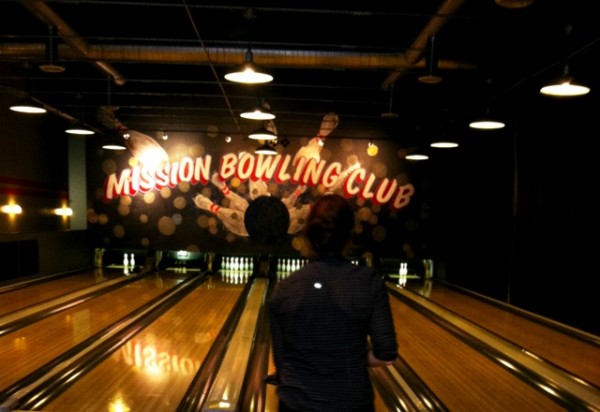 After kicking butt in bowling, we were surprisingly hungry again.  Luckily, our buddy (and host of the week, Noah) was joining our group and the five of us decided that Chinese was the perfect cuisine to feast on for dinner.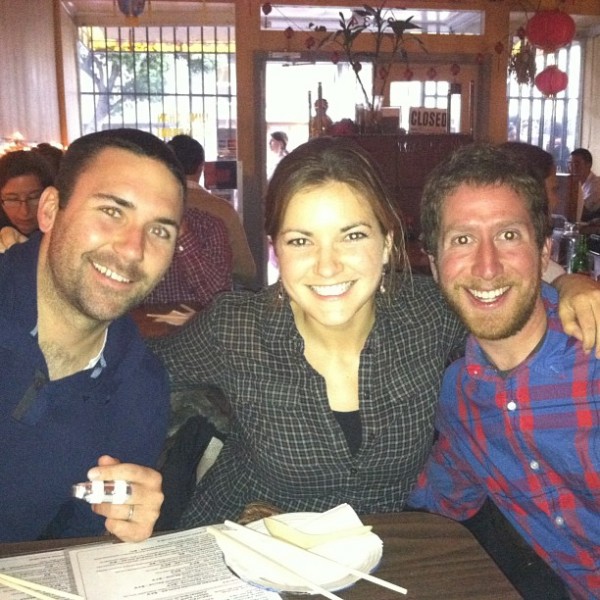 Leanne, Leah, and Noah all swore by Mission Chinese… Tony and I were not putting up any argument!
The restaurant itself looked like any run of the mill Chinese joint, but the food was authentic as they come… and delicious. Being completely overwhelmed with the menu and not knowing what to order, we decided to let the waitress order for us.  Six dishes later, we were full to the max!
I can't even describe to you all that we ate, but all I know is that it involved A LOT of pork.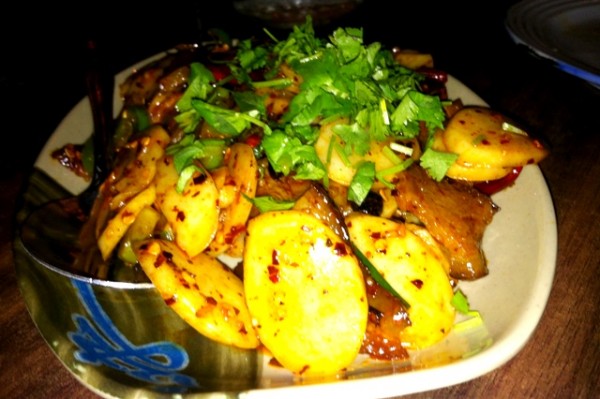 My personal favorite was the Tiki Pork Belly with soy caramel, mandarin orange, pickled pineapple, shaved coconut, and Macadamia nuts.  WOW!  The dish was sweet, savory and melt-in-your-mouth tender… If I ever go back to Mission Chinese, I will order this and only this (in multiple orders). It was that good.
I know, I know… How can we possibly have more room in our stomachs after everything we consumed?! Here's how:
There is ALWAYS room for ice cream.
The five of us decided the perfect cap to the foodie day was a good cup of ice cream from Bi-Rite. Bi-Rite specializes in handmade and organic ice cream, soft serve and baked goods and boy was it tasty. They have a wide variety of unique flavors, but my heart belonged to their chocolate peanut butter… That's a no-brainer flavor combination right there.
Time To Loosen Our Belts
After Bi-Rite, we were all happy, full… and ready for bed. It was such a wonderful day of eating with wonderful friends at the best restaurants in the Mission San Francisco. Life couldn't be sweeter.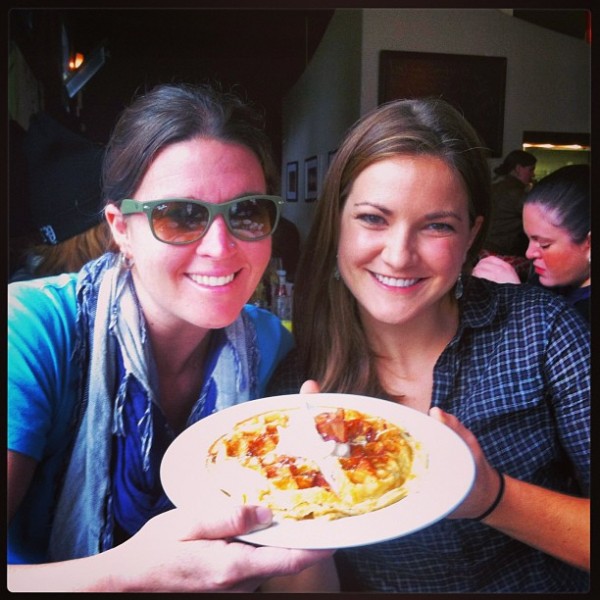 If you travel to (or are lucky enough to live in) San Francisco, I highly recommend saving your appetite for a Mission food tour. It is such a vivacious neighborhood full of some of the best eateries that the city has to offer.
Thanks Leanne, Leah, and Noah for sharing this glorious food day with us!
Your Turn: Where are your favorite foodie places in San Francisco? We have 2 more weeks in the city and we would love to hear your recommendations in the Comments section!
About Meg
Exhausted from traveling every week as a Business Management Consultant early in my career, I took a year off in 2012 to travel at my own pace. I am a high-energy girl that loves being active, eating food, drinking wine, and exploring the world with my partner-in-crime (and husband), Tony! I now reside in Portland, Oregon and continue to write about travel, food, wine, and the awesome adventures we have in the Pacific NW!