Mickey D's, McD's, and to our Australian Friends… Mackers.
Whatever you want to call it, McDonald's is the Magneto of fast food chains. The Super-villain extraordanaire… and for good reason.
But have you been lately?
We sure hadn't. But only6 blocks down the road from our family-stay in Lima, Peru is a newly renovated McDonald's that blew our minds.
If you have been following our hostel-cooking 101 articles, you know Meg and I tend to like food that is healthy, delicious, and doesn't make you want to die when you're done eating it. McDonald's only goes one for three on that count, but that is just from the regular meal menu.
Their ice cream/Fro-yo though… is just fan-freakin-tastic! I highly recommend the MilkyWay MilkFlurry on a late night stroll. Also, for poor backpackers like us… how can you beat $2.15 for a giant bowl of ice creamy goodness?
And don't you dare look down your nose at the McCafe.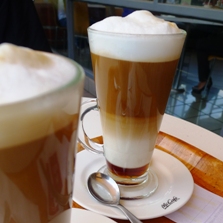 While I met have laughed when I first heard McDonald's was opening a Starbucks competitor, I am not laughing now. Beautifully integrated into the new layout of a grand Mickey D's in downtown Lima, McCafe offers great coffee that is actually cheap!
Oh… and there is Wi-Fi. Now that's just crazy, right?
We don't really eat fast food, so I am sure we are late on this realization… but seriously, McDonald's is kind of kick-ass for a backpacker on a budget (at least in Lima)!
Bonus for any wandering traveler's that take us up on this recommendation and check out the McDonald's in downtown Lima: The bathrooms are THE best in all of South America. You are welcome.
Any other surprising chains that have wowed you overseas?