In preparing for our RTW trip in January, Tony and I are excited to toss all of our stuff and scale our lives down to one backpack each.  Sure, a few tears might be shed when I have to give up my shoe collection and the 100+ tops that I have been known to color coordinate in my walk-in closet… but we know that we do not actually need 90% of our stuff.  After we get through the initial turmoil of throwing out my Twilight fan shirts and Tony's Battlestar Galatica shirts, I know that it will be incredibly refreshing to live the simplistic lifestyle.
With all of the countries we will be travelling to and all of the hazardous places we may hole up in for the evening, we even made the wise decision to not travel with non-essential valuable items (I'm talking to you iPads!).  However, there is one exception to this rule.   The one thing we absolutely do not want to skimp on during our travels?
A Camera.
I am not a huge souvies girl (translation for you non-abbreviation whores: souvenirs), but the one thing I want to take away from each and every place we go is great photos.  Therefore, I want to buy the best camera out there for our grand adventure!
Here are some things we are looking for in a camera:
Takes high quality photos (even in low-light conditions)
Has good video capabilities
Has good manual features and editing capabilities
Is small – No DSLRs!
Long battery life
Is durable – I have a history of dropping cameras from moving vehicles and tall buildings
Is good value for our money
With these parameters in mind, Tony and I began searching online for a perfect travel camera.  Luckily, we came across this great article from The Savvy Backpacker on the best digital cameras for travel photography, because I had no idea where to start!
From reading this article, we decided we wanted to go all out and get a high-end point & shoot digital camera and are now looking into the Panasonic Lumix DMC-LX5 and the Nikon Coolpix P300 (not mentioned in the article but recommended by Tony's Mom).
We were going to add the Canon Powershot S95 to our list, but the LX5 and P300 online reviews blew the S95 out of the water.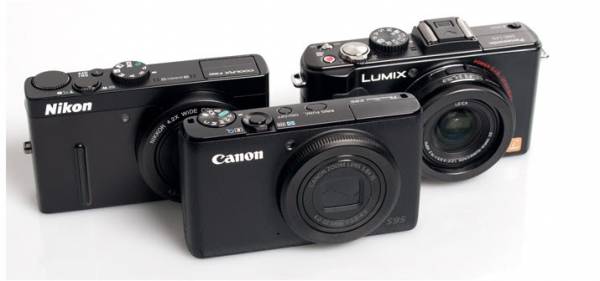 So how do the Panasonic Lumix DMC-LX5 and the Nikon Coolpix P300 stack up to each other?  I found this article from ePHOTOzine comparing the three above cameras to be EXTREMELY helpful.
Here were the takeaways from the article:
Quality of Photos
There are lots of different features when looking into the quality of images that a camera produces.  I do not want to bore you with the details, so I will give you a high level synopsis of this category for the two cameras.  This website scores the cameras based on peer reviews covering a wide variety of image quality features.  See the pic below for the breakdown: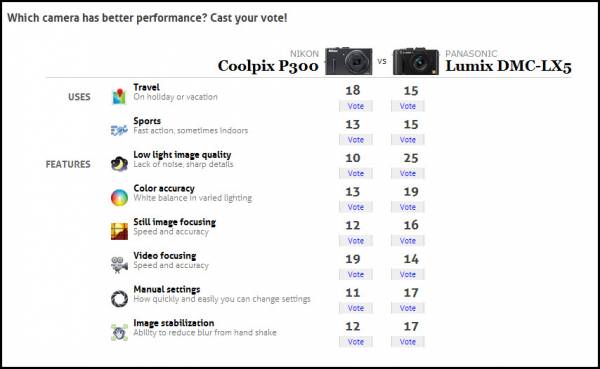 The LX5 kills the P300 in low light image quality, color accuracy, still image focusing, manual settings (see more information below), and image stabilization.
If this was an Iron Chef competition, The Chairman would be doing all sorts of karate flips over the LX5 scores!
Video Capabilities
The P300 has this one.  According to the ePHOTOzine article, the LX5 has the most control over video, but also offers only monochrome sound, while the P300 features stereo sound. The P300 offers the highest resolution video at full HD, and also offers high speed video recording.
Manual Features and Editing Capabilities
This is where the LX5 excels.  The Lumix has RAW formatting capabilities, whereas the Coolpix only has JPEG formatting.  RAW was a completely foreign term to me when I began researching cameras but here is what I learned:
According to Wikipedia, a RAW image file contains minimally processed data from the image sensor of a digital camera. RAW files are not yet processed and therefore are not ready to be printed or edited with a bitmap graphics editor. Therefore, adjustments can be made before conversion to a "positive" file format such as TIFF or JPEG for storage, printing.
In other words, RAW files literally capture a larger range of color and provide minimal in-camera processing, allowing for photographers to later condense image information as they see fit later, rather than the camera sees fit in the moment of shooting.
As Keith Cooper points out RAW format is good for the following reasons: "Better quality – Nothing is lost – You can reprocess the images years later to get even better results."
Sweet.
Size of Camera
DSLRPhoto.com compares the two cameras and the P300 weighs 6.7 oz, while the LX5 weighs 8.16 oz.  Clearly the Coolpix P300 is a more ideal compact camera… but both cameras are probably too big to fit in our pockets and I want to break this habit anyways with a nice fancy camera!
Battery Life
The Coolpix P300 has a battery life of up to roughly 240 photos, whereas the Lumix LX5 has a battery life of up to 400 photos.
WINNING.
Although, in the ePHOTOzine article, the authors noted that they personally tested both cameras and the P300 had a better battery life than 240 pictures and the LX5 had a lower battery life than 400 photos.  I am sure this all varies based on your settings and video usage – Who knows?!
Durability
When browsing through reviews online of the two cameras, many people comment on the great build quality of both cameras.  However, when reading articles and reviews directly comparing the two cameras, they all point out that it is the LX5 that has "exceptional build quality" and do not mention the same about the P300. 
Price
The P300 on Amazon currently goes for $249, while the LX5 goes for $369.  However, I said I did not want to skimp on a camera so money is not a huge issue for us (and is why I put this category last), but are the extra features worth the $120?
Our Ultimate Choice
After all of our research, I am going to have to say that the LX5 looks like the better choice.  Yes, it is slightly bigger, more expensive, and does not take as good of HD videos as the P300, but the image quality, formatting capabilities, battery life, and durability more than make up for this – even with the extra $120.
I said in the beginning of this post that the one thing I want to take away from each and every place we visit next year is great photos and with the LX5, I am confident that I will be able to take OUTSTANDING photos of our adventures.
What camera do YOU think is best?
We plan on making our camera purchase this week and will let you know the final verdict on Twitter.  Once we have bought our camera, we will be sure to practice using it and learning all of it's great features before we begin our trip abroad in January.  And of course, we will be sure to post our photo "experiments" on LandingStanding… Stay tuned!
About Meg
Exhausted from traveling every week as a Business Management Consultant early in my career, I took a year off in 2012 to travel at my own pace. I am a high-energy girl that loves being active, eating food, drinking wine, and exploring the world with my partner-in-crime (and husband), Tony! I now reside in Portland, Oregon and continue to write about travel, food, wine, and the awesome adventures we have in the Pacific NW!