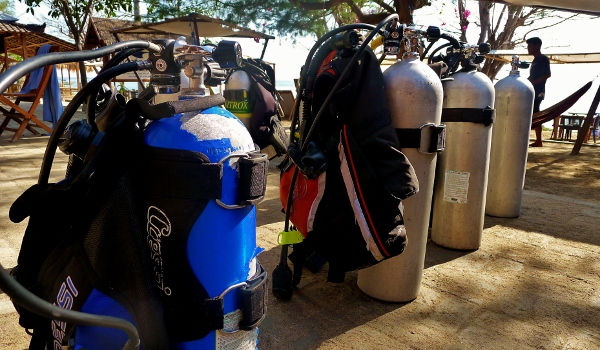 Relationships are about compromise.
Relationships are about open communication.
Relationships are about respect.
BLAH BLAH BLAH.
But they're also about who has the upper hand… and Meg has always held her SCUBA certification way above my head. That is why when presented with the opportunity of spending 3 weeks on the tiny island of Gili Air in Indonesia, I had to rebalance the scales.
The island is renowned for its world famous scuba diving scene.  It had numerous diving schools and luckily one of the best (THE best if you go by Tripadvisor), Manta Dive, provided me a discount to take their 3-day PADI open water diving course.
The Best Part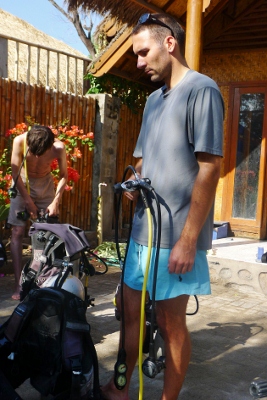 It had been a few years since Meg last went diving, so she decided to join me on my first day of training in order to get a refresher course (really nice, but not the best part that I am referring to).
Within 30 minutes of some basic prep, we were in the pool and breathing underwater. Easy!
Our friendly British instructor from Manta Dive, Rob, ran us through some drills for about an hour so we could get comfortable. We practiced how to clear the regulator, how to reconnect to your regulator if it falls out of your mouth, and how to clear any water in your mask when your 18 meters deep. Rob kept things light and made diving seem easy, so that by the end of the day it actually was.
Once the pool session was over, it was onto the boat and out into the sea for my first dive. THAT was the best part.
Meg learned how to Scuba when she was younger in upstate New York… Not many options to go open water diving there! She had to spend her whole time training in a pool, so she was extremely jealous that I was doing an ocean dive (in Indonesia nonetheless) on my first day of training.
Once the boat reached the dive spot, I checked my gear like I had been taught and did a James Bond roll off the side of the boat.
Rob took us down to the deepest waters that our open water certification would allow, 18 meters (40 feet), and we started to explore.
The coral, even when snorkeling just off of the beach, is incredible near the Gili islands. The reefs are teeming with sea life and the coral itself is vibrantly colored. On this first dive, I saw my first sea turtle (outside of an aquarium), drifted above a monstrous Moray Eel, and spent most of the hour under water pretending I was in space.
What can I say? I'm a big weirdo who loves space. Ever since I was little, the night sky has fascinated me and Scuba diving let me get as close as I'll ever get to being an astronaut… Well, until I buy my $200,000 ticket on Virgin Galactic.
Mission Accomplished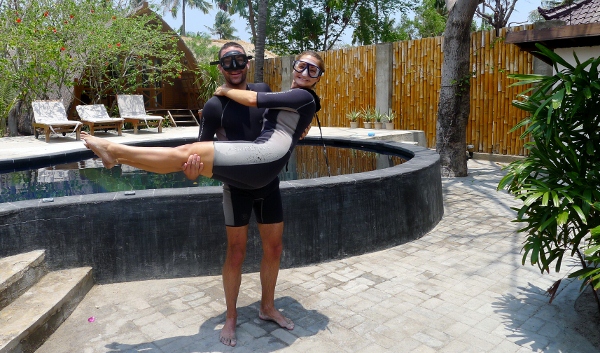 The first dive went perfectly and I was hooked. I finally understood why Meg was always on my case about getting certified… the only surprise is that she was able to wait so long for me to get it! After only one dive, I knew it would be hard to do a beach vacation ever again without also scheduling some Scuba action.
Luckily for me, I had 2 more days of training, which meant some pool work and a dive the next day, followed by 2 full dives on the last day.
Meg joined me for one more dive on the last day, which was perfect because I could show her all of the cool new moves I learned during my training. Let's just say my James Bond roll off the side of the boat was starting to look pretty dang cool.
With the final dive completed, all that remained was the test. After watching the training videos and spending 3 days in the open water, the test was a breeze and I was a certified open water diver!
But that meant I was just allowed to go down to 18 meters with a dive instructor present.
Since there are so many cool things to see even deeper, Meg and I actually went back for one last dive in order to get our deep-water certification, which lets us go to 30 meters (100 feet). We just couldn't help ourselves!
Now that I'm certified, the only question left is where should I dive next?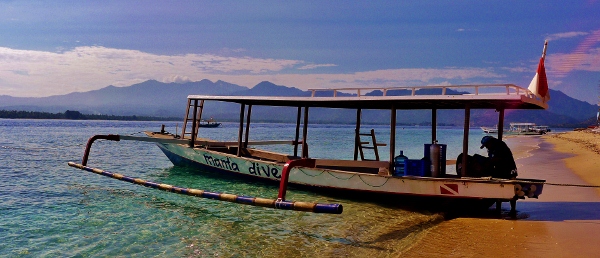 We would like to thank Manta Dive for partially sponsoring our dives on Gili Air. As always, our opinions reflect our real experiences.