While we hope LandingStanding becomes many things: a repository of helpful travel tips, insight on how to plan an around the world adventure, a great discussion where you help advise us on our journey… we also hope to share some great stories with you.  The good, the bad, and the amusing in hindsight.  Since we have yet to set foot out on the open road, I thought I'd open the vault and share a story from when I studied abroad in Florence the fall of my junior year of college…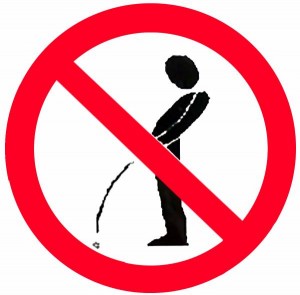 All of you college students out there who are contemplating studying abroad for a semester… quit thinking and just do it.  You will meet a ton of new friends and have once-in-a-lifetime experiences – all on your parents/schools dime.  That being said, don't lose your wits when you go overseas.
You are still in a foreign country, no matter how touristy it is.  Although I lived in historical Florence and it often resembled an adult Disney World, there were some very real world risks.  It was important to never wander alone at night or drink to the point of blacking out (good tips even in the states but at least you speak the same language) for fear of being assaulted or mugged.
And this is where my friend, who shall henceforth be known as Jenny, comes in.
The First Time a.k.a. Shame On Her
Jenny loved to party, but the party didn't always like her.  She was the girl in our study-abroad program who would wake up with no memory of the night before and claim that she might have been rufied.  Troubling to be sure, but when it's the tenth time in a month… well, a slight doubt starts to creep into the back of your mind.  Turns out she just couldn't handle her alcohol.  Yes, she was that girl.
Now of course this is an issue anywhere, but in the middle of a foreign city it becomes exponentially more dangerous.  So when after two weeks in Florence we decided to all go to a dance club, we were surprised but not shocked to find Jenny face down on a couch by herself after only 2 hours.  Uh oh.
That pretty much ended the night as we tried to rouse her from her sloppy slumber and dragged her out of the club.  Only 10 blocks from her apartment, but what must have felt like 20 miles for Jenny, I ended up having to give her a piggy back ride most of the way home.  That's what friends are for and as most men can appreciate, when a group of girls beg you to help out their friend,you are only more than willing to oblige.
At this point it might help to point out that Jenny is a somewhat skinny, yet very dense girl.  I only point this out, as it made situations like these  all the more difficult (sympathy please…).
We all finally make it back to Jenny's apartment and up the four stories to her door where I was able to carry her to bed.  Feeling proud of myself for a mission accomplished, and all that more manly for helping a female in need, I retired to the adjoining den to talk with a few of the girls. Five minutes later…
THUD
That didn't sound good.
I rush into Jenny's room.  There.  Face down on the floor.  Naked, except for a very pink thong, was Jenny in all of her glory.   Trying to avert my eyes to give Jenny some privacy, I bent over and attempted to scoop Jenny up into my arms and get her back safely into bed.  My arms slid under and with a grunt she was up in the air.
It was at this very moment, with all of my energy and concentration on lifting her into bed, that I realized Jenny had peed herself.  It must have happened when she fell out of bed, but in my attempt to put her back, I became thoroughly soaked.
It was all the girls could do not to fall over in tears of laughter when they saw my wet polo shirt and dripping wet shorts as I stepped away.
I might have gained a few friends that night but I lost some great shorts and a brand new polo.
The Second Time a.k.a Shame On Me
We were all out at a bar and Jenny had that look in the eye.  A look that I learned to know as "I'm so drunk I'm gonna pee all over myself and anybody who comes close."
Being leery of a repeat, I rounded up a few of her friends and proposed that we all start the journey home.   Not more than five minutes into our walk, Jenny lunged towards me in the classic drunk-girl bear hug.  The alcohol I had already consumed that night had numbed my well-known cat-like reflexes and before I knew it, I was on the receiving end of a drunk girl bear-hug that can only be described as uncomfortably moist.
Yes.
She did.
Again.
As the realization that I had once again been peed on by Jenny slowly seeped into my head, I let out a small yelp.
After  everyone's laughter died down, we all helped Jenny home.  This time with her arm over my shoulder and her wet crotch as far away as possible.
The Third Time a.k.a. Shame
Yes.
Yes it did.
You may be asking yourself "How could you possibly let yourself be in a situation to let Jenny pee on you… again?"
Great question.
However, despite my best efforts to avoid any situation where I might be confused for a toilet, it did indeed happen one more time.
I had made a concerted attempt to miss any time where I might be around when Jenny was in her typical drunk mood.  Which was why, with one month left to go in my study abroad experience, I found myself in bed at 12:30am reading The Bourne Identity.  And that was when my phone rang.
"Tony?"  It was my friend Tray.  She had a slight slur in her speech from her earlier drinks in the night but it couldn't mask her panic.
"Yes… What's up?"
"It's Jenny…  We tried… we carried her as far as we could.  She's really drunk.  We need… we need some help.  We don't know what to do."
"She can't walk herself?" After seeing Jenny drunk, I have no idea why I asked this since I already knew the answer.
"No.  And we can't carry her.  Tonnnny!  You have to come help us get her home!"
"Alright, alright.  No problem.  I'll be right there.  If she gets sick call an ambulance." Even though I had been through many similar situations with Jenny, I couldn't leave her out in the street and I was not going to let Tray try to it figure out all by herself.  I got their location, threw on some sweatpants and a T-shirt, and sprinted down to the address Tray had given me.
When I arrived, it was actually worse than Tray had let on.  Jenny was lying against a stone wall with her eyes half shut and Tray was near tears.  My first thought was to get Jenny in a cab, but Tray pointed out that she had already tried and that the cabbies were too used to drunk Americans getting sick in their cabs to let Jenny catch a ride home.
The thought crossed my mind to call an ambulance, but since Jenny was still awake and slightly functioning, I thought we might want to get her home before we took drastic measures.
And with that, I crouched down and scooped Jenny up into my arms and threw her over my shoulder fireman style.
Jenny was, at this point, beyond helping me.  She was draped over my left shoulder in grotesque fashion, with her face now on my back and her butt next to the side of my face, I stumbled forward trying to find the perfect balance.  I could only make it two blocks before I had to set her down so I could take a break.
I placed my hand on the small of her back and gave a great heave.  She slid forward as my left hand now cupped her butt and right hand cradled her head.
That was when what can only be described as a fire-hose of urine cascaded down my left arm and onto the Florentine pavement.
There was nothing to say.  Jenny had peed on me for a third time. Ten minutes later Jenny was whisked away to an Italian hospital as there was little more I could do for her.
And there I stood, in the middle of the Florentine night, with yet another set of urine-soaked clothes.
Epilogue
Jenny was a friend,  so by no means do I wish to embarrass her.  However, I do hope that those of you following along take heed and are more careful than she was while abroad.  Know your surroundings, never lose control, and above all try not to pee repeatedly on the few friends that try and keep you safe.