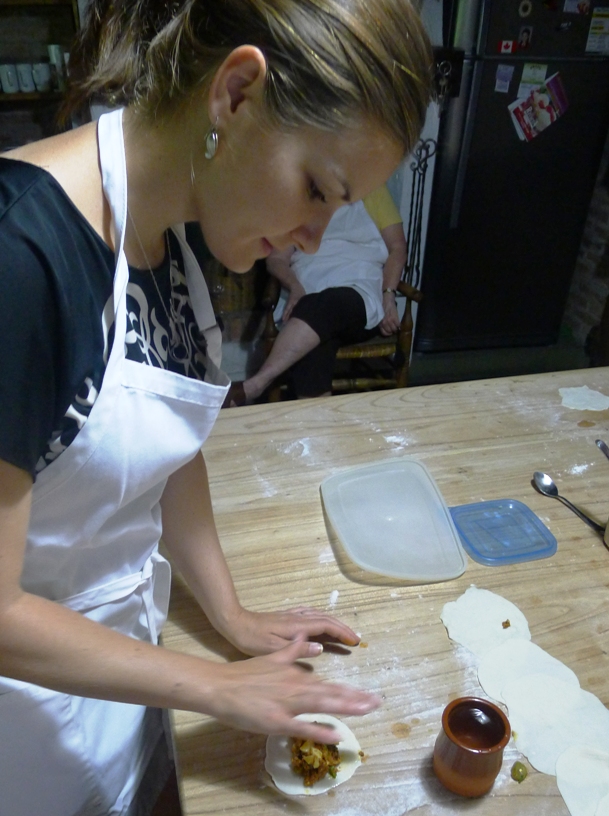 In the states, food seems to be merely a method of fueling our bodies. We eat meals sitting in front of the television, out of cartons, and on the run to work. We rarely pay attention to the details and preparation of our food or the richness in its taste.
In Argentina, I see some similar eating habits amongst the people (especially in the cities), but for the most part, food is held at a higher regard than in the states.  It is treated as an art form, a hobby, a passion. To put it lightly, Argentineans take their food very seriously.
And their seriousness is rewarded on the plate.
I fully understood this cultural infatuation towards food when Tony and I went on a Cooking With Teresita Culinary Tour in Adrogué, Argentina.  Teresita is a retired elementary school teacher that loves to cook and loves to teach. As such, she started her own company where she holds three types of culinary excursions:
We started the day off at Teresita's home, which is a stunning estate in the wealthy suburban neighborhood of Adrogué. If I could imagine a dream home, hers would be it. It was large, yet rustic with South American charm. My favorite part was that it had a stunning exposed brick kitchen full of pots and pans hanging from the ceilings and built-in wine glass racks surrounding the room.
The garden area in her backyard was equally as breathtaking. Sitting in it was so peaceful that it made you feel like you were hours away from the city of Buenos Aires.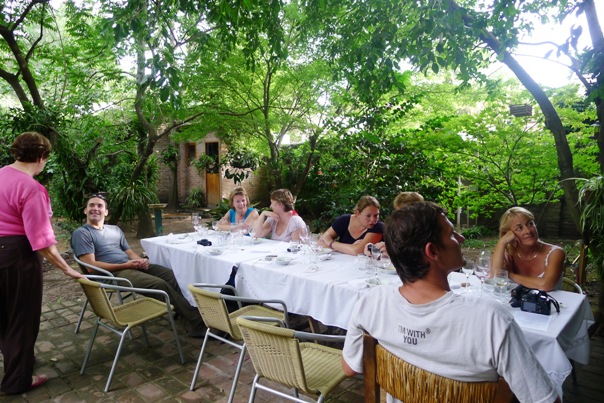 Sidenote: Teresita also runs a bed & breakfast on her property, which I imagine is an ideal accommodation for anyone looking to escape the hustle and bustle of Buenos Aires.
We would be coming back to her home for the empanada class and lunch, but she first wanted to take our 10 person group on a culinary tour of her village.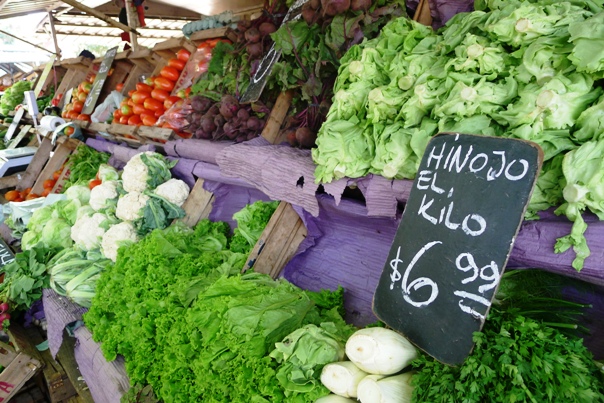 Seeing as how we already participated in the Buenos Aires Food Tour, a lot of what we saw at markets, butchery shops, and bakeries in her village was a repeat of things that we had seen in the city, but it was refreshing to traipse around the village to the open air markets nonetheless.
The real fun started though when we got back to her home for the remainder of our day.
Our tour group was hot and sweaty from walking around the village, but Teresita's niece was our guardian angel, as she awaited us back at the house with champagne in hand to quench our thirst during the empanada class.  I guess you could say she more than quenched our thirst, as I had 3 tall classes of champagne during the empanada class alone.
With some booze in all of us, Teresita began showing us the secrets of how to make her magical empanadas. These puppies were made from scratch – so much that Tony got to measure out the flour on an old fashioned scale to get the empanada dough started.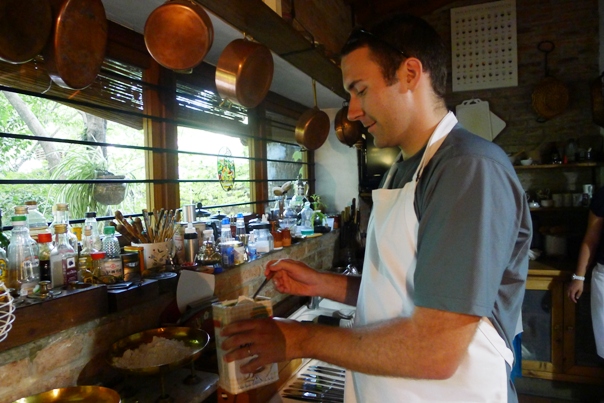 Without giving away her miraculous empanada recipe, I can share with you that Teresita is a firm believer in frying (not baking) empanadas in lard (bring on the fat!), using ground beef, onions, spices, olives, and eggs as her filling, and stuffing the dough to the brim – After all, "an empty empanada is a sad empanada" as she likes to point out.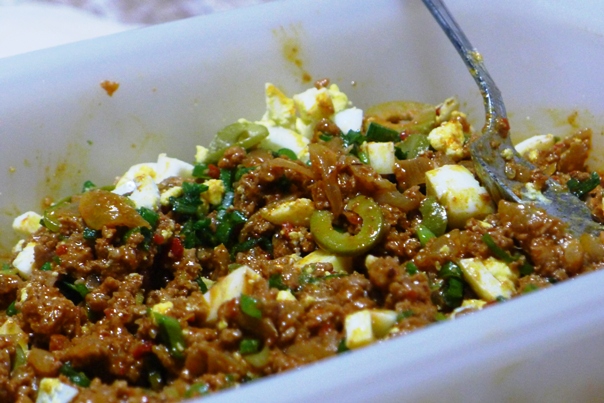 We learned it all – from building and rolling the dough, to making the filling, to sprinkling the finished fried product with sugar to add sweet notes to the otherwise salty treat (sounds weird, but it was delicious)…  If you're nice, maybe Tony and I will treat you to some homemade empanadas when we get back to the states!
With some serious empanada knowledge under my belt and a serious buzz from my champagne, I was ready for the next part of the day – The four course wine pairing lunch, prepared by Teresita and her husband!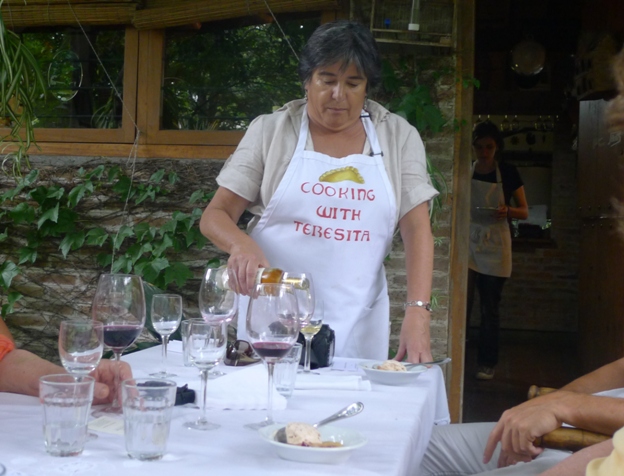 The lunch was a perfect way to interact with the eight other guests on our tour and relax after a long day of walking the markets and making empanadas.
The meal was spectacular and tasted like it was truly made with love.  You could really see Teresita's passion for honest cooking come out in all of her dishes. Here were some of the delicious courses we had (along with their accompanying wines):
Argentinian salami with Guyere Cheese over homemade bread with tomato soup (served with Saurus Patagonia Extra Brut sparkling wine from Familia Schroeder):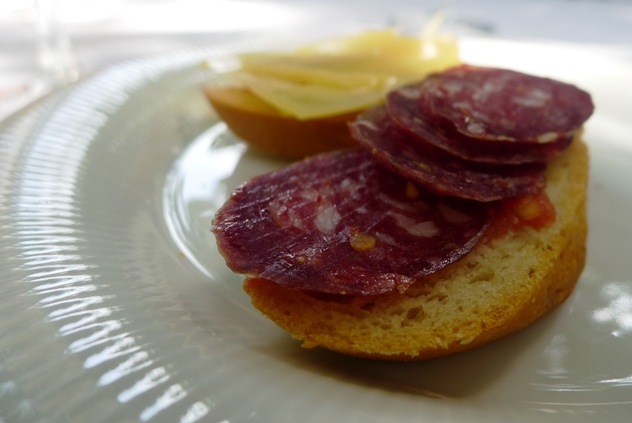 Argentinian salami over homemade crostini-style bread with one of my favorite cheeses?  It obviously was bomb. The accompanying gazpacho-style soup was also delicious and refreshing. It was the perfect dish to whet my appetite for the next three courses.
Potatoes tortilla with garlic sauce and green salad and spicy beef empanadas (served with Colome Torrontes de Salta):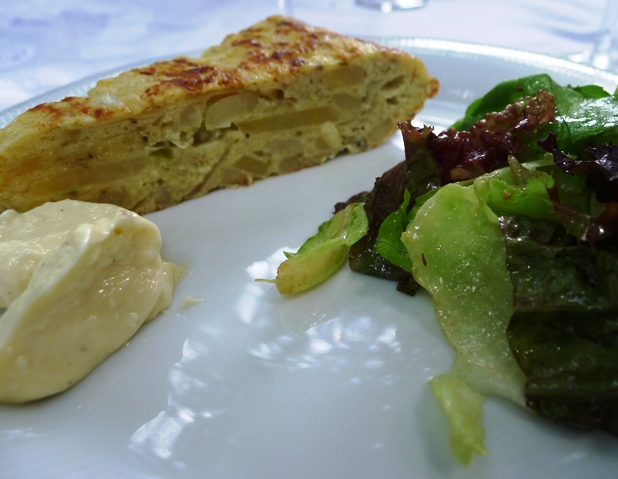 Unlike our potato tortilla on the Buenos Aires Food Tour (that Tony was obsessed with), this one did not have any spicy chorizo in it, but the creamy garlic sauce really took this dish to another level. It was sooo good.
Not to mention, we finally got to taste the fruits of our labor – the spicy beef empanadas.  And oh boy, were these tasty.  Teresita recommended eating two each to save room for our main course, but I couldn't resist eating four… Whoops! And oh yeah, the sprinkled sugar on top was genius.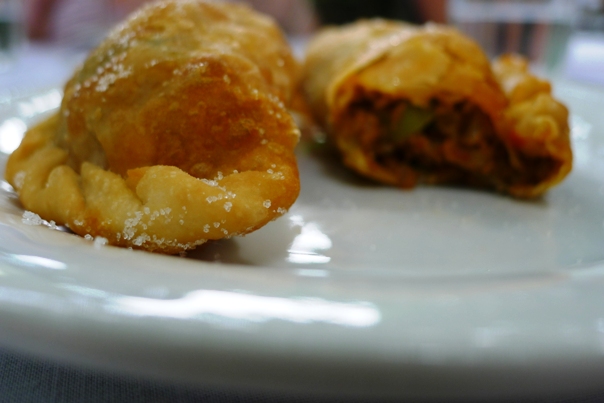 Torenado with Malbec sauce, stuffed round zucchini and spinach flan (Served with La Flor de Pulenta Malbec de Lujan de Cuyo Mendoza):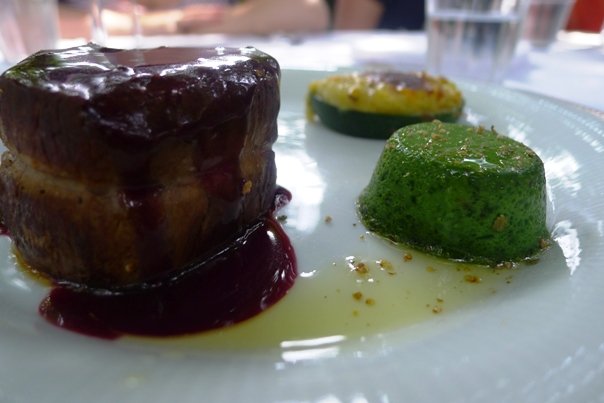 This was our main course of the day and it was fancy enough to be served at a high end restaurant, yet it still had the comforts of home in every bite.  The Torenado steak was cooked perfectly and it was the first time I have ever eaten zucchini flowers.  They were stuffed with cheese and seasonings and tasted just as much fresh as they did sinful. I am also not a huge fan of the consistency of custardy flan, but the spinach flan took me by surprise and was superb!
Flambee peahces with homemade ice cream (Served with Felipe tardio de bodegas La Rural Mendoza):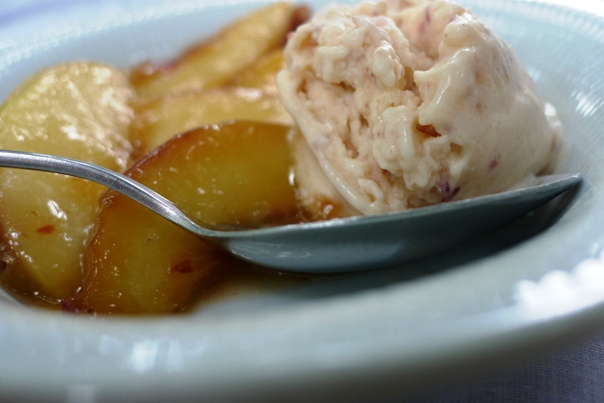 There is no better way to finish a meal and cleanse the palate than with some fruit and ice cream, now is there!?  I am normally a chocolate devotee, but this dessert was a wonderful dish to end the day.  The peaches were poached and tender and the rich homemade vanilla ice cream had bits of peach in it that made it a harmonious match for the warm peaches.
Every time Teresita brought a dish out to the table, she acted like a child in a candy shop and was over the top enthusiastic when describing her creation.  Throughout the entire day, you could tell how much she cherished the food she prepared for herself, her family, her friends, and her guests.
And it really did show in the execution of her dishes.  Everything was delicious and, most importantly, made with care.
Teresita is skilled enough to be a chef in any restaurant, but she chooses to cook out of her own home.  By taking her culinary tour, I became a true believer that cooking does not have to just be a profession.  Instead it can be an infatuation, an art, and a way of life.
After cooking with Teresita and seeing how the Argentineans treat their food, I don't think I can look at a TV dinner the same way again!
If you are ever in Argentina and want to be just as inspired as I was from this culinary experience, I highly recommend paying Teresita a visit at one of her amazing cooking classes.  You will be sure to leave her house with an enriched perspective on the world of food… I sure did!
LandingStanding is focused on sharing our adventures as a couple on the road, but also on providing you with helpful advice so that you can hopefully join us. We partnered with Teresita and her daughter Grace as we love food and view food tours as one of the best value tours you can do to learn a new city and its people. In return for a sponsored tour, Teresita asked us to write an unbiased review of our experience. As always, all opinions are our own and we would tell you if we hated it. But we didn't. It rocked.
About Meg
Exhausted from traveling every week as a Business Management Consultant early in my career, I took a year off in 2012 to travel at my own pace. I am a high-energy girl that loves being active, eating food, drinking wine, and exploring the world with my partner-in-crime (and husband), Tony! I now reside in Portland, Oregon and continue to write about travel, food, wine, and the awesome adventures we have in the Pacific NW!