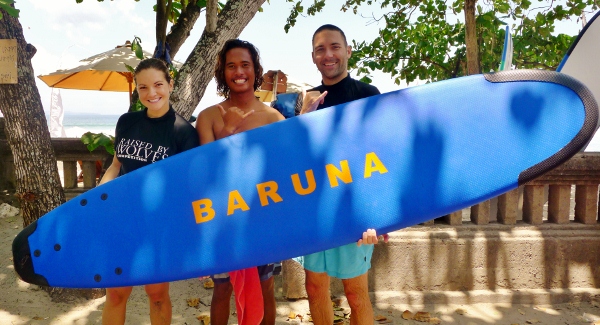 Our entire trip around the world has been a series of "I can't believe we get do this" moments, so you would think it would be difficult to choose just one to highlight. But nothing really frames what those moments are like more than how we ended up learning to surf in Bali.
Relying On The Advice Of Good Friends
Our second 30-day visa in Thailand was set to expire on September 28th and we had arranged for a flight out of Bangkok to Kuala Lumpur. We had also found insanely cheap flights from Kuala Lumpur to Sydney, Australia on October 31st (thanks to a timely tip from our friend Brooke) that we booked fairly far in advance.
Knowing that we only wanted to spend several days in Malaysia, we were left with a little over a month in our schedule to play with, so we started consulting the map.
We needed a place that allowed for visa's on arrival for Americans (not always easy) and a place where we could relax. Thanks to another timely tip from our friends at Traveling9to5, we learned that just east of Bali are a heavenly set of tiny islands called the Gili's.
And the Gili's are only a 1.5 hour boat ride from Bali… which is in Indonesia… which allows for visas on arrival.
BOOM!
Just like that, we booked ourselves a 3 week stay in the Gili's with a 4 day stopover in Bali… because how can you not check out Bali when you're that close?
And what is one of the things Bali is known for?
Surfing.
As soon a friend of ours from back in states, Noah, heard we were going to be in Bali, he demanded that we learn to surf or forever forfeit any chance of being considered cool.
Anything you say, Noah.
Learning To Surf In Bali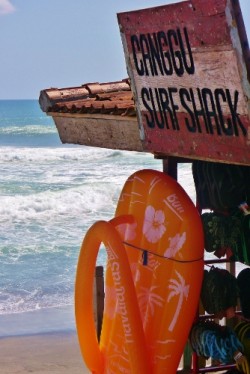 We did our normal research on TripAdvisor when looking to book surf lessons in Bali. One of the best we found was Baruna Surf Culture, who was kind enough to invite us along with them for a lesson.
Adi, a local, and his Swiss girlfriend, Irena, picked us up in the morning with surfboards already wrapped tight to the hood of their car. As we rode to pick up the other couple joining us for a lesson, they talked a bit about how Adi had taught himself to surf when he was 14 and what it was like growing up on Bali.
Fun fact: Did you know that Bali has 4 distinct languages, separated by class, in addition to the national language of Indonesian?
The US couple that joined us were on their "babymoon" and were currently living and working in South Korea. Since the wife was in no shape to lie down on a surfboard, only the husband joined us for our 2 hours on the waves while she watched from a beach chair.
She was a very patient wife :).
Once at the beach, Adi and Irena ran us through a few drills on dry land. If you are picturing the surfing lesson scene from Forgetting Sarah Marshall… you aren't far off.

Surfing really is all about degrees and there is a fine line between too relaxed and too forceful.
A line I was never able to balance (literally).
Once we knew the basics, we were sent out into the water with boards in tow.
There is nothing quite like paddling into your first wave, feeling the board catch the wave's momentum, pushing up on the board to stand, and then….
…Crashing face first into the front of the board and under the breaking wave.
Learning to surf is basically repeating this move, which Meg affectionately dubbed "the Tony," over and over.
Luckily, with some small tweaks from Adi and Irena back on shore, I eventually was able to stand up and ride one wave all the way in.
The only problem?
Once you successfully ride that first wave, you are hooked.
How You Can Learn To Surf In Bali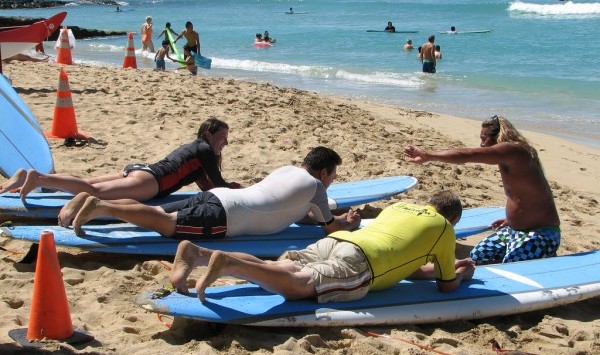 Depending on who work with, your rates and experience may vary.
Baruna Surf Culture costs $65, which includes a board rental, 2 hours of in the water time, plus a pickup if your hotel is within a certain area. Adi & Irena even took our group to a nice local restaurant after to get a feel and taste for true Bali culture.
While we thought Adi & Irena were excellent teachers and we both successfully rode a few waves, you should know that if I could do it, you definitely could too. We even rented surf boards the next day for $2 and surfed on our own.
A year ago, I never would have imagined being able to cross something off of my life list like "learn to surf in Bali." But thanks to some advice from friends and being extremely flexible with our plans, I finally did.
We were guests of Baruna Surf Culture for the lesson but our opinions, as always, are our own. 
About Tony
Quit his job to try actually following his dreams for once... and is currently loving it. He is working hard to to make this life-style permanent by writing about his adventures and brainstorming money making opportunities with his partner-in-crime, Meg.