This year marked my third year attending Feast Portland — and what a crazy weekend it was! With  134 chefs, 31 wineries, 15 breweries, 11 artisans, and 12 distilleries featured, I was a very full (and admittedly buzzed) gal for four straight days.
Some of the food I experienced during this extravaganza was some of the best I have consumed in Portland… Which leads me to one conclusion: There are countless restaurants I still need to visit in this foodie-centric town.
So, in case you're looking for new places to add to your date night list, I have you covered below. And I figured the best way to share these new discoveries is through a food diary of my adventures (and misadventures) from the weekend.
Without further adieu…
Wednesday
Feast Portland 2017 took over the Southeast neighborhood of Portland on Wednesday night, September 13th, to kick off the four-day food festival, starting with a killer Little Italy party co-hosted by Williams Sonoma, OP Wurst, and Ava Genes.
Photo credit: @FeastPortland
As with any Feast Portland event, there was, of course, a photo booth, which I unabashedly hogged with my friends for a solid 20 minutes while everyone behind us in line glared and rolled their eyes…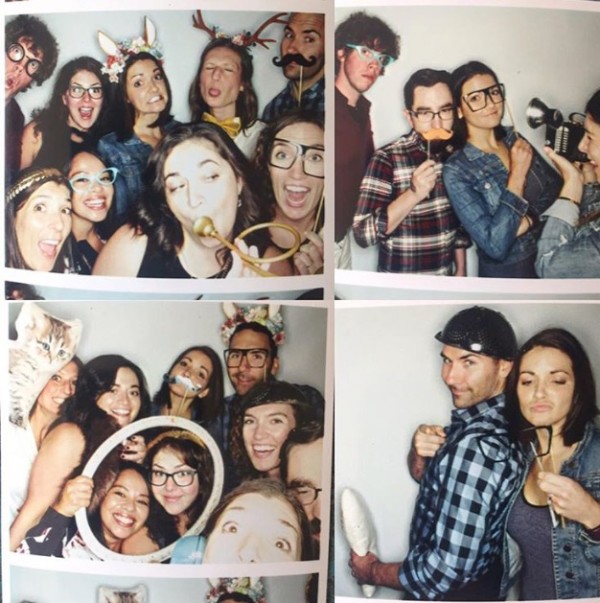 Some might say we were taking too much time behind the camera, but I like to think these line-goers just had squad envy. I digress…
BUT the award for the best treat of the night goes to the fresh, melt in your mouth, sliced right in front of your face Porchetta at OP Wurst! I didn't take a picture of my heaping plate of pork because… well, that would have slowed me down from consuming it.
Thursday
Each year, Feast Portland hosts its main event, Sandwich Invitational. This year was no exception to the usual debauchery of this carb-heavy celebration.
Long story short, every sandwich I tried was delicious. The sandwich combos were incredibly inventive (who woulda thunk that bologna would be so good stuffed between two old-fashioned donuts?), I stuffed myself silly and internally battled with at least five of the Seven Deadly Sins by the close of the evening.
But the winner in my heart at Sandwich Invitational was Rick Gencarelli's (of Lardo) Nashville Hot Fried Chicken Sandwich with thick cut bacon, honey butter, sweet pickles, and Duke's Mayo.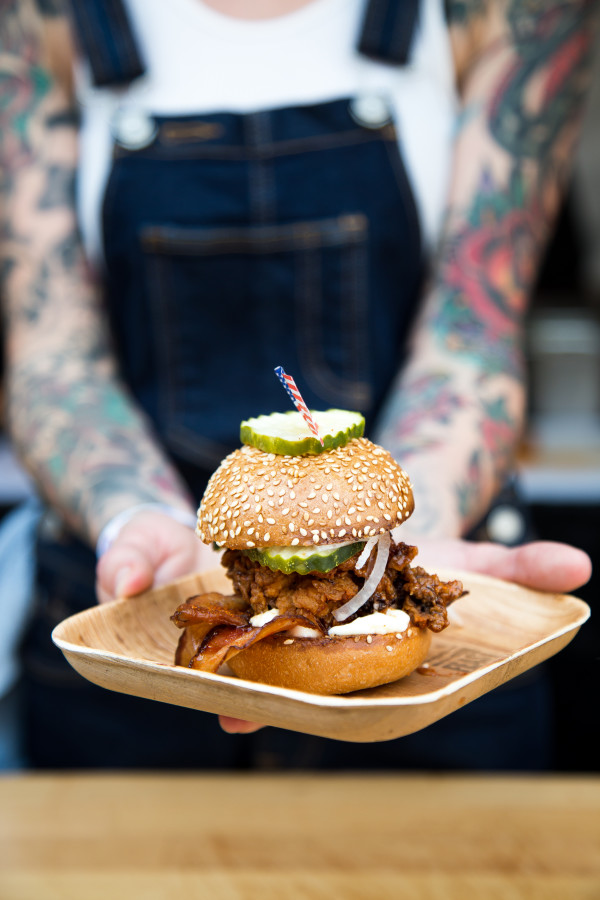 Photo credit: Carly Diaz
This sando was GOOOOOD. It was the perfect balance of salty, spicy, and sweet. I had to go back for seconds… It's a shame my stomach didn't agree with this aggressive decision.
Friday
So, Friday rolls around. I am hungover. After Sandwich Invitational, the thought of putting more food in my stomach sounded *meh*. But no one likes a quitter, right?
So there I am dragging my disheveled ass down to Feast's Grand Tasting event in Pioneer Courthouse Square. Luckily, I had my partner in crime, Tony, with me to help put a pep in my step. We spent the beautiful sunny afternoon tasting all the wine and beer, sampling all the countless treats, and talking with all the countless food artisans from across the Pacific Northwest.
It was delightful and I was back in the Feast game.
After several hours of perusing the stands, Tony and I were DONE. But as we were headed out of the Grand Tasting tent, I noticed one booth I had yet to drop by – Rally Pizza.
They were showcasing one of their famous frozen custards. This one was a Boysenberry Crisp Concrete made of vanilla bean frozen custard, boysenberry preserves, and a brown sugar oat crisp topping.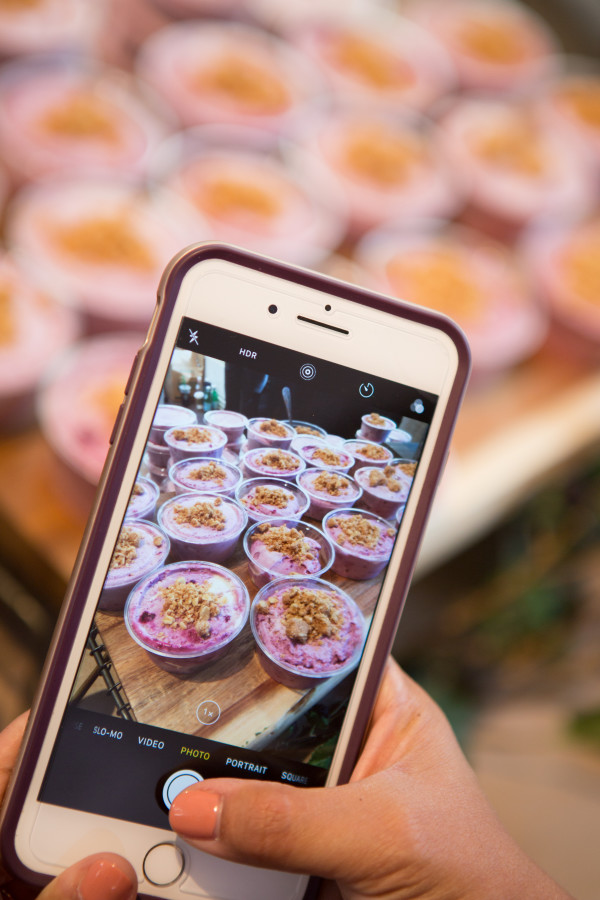 Photo Credit: Alan Weiner
Upon first glance, this custard looked a little too healthy for my liking… the berries threw me off. But I'm so glad I decided to go in for the sample. The custard was both indulgent and refreshing at the same time. Maybe the drive to Vancouver, WA (where Rally Pizza is located) is worth the trip!
Saturday
After Thursday and Friday, I needed a break. It was back to salads for lunch and copious amounts of water and tea.
But this didn't last long. Feast Portland is, after all, ONCE per year!
So, after I was done detoxing, it was time to retox.
Bollywood (along with Eater and Washington Wines) hosted that nights after party, which was an absolute blast. There was obviously A LOT of wine, delicious tropical drinks from Shipwreck, and bites from killer chefs around town.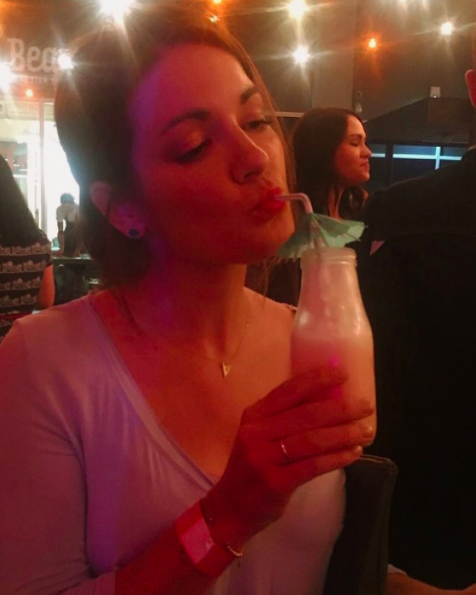 My favorite bite of the night though goes to Hot Yai's Goat Curry. This stuff was bursting at the seams with spicy umami flavors and was warming to the soul. If I could eat this curry every day and twice on Sundays for the rest of my life I would die a happy lady.
The curry didn't photograph well… or maybe I just consumed it too fast to grab a photo! #sorrynotsorry
Sunday
Controversial opinion: As much as I love desserts, doughnuts have never been my jam. I blame it on marketing in the entire doughnut industry. Having it labeled as a "breakfast food" all my life has really turned me off from the doughnut experience. I am more of a savory breakfast kind of gal — minus the occasional french toast, pancake, cinnamon bun… okay, my beef is maybe just with doughnuts.
BUT at the "Because Breakfast" Fun- Sized event on Sunday, General Porpoise Doughnuts (based in Seattle) was serving up the most succulent chocolate and marshmallow cream-filled doughnuts.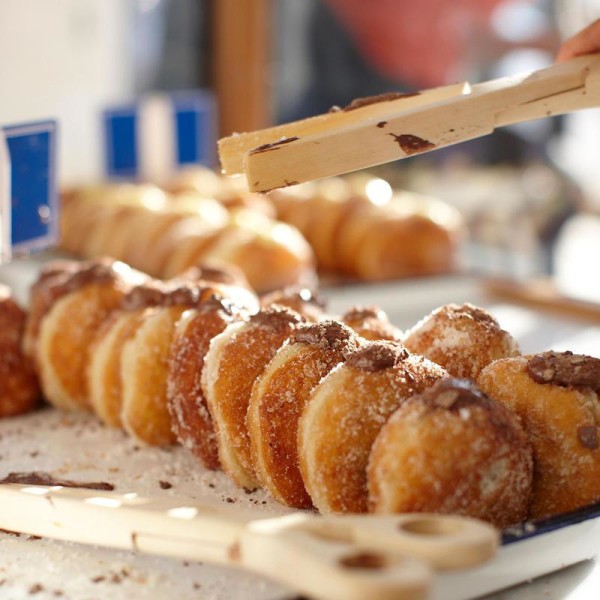 What made these so spectacular was that they weren't overly sweet (which is why I shy away from most filled doughnuts). Plus, the chocolate marshmallow cream was chock full of mini bittersweet chocolate chips that added a touch of flavor and texture to the perfectly fluffy doughnuts. Even after four days of binge eating, I was contemplating going back for seconds of this doughnut… too bad they ran out early in the day!
Overall, it was an amazing four days of Feast 2017 and I already cannot wait for next year's Feast Portland — happening September 13-16, 2018. '
MARK YOUR CALENDARS PEOPLE! 
About Meg
Exhausted from traveling every week as a Business Management Consultant early in my career, I took a year off in 2012 to travel at my own pace. I am a high-energy girl that loves being active, eating food, drinking wine, and exploring the world with my partner-in-crime (and husband), Tony! I now reside in Portland, Oregon and continue to write about travel, food, wine, and the awesome adventures we have in the Pacific NW!