It has been over a month since we visited the wonderful region of Umbria, Italy for the Travel Bloggers Unite conference but I am still left dreaming about all the food we ate during our week there. I am starting to think that this obsession is somewhat concerning, but I know I am not alone.
Almost every travel writer we met on our trip adored the cuisine in Umbria and the food we ate was probably the biggest talking point of the trip.
We recently reached out to our tour guide from our TBU Food, Wine & Handicrafts post conference trip,  Fabio, for his musings on Umbrian cuisine… but the fun doesn't stop there!
I was so inspired by everyone's passion for food on our trip that I have decided to compile a list of the favorite dishes.  And to help us out, we have enlisted several of our friends to share their stories.
Here are the Foodgasmic Tales from Umbria!
I think it's unanimous: one thing that travel bloggers and Umbrian's have in common is our love for food! And wine. Our time in Umbria was literally overflowing with amazing food and wine and it is difficult to choose favorites, but…a real stand out for me was the literal feast our Art, Wine and History group enjoyed at Ristorante San Lorenzo in Spoleto.
It began with an impressive entrée of layers of prosciutto, ham, and cheese swirled into a crisp pastry casing and drizzled with olive oil and balsamic.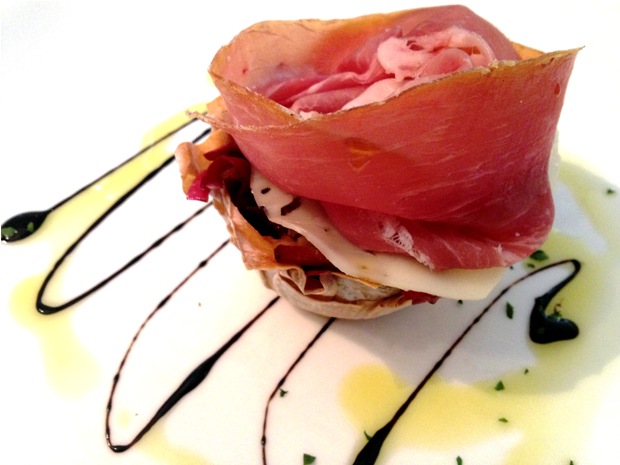 Next up was an amazing mushroom ravioli pasta course, followed by one of the best beef fillets I've tasted. All with accompanying wines. Of course.
The meal was finished with an smooth white chocolate soufflé and glass of Prosecco – divine. My only regret? Being too full from the other 3 courses to be able to finish it!
Next time…?
We were strolling around the streets of Assisi one Sunday night when most of the shops were closed. After a week of eating our favorite dish, pasta, we wanted to try something different. Through the open doorway of Cariani we spied what looked like a whole pig sitting on the counter. Further inspection revealed a pig's head with a lemon artfully placed in his mouth. We had stumbled upon one of the famous street foods of Umbria, porchetta.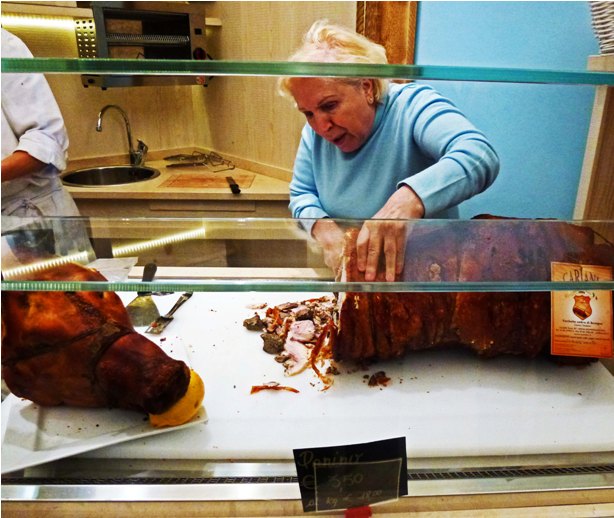 An elderly woman was slicing the pork, its skin crackling like the static of an untuned radio with each sawing motion. As we walked in she offered us a slice to try. The meat was tender and spicy with a bit of the crunchy skin attached. At only 3.50 Euros naturally we had to try a whole sandwich. The woman cut a few more slices, laid it gently in a crusty roll and handed it to us.
The flavors of rosemary, garlic, salt and the secret ingredient, wild fennel, popped in our mouths, creating a wonderful sensation. That's the secret to Italian food – simple ingredients prepared well. The next day we went back to pasta, but the memory of the porchetta sandwich still lingered on our taste buds.
When you come from an Italian family in Boston, ricotta pie is a bit of a big deal.  It's saved for special occasions – holidays and homecomings top the list – and it's only purchased from the best top-tier bakeries (which may or may not be owned by the mafia).
However, after sampling the ricotta crostata at the Terre Margaritelli, ricotta pie might as well be dead to me.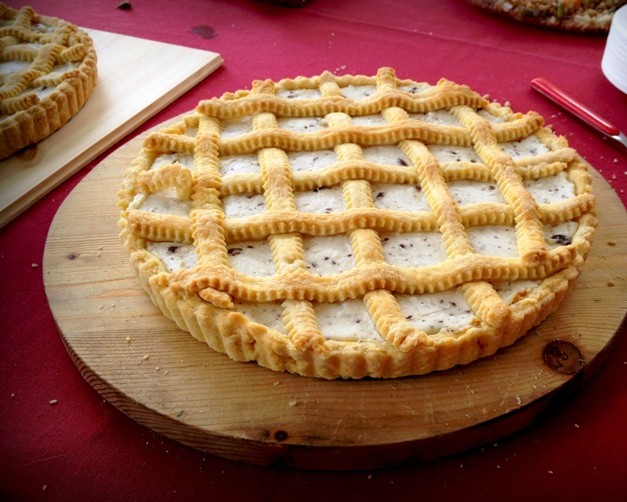 I will spend the rest of my days trying to replicate this dish – a gentle, light, flaky crust; the perfectly creamy ricotta; the orange jam for a base; the bits of Perugine chocolate mixed in.  If the chef, Jennifer, hadn't graciously offered to email us her recipe, I think each of us would have hunted her down for it.
Of all the unforgettable dishes we sampled in Umbria, it's the ricotta crostata that will haunt my culinary dreams for eternity.
Oh, and Jodi is crazy if she thinks she's getting any of it from me.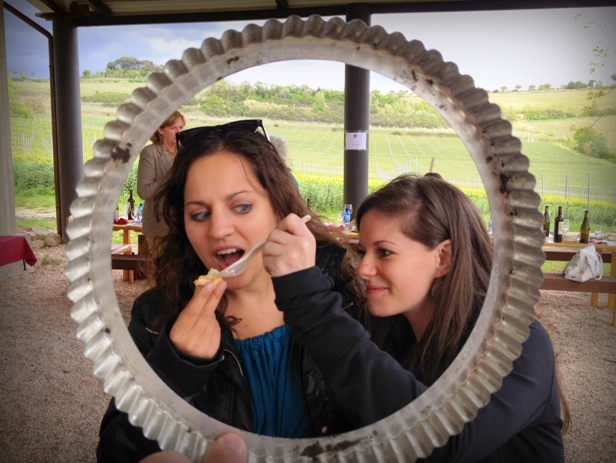 Never having the privilege of tasting truffles, it was apt that our first sample would come following our morning truffle hunting in Umbria. Combine the concentrated earthy mushroom flavour with fresh handmade Tagliatelle and you can imagine why we were salivating when it was placed in front of us.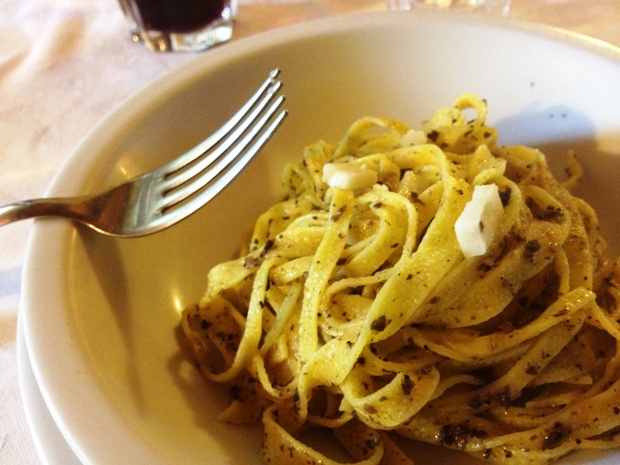 We'd been looking forward to the food in Italy but nothing could have prepared us for the freshness and variety we found on our plates over the week. Needless to say we want to go back for seconds.
So what was LandingStanding's favorite?!
I am sure you are probably ruining your keyboard right now with all the drool that has accumulated from reading our friends' epic tales.  But the foodgasms are not over just yet!  Afterall, you may be wondering what Tony's and my favorite dish was.
After heavily debating the topic, Tony and I have come to the consensus that our favorite dish goes to the traditional Umbrian salad of fava beans and pecorino cheese topped with homemade olive oil at the Arnaldo Caprai winery in Montefalco.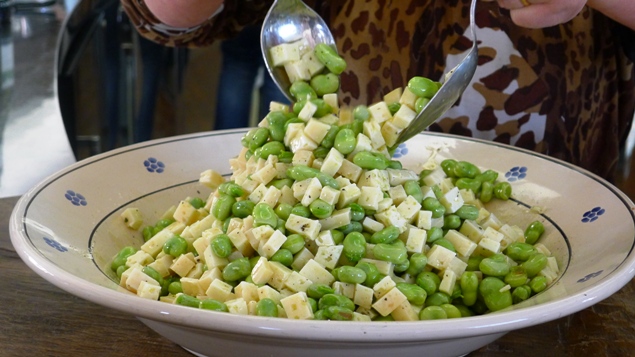 The fresh olive oil made on the Caprai property was earthy and light and it perfectly married the fava beans and salty pecorino cheese.  We also had this dish paired with Colli Martani Grechetto white wine.  Tony and I are not typically fans of white wine, but this was crisp, delicately sweet, and combined wonderfully with the salad.
It was probably the most simple dish we had in Umbria, but when you are working with fresh, local ingredients, sticking to the basics is the way to go.
After all of this discussion of the fabulous Umbrian food, I hope you are in the process of booking your next vacation to this incredible region… DO IT!
Which description by these great travel writers makes you drool the most? Think you can top them? Please share below with a comment of your own!
About Meg
Exhausted from traveling every week as a Business Management Consultant early in my career, I took a year off in 2012 to travel at my own pace. I am a high-energy girl that loves being active, eating food, drinking wine, and exploring the world with my partner-in-crime (and husband), Tony! I now reside in Portland, Oregon and continue to write about travel, food, wine, and the awesome adventures we have in the Pacific NW!