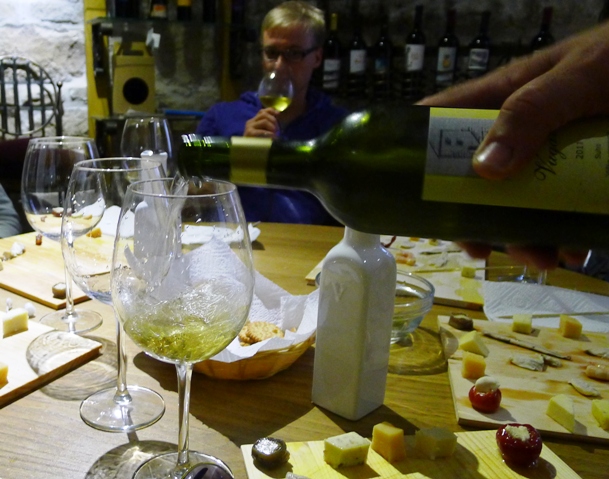 Croatia was the first destination on our trip where Tony and I truly got to stay still for an extended period of time and catch up on life.  We stayed at a cute little beach apartment in the quiet town of Drasnice, where there was absolutely nothing touristy to do… It was MUCH needed!
For five solid weeks, we cooked our meals, went on scenic runs, visited the beach, and most importantly, worked on our blog and brainstormed potential business ideas.
To help us from going stir crazy, we did have a couple opportunities to step out of town and away from our computers with the wonderful tourism company Secret Dalmatia.
For those of you who did not read our first review of Secret Dalmatia, here is a recap of the company:
Secret Dalmatia offers signature group tours as well as customized tours that uniquely focus on the art of traveling as a local behind closed door sights. What is special about Secret Dalmatia is that they utilize and leverage their network of friends and family when creating original travel experiences in Croatia.
Our first excursion with Secret Dalmatia was an extraordinary cooking class in Trogir that taught us much about the culinary traditions of Croatia.
But the fun didn't stop there.
Now as a sidenote, I have mentioned numerous times on our blog how much I adore the show No Reservations. In fact, I am pretty certain that Anthony Bourdain has the best job in the world.  I mean, who wouldn't want to be whisked away from the tourist crowds to attend private, backdoor dinners and tastings with world renowned chefs and coneseuirs all over the globe… AND get paid for it!? Yes, please.
Minus the exorbitant paycheck and the cameras, I actually got to live like Anthony Bourdain on our second night with Secret Dalmatia.  For this second excursion, we were invited to attend a Croatian wine tasting event at the wine bar, Klub Gurmana i Hedonistain, in the Dalmatian city of Split.
The founder of Secret Dalmatia, Alan, brought us (along with Bethany and Ted from TwoOregonians) to Klub Gurmana for our very own private tasting… Baller!  The bar was an elegant and modest wine bar that catered to small parties like ourselves.
Igor, the sprightly owner of the bar, started his career as a wine wholesaler but later decided to peruse his passion of educating people on the history and wonders of Croatian wine.  As such, he opened up Klub Gurmana roughly a year ago to date, which holds at least one wine from each region in Croatia along with select international wines.
Here in his bar, he sat us down for several hours and took us through a wonderful and educational tasting of five delicious Croatian wines:
Vino Letto – A fortified cinnamon wine that was our apertivo of the evening.
Marastina – A light and drinkable white that paired phenomenally with our goat cheese.
Vagava – The Vugava wine that we tried was a "garage wine" that had not yet been registered in Croatia… Yup, we are rebels!  It was aromatic, tart, and delectable!
Plavac – A red finally! I love me some red wine, and the Plavac was a superb full-bodied Zinfandel that was  a perfect cap to the evening.
To accompany our wines, Igor also kept our bellies full (and our pallets in top shape) with trays of local cheeses (goat, sheep, and black truffle cheese), anchovies, shrimp, and vegetables marinated in earthy vegetable oils… There is nothing better than a good cheese plate with my vino!
During our tasting, I was continually shocked by how tasty the wine was… How is it that I have never had Croatian wine before?!  This stuff was phenomenal!
But what Igor explained to us was that Croatian wine is a niche wine.  The country's wineries are not big enough (nor do they have the high-tech equipment) to compete with the more popular wine countries like Italy, Spain, Argentina, etc.  However, what they can compete on is quality.  Croatia is starting to become recognized for their delicious wine in European countries, but have yet to really penetrate the market in the states.
Interacting with Igor in an intimate setting and getting a full blown tutorial on Croatian wine was a truly special experience.  Not only was I amazed by the exceptionally tasty wines of Croatia, but I was also fascinated with Igor's story.  As an aspiring entrepreneur myself, I loved hearing how he transformed his passion and expertise for Croatian wine into his own business venture at Klub Gurmana.
Once again, Secret Dalmatia exceeded our expectations and showed us a unique, off the beaten path experience in Croatia.  If you are ever in this magnificent country and want to experience a night in Anthony Bourdain's shoes, I highly recommend that you check out Secret Dalmatia!
LandingStanding is focused on sharing our adventures as a couple on the road, but also on providing you with helpful advice so that you can hopefully join us. We partnered with Secret Dalmatia as we love wine and view wine tastings  as one of the best activities you can do to learn about the culture of a country. In return for a sponsored tasting, Secret Dalmatia asked us to write an unbiased review of our experience. As always, all opinions are our own and we would tell you if we hated it. But we didn't. It rocked.
About Meg
Exhausted from traveling every week as a Business Management Consultant early in my career, I took a year off in 2012 to travel at my own pace. I am a high-energy girl that loves being active, eating food, drinking wine, and exploring the world with my partner-in-crime (and husband), Tony! I now reside in Portland, Oregon and continue to write about travel, food, wine, and the awesome adventures we have in the Pacific NW!