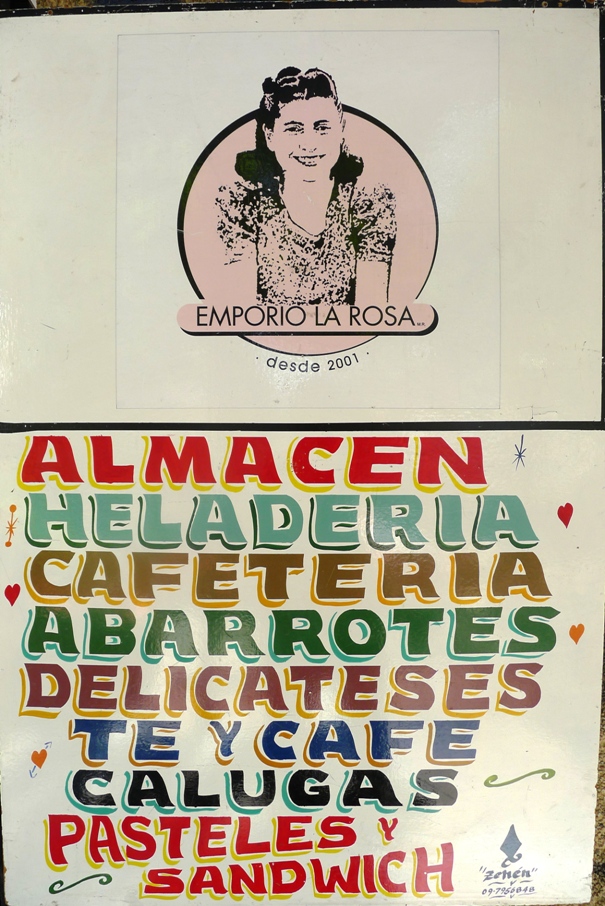 Scenario: I am on death row.  The prison official asks me what I want for my last meal.
My answer:
"Oooooo anything chocolate please… and preferably in the form of ice cream.  Thanks officer!"
By now you probably can get an idea for how much I absolutely adore chocolate ice cream.  I can eat it anywhere, anytime, and no matter how full I am from a meal, I always have a little side tummy dedicated to dessert.  Some might say I should see a doctor, but I find my ability to house ice cream to be one of my greatest strengths.
My sister-in-law, Maggie, is one of the few people who can keep up with me in this department.  She is always down for eating ice cream, which is awesome because then I don't feel like a complete fatty eating it by myself.
Being the good sister that she is, she was genuinely concerned about my ability to find ice cream in some of the places Tony and I had on our RTW list. Thus, she did her research on Santiago and found a gelato place, Emporio La Rosa, for Tony and I to try out once we arrived down here.
Santiago is one of those heavenly cities that has an ice cream joint on literally every block, but according to her research, Emporio La Rosa was the J.P. Licks of Santiago. It has fabulous reviews online and serves up both traditional and crazy concoctions of gelato – Think strawberry and black pepper gelato (Translation: Frutilla y Pimienta).
Now here's the kicker.  Maggie wrote down the name of this ice cream shop before we left and we stashed away her paper at the bottom of our backpacks.  I completely forgot the name of the place once arriving in Santiago.  Nevertheless, Tony and I were traipsing through side streets near Bella Artes in downtown and stumbled across this delicious looking gelato place…
Later we would discover that it was in fact Emporio La Rosa.  What are the odds in a city full of ice cream stores?!  Riddle me that.
Anywho, we get into the store and I of course wanted to try every gelato flavor in there.  I didn't know the Spanish phrase for "may I have a sample" (I have since learned that it is "pruedo probar") so I just asked the woman working behind the counter what the best chocolate flavor was.  She immediately started giving me mini sample spoons of every chocolate flavor imaginable…
I am in LOVE with this lady.
What was funny was that she is talking to me in Spanish the entire time about all the different chocolate flavors, her favorite ones, etc. and I understood EVERY SINGLE word she said.  I suck at Spanish but apparently I speak it fluently when in an ice cream shop.
Go ahead, you can judge me.
So there I am with seven sample spoons in my left hand still trying to make my decision (they were all soooo good).  It's hot-as-balls out and of course the evidence is beginning to drip down my hand.  I'm a mess.  Thank god we were the only patrons in the shop because if other Chileans witnessed this, they would have no questions in their mind as to why America is the most obese nation in the world… Lay off me people, I work out.
The final decision was the dark chocolate and dulce de leche combo.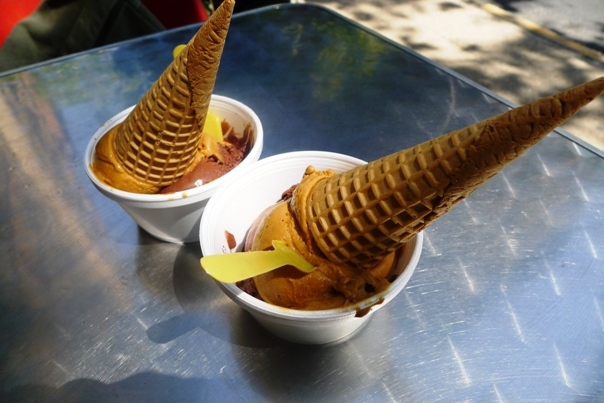 I would of gone hardcore chocolate on this order, but the dulce de leche was so rich that it tasted like a handmade caramel taffy from Cape Cod (my favorite candy as a kid) in the consistency of Gelato…Epic.
I have had A LOT of gelato in my lifetime, but I would go as far to say that Emporio La Rosa's was the best yet.  As a sidenote, if you also are big on trying samples, go early in the day to get the full attention of the staff.  It gets PACKED in the afternoon.
With plans to travel to Italy in April (the gelato Mecca of the world), Emporio La Rosa may be beat… The challenge is ON.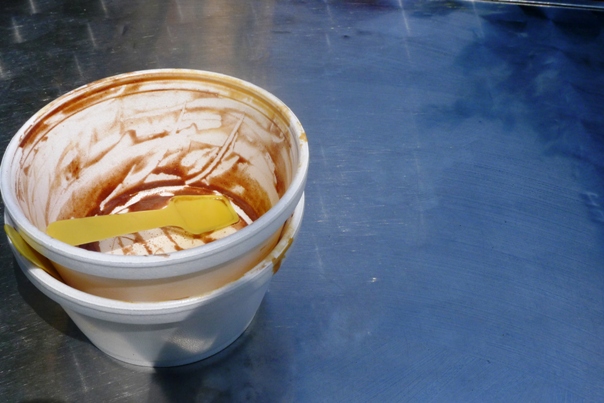 About Meg
Exhausted from traveling every week as a Business Management Consultant early in my career, I took a year off in 2012 to travel at my own pace. I am a high-energy girl that loves being active, eating food, drinking wine, and exploring the world with my partner-in-crime (and husband), Tony! I now reside in Portland, Oregon and continue to write about travel, food, wine, and the awesome adventures we have in the Pacific NW!