Trader Joe's is an amazing place. Fact.
But before you start telling us the greatest items that we have to buy, you need to understand why I am writing about it and how Tony could only now have been going to his first one…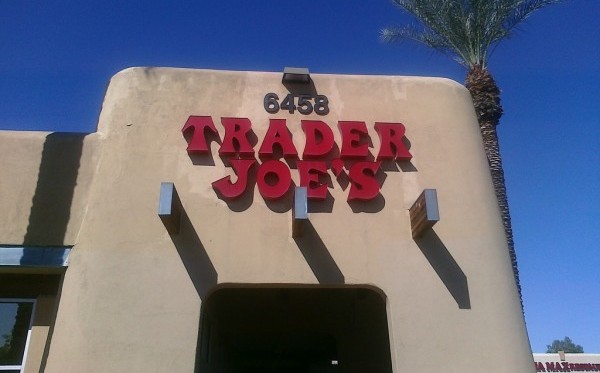 Our Trader Joe's Story
As you are well aware, Tony and I are big foodies and much of our RTW this past year was dictated by our bellies.
But what, how, and where did we eat prior to our RTW trip?
Tony and I have always been health nuts and ever since we got married, one of our most cherished activities is cooking together. We would occasionally enjoy a nice meal out, but when we lived in Miami for two years together before our trip around the world, most of our meals were cooked from scratch over a glass of wine in our apartment's tiny kitchen.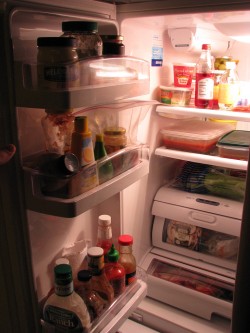 But to dig a little deeper into our pre-RTW eating habits, we both held solid jobs as a banker (Tony) and business consultant (me) and for us DINKs (you know, Double Income, No Kid folks), we never once worried about our food budget when stocking the fridge.
In Miami, our only grocery options within a 15 mile radius of our apartment included Publix and Whole Foods… And being health nuts, we focused our bellies on the latter – Whole Foods.
But our shopping habits have changed (and needed to change) DRASTICALLY when we returned from our trip around the world… and became NINKs (No Income, No Kids… Obvi)!
Now that we are back in the states, we are trying to start up our own businesses so we can fulfill our dreams to become entrepreneurs and digital nomads. I recently started up a social media marketing company, Sticky Marketing, with my business partner (and travel bud), Caroline, of Traveling9to5, while Tony is working on starting up a premium petsitting business.
But as we are trying to start up our own business ventures, money is tighter than usual. We are trying everything we can and getting creative to slow down the burn rate on our savings account.
As a way to save money, we took a petsitting job in beautiful Taylorsville, CA where we will be on a 20 acre farm looking after 4 dogs, 2 cats, and 2 wild horses in the Sierra Nevadas for the next 6 months.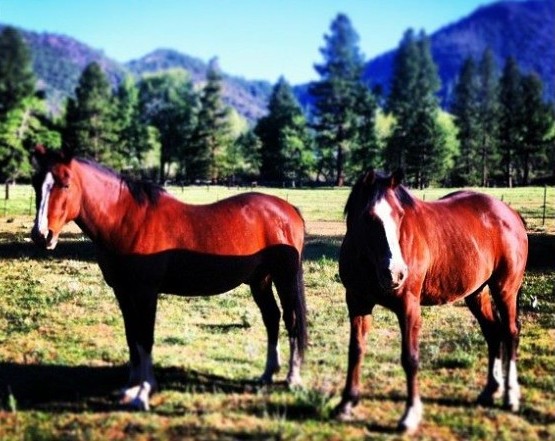 Caroline and her husband, Josh, connected us with the homeowners to secure this amazing petsitting job. They have spent the past three months as the petsitters In Taylorsville, but need to be back in Indiana for the summer… And that's why we're taking over!
But what does this all have to do with Trader Joes?
Well, before we take over the pet sitting job, we wanted to spend some time at the property in Taylorsville to learn all the duties on the farm and to bond with the pets. Caroline and Josh graciously invited us to come stay with them for a couple weeks so they could show us the ropes. We had an amazing time with Josh and Caroline at the farm…
Once again, what does this all have to do with Trader Joes?
Well, seeing as how the farm is out in the middle of nowhere and Josh and Caroline have also been on a tight budget trying to start up their own location-independent lifestyle (check out Josh's web development biz at josheaton.org), every meal we had with them was cooked family-style in the home's charming country kitchen. Every meal was healthy, economical, and almost every meal had one secret ingredient:
Food from Trader Joes!
Growing up in a family of only Whole Foods-eaters (and after our lavish grocery trips in Miami), Tony has NEVER experienced Trader Joes… And I have only been several times in my post-college years.
As such, Caroline and Josh had a blast introducing us to all their favorite foods from TJ's… In fact, most of our family meals spent together over countless glasses of wine involved heated conversations on all things wonderful and tasty about Trader Joe's.
As you can imagine, when Tony and I first stepped into a Trader Joe's store, our expectations were HIGH! But within the first 5 minutes of browsing the aisles, these great expectations were exceeded.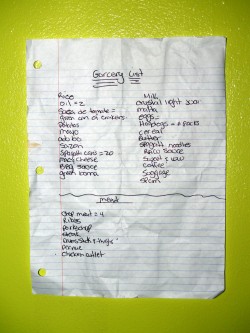 Not only did all of their tasty and prepared organic foods look healthy and scrumptious, but they were all brands/labels unique to Trader Joe's… and, most importantly, everything was DIRT CHEAP.
Trader Joe's is Whole Foods for the poor!
$2 bottles of wine? We penny pinchers were in heaven.
With a Trader Joe's in Reno being only 2 hours from our housesitting gig in Taylorsville, I have no doubt in my mind that we will make several trips to this fabulous store to stock up on goodies.
But this is where we need your help. Josh and Caroline provided us with an initial roadmap of their favorite Trader Joe's foods, but from the looks of the store, we have A LOT more to discover!
In fact, just this past week I tried their dark chocolate pretzel thins for the first time… my lord, these are sinfully good…
But back on topic, we need your advice on what else we should try from this incredibly marvelous store. We will making some BIG grocery runs to Traders over the next few months and us TJ virgins need the help from you to make each trip to the store EPIC.
So, I now ask you: Ever been to Trader Joe's? What are your favorite foods/drinks/items at Trader Joe's? Please share your picks below in the Comments section… Your help is greatly appreciated!
About Meg
Exhausted from traveling every week as a Business Management Consultant early in my career, I took a year off in 2012 to travel at my own pace. I am a high-energy girl that loves being active, eating food, drinking wine, and exploring the world with my partner-in-crime (and husband), Tony! I now reside in Portland, Oregon and continue to write about travel, food, wine, and the awesome adventures we have in the Pacific NW!