We don't want to hear your dark dirty secrets, only your travel confession!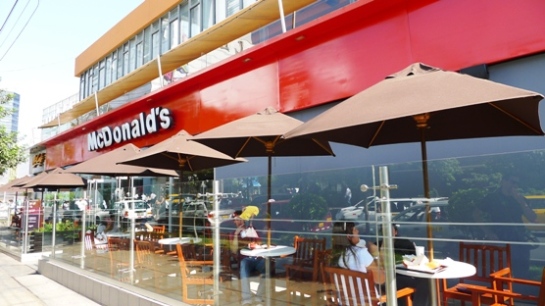 Caroline and Josh from Traveling 9 to 5 recently started an entertaining chain for travel writers to participate in to share their quirky travel confessions with the rest of us: Whether it's a routine that gets you through long travel days, a guilty pleasure destination or food, or a pair of stolen Westin slippers to warm your feet in cold hostels, Caroline and Josh want to know… And so do we!
Keep reading to read our big confession, but first, check out how this works:
How To Confess!
Post a photo and description of your confession.
Tweet your post with hashtag #travelconfession and follow/tweet @traveling9to5
Tag 3 – 5 other travelers whom you would like to expose, and mention them on twitter.
*This has no prize or big cash win at the end, it is for pure enjoyment for all of us travelers who carry our sanity around with us!
Caroline and Josh recently asked us to share our goofy travel confession.  All judging aside, here is our deepest and darkest travel confession:
Travel Confession: Our Obsession With McFlurries Abroad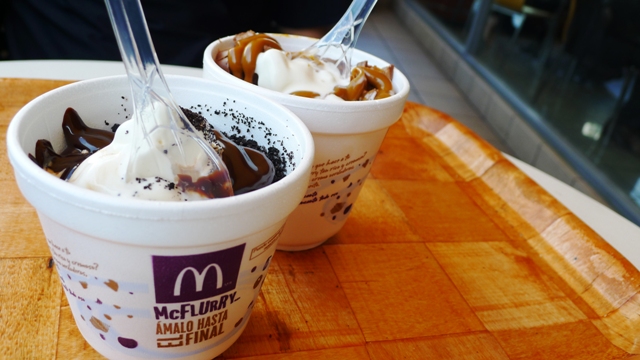 Back in the states, Tony and I ate super healthy (most of the time!) and haven't stepped foot in a McDonald's in years. However, since our RTW trip started 7+ months ago, we have probably been to various McDonald's around the world roughly 15 times.
Why?
Some countries know how to make a MEAN McFlurry… I am talking to you Peru!
We love the loaded and delicious Dairy Queen Blizzards back home and think U.S. McFlurries pale in comparison, with just vanilla soft serve and a single topping sprinkled in… Boring! But at many international McDonald's, they do not skimp on the toppings (in fact, you often have multiple), they have chocolate soft serve you can add to the mix, and they go HEAVY on the hot fudge and caramel sauce… What's not to love about that!?
While we would never eat any actual food in an international McDonald's, nor visit one in Italy where you can get yummy Gelato at every twist and turn, the occasional McFlurry has been one of our favorite guilty pleasure treats on the road.  We love them so much, we even wrote up a review of our favorite McDonald's in Lima, Peru.
Don't knock it till you rock it!
I want to hear your confessions:
Your Turn: What's your big travel secret? Confess in the comments and remember… it's a judgment free zone!
About Meg
Exhausted from traveling every week as a Business Management Consultant early in my career, I took a year off in 2012 to travel at my own pace. I am a high-energy girl that loves being active, eating food, drinking wine, and exploring the world with my partner-in-crime (and husband), Tony! I now reside in Portland, Oregon and continue to write about travel, food, wine, and the awesome adventures we have in the Pacific NW!