It's been a couple years since our RTW trip (how time flies!), but I continually get emails from both strangers and friends looking for travel tips as they gear up for long-term travel.
"What should I pack?"

"Where should I go?"

"Should I be worried about getting sick on the road?"
So, to help break down my super secret world travel tips, I thought this article was much needed!
Here are the 7 things I wish I knew before traveling the world:
1. You're not going to want to wear travel clothing…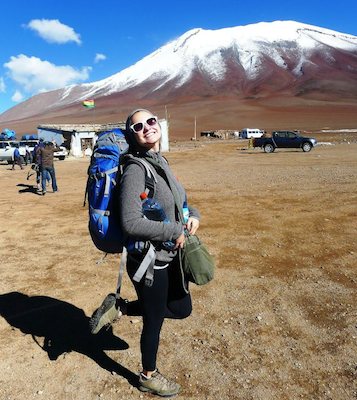 Feelin' sexy!
… At least not all the time. When Tony and I started planning for our trip, I can't tell you the amount of times we went to REI to stock up on all the best performance clothing: Exoficcio underwear, quick dry shirts, hiking/business pants that zipped off into seven difference lengths… you name it, we bought it. But after three months of wearing not-so-flattering travel gear in South America, I wanted to look cute DARN IT!
By the time we got to Europe, I was scouring local markets for fun shirts and sundresses to give my travel wardrobe a pick-me-up. I also had Tony's parents bring me a pair of emergency jeans when they came to visit us in Turkey!
When you're traveling you want to be comfortable, but you also want to look nice going out to dinner or meeting up with people for drinks. So, pack a few travel-savvy items, but also be sure to pack clothing you actually want to wear.
2. Many airlines don't care about the size of your bag, they care about the weight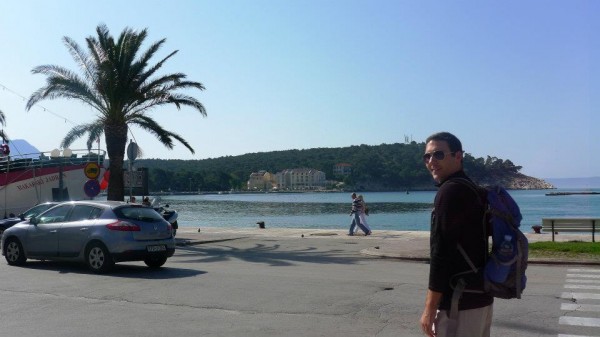 We traveled the entire year with just these packs!
When shopping for backpacks prior to our trip, we bought 32-L Deuter packs, as they were just the right size to be carry-on legitimate. Unfortunately (unknown to us), many airlines outside of the U.S. only base carry-ons by weight – And that cutoff was 8 kilos. With my 32-L pack weighing a consistent 10 kilos (12 kilos when I smuggled 4lbs of olive oil out of Italy), I ended up checking my bag 90% of the time when we flew. I loved my 32-L pack and it was the perfect size for me, but just keep this travel tip in mind if you're on the fence on two bag sizes!
3. Slow down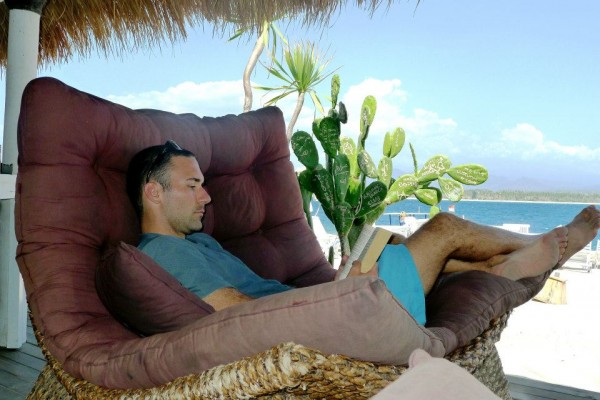 Relaxing beachside in Southeast Asia!
Tony and I started our RTW trip in South America and we were eager to "see it all"… I had a crazy case of FOMO (fear of missing out).
We jam packed our schedule so tightly with hiking in Patagonia, wine tasting in Mendoza, and taking a driving tour across the Bolivian Salt Flats, that we literally were on a bus traveling to our next destination every two days.
After three months of this fact-paced travel, we were utterly burnt out and at each other's throats. By the time we got to Europe, we were incredibly eager to settle down… and slow down. We decided to crash for 5 weeks by renting out an Airbnb apartment in a beach town in Croatia – and then basically traveled like this for the duration of our trip. Just remember: You're not going to see it all… so don't try.
4. Your "bucket list" WILL expand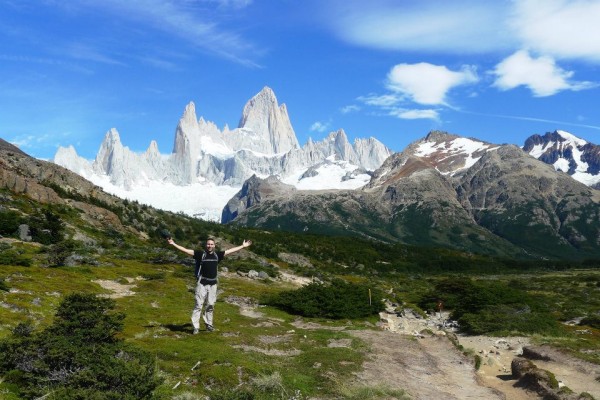 El Chalten in Patagonia, Argentina
Speaking of "seeing it all", prior to my RTW trip, I wrote down all the places I wanted to see around the world and was determined to check them all off the list in 2012.
Ambitious.
What I discovered on our trip is that my list grew… and grew… and grew. Every time we met other backpackers, they would immediately start diving into a travel convo – "Have you been to Iguazu Falls?", "You MUST go to Norway!", "Diving with whale sharks in Perth is literally life changing!"… The list goes on. All of these places recommended by other travelers sounded awesome. Now, after traveling the world for an entire year, I have enough places added to my list that I'm already counting down the days till our next RTW!
Again, ambitious.
5. Go with an open schedule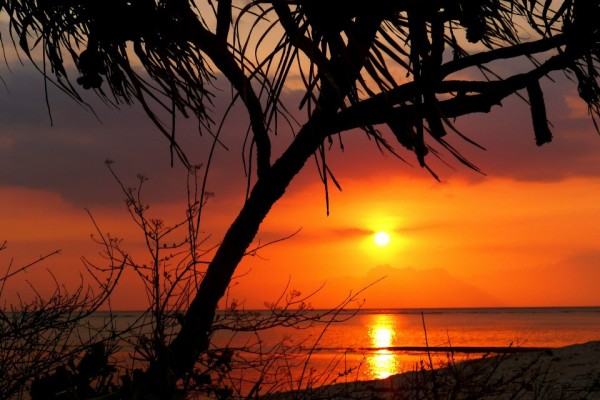 To think we could have missed this sunset on Gili Air…
Talking with other travelers and backpackers is the best way to discover new places to travel. Originally, we were tempted to buy two around the world airline tickets, but then decided against it to keep our travel schedule open.
Best. Decision. Ever.
We typically booked out the next portion of our trip three weeks in advance, so we were always open to suggestions from other travelers.
We had planned to travel to Vietnam, Cambodia, and Laos, but instead stayed longer in Thailand after an amazing housesitting job presented itself. Then came the recommendation from our travel buddies, Josh and Caroline, that brought us to The Gili Islands in Indonesia where Tony got SCUBA certified… our itinerary for Asia did a complete 180!
As much as we eventually want to check out Vietnam, Cambodia, and Laos, we had unforgettable experiences in two places that we never had on our radar. Our advice: Plan out your travel with a few of your "must-see" places and go with the flow for the rest of the time!
Trust us, you won't regret it.
6. Be open to travel failure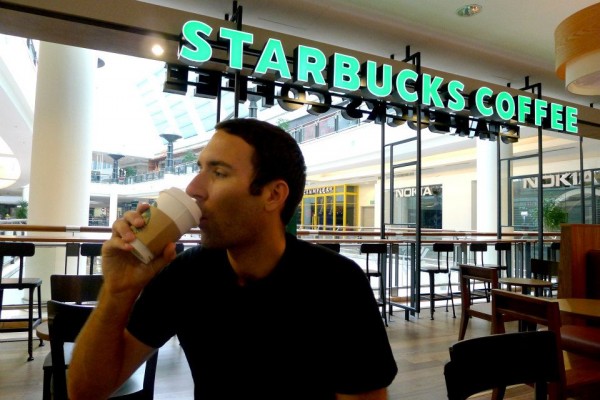 Travel cure in a cup!
When starting up our businesses, Tony and I were always told to "learn from your failures" and to "fail fast". Well, this advice never seems to get passed into the world of traveling… and I'm here to fix that.
When you are traveling long-term, it's important to remember that some days will be incredible, but there will be some pretty darn miserable days sprinkled into the mix. Whether it's getting stuck on a 15 hour bus ride in Bolivia, getting E. coli in Peru, or just fighting with your travel partner in Croatia, you just need to remember that traveling is still the real world.
Lower your expectations of the fairytale journey and be open to both the good and the bad.
7. You will miss peanut butter
No need to elaborate on this one.
Your Turn: Have you traveled long-term? What did you wish you knew going into your trip? Please share with us in the comments!
About Meg
Exhausted from traveling every week as a Business Management Consultant early in my career, I took a year off in 2012 to travel at my own pace. I am a high-energy girl that loves being active, eating food, drinking wine, and exploring the world with my partner-in-crime (and husband), Tony! I now reside in Portland, Oregon and continue to write about travel, food, wine, and the awesome adventures we have in the Pacific NW!