Just imagine yourself checking out of your hostel in Barcelona and dashing a 1/2 a mile in a mad rush to catch your train to Paris. Exhausting right?
Now imagine doing this with 75 lbs on your back… Yes, I have witnessed this self-inflicted torture in action.
The solution: Pack lighter!
Trust me, your shoulders & back will thank you…
"But, COME ON, what about all my cute shoes and clothes?! Is ultralight backpacking really that simple when you are traveling for months on end?"
I have gotten this question THOUSANDS of times when I told other people (especially women) that I traveled an entire year with a 32L Pack.
It's hard to recommend backpacks on an individual basis as everyone has to adjust to their own preferences, but both my husband, Tony, and I made due on our trip around the world with our two 32 liter bags and a computer bag for each of us – without sacrificing our style, travel lifestyle… or our precious spines.
Want proof?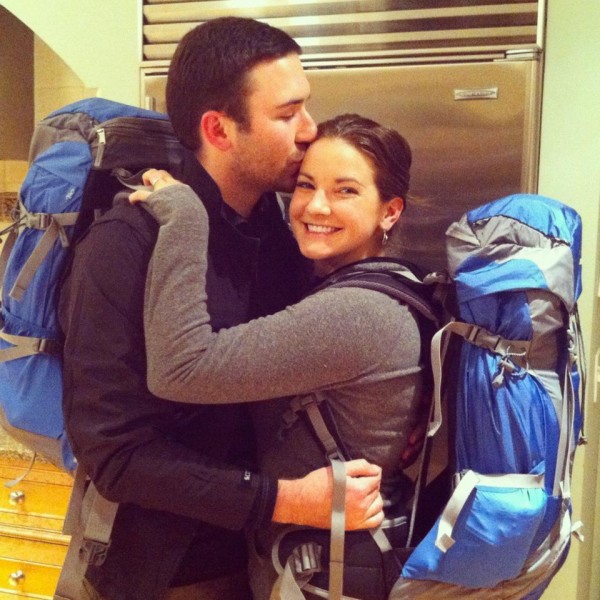 BOOM. This is all we carried for 12 months.
So how exactly did I successfully pack my life into a super tiny backpack for a whole year, traveling through a variety of climates and landscapes, with zero regret?
Look at everything I could fit into this 32 liter pack – what else could I want?
Here's My RTW Ultralight Backpacking List
32L backpack – Deuter Futura 32. I can't recommend this bag enough. It packs in SO much & very comfortable. I traveled with this puppy for 12 months and still travel with it three years later!
A GOOD quality camera – Panasonic Lumix DMC-LX5. You're going to want better photos than your iPhone camera. But DSLRs will be too heavy to trek around. Tony and I researched the BEST point-and-shoot and the Lumix beat all the others. It was an incredible camera for its size and takes AMAZING photos.
1 pair hiking shoes – Merrell Women's Siren Sport 2 Waterproof Hiking Shoe . These durable and waterproof hiking shoes are lightweight, non-bulky, are perfect for long hikes and can even be used as a running shoe.. Two birds. One stone.
1 pair ballet flats – I love the Puma ballet flats. They roll into a small ball and can either be dressed up or down. I purchased them in a mustard yellow, which seems like an odd color, but they matched every darn outfit. Tip: I purchased separate Superfeet inserts to make the ballet flats more durable and supportive for long walks.
1 pair rubber flip flops – Havaianas Women's Slim Flip Flop. Havaianas are durable for rubber flip flops (mine lasted 8 years!) and perfect for hot days, the beach, and the nasty hostel showers you are sharing with 100 other backpackers.
1 headlamp – Ultra Bright LED Headlamp Flashlight. This is a must have for overnight hikes and in hostels with bathrooms outside of the main sleeping area.
1 pair hiking pants – prAna Monarch Convertible Pant. These are comfortable and actually cute. I wore these even when I wasn't hiking. They can also be used as full pants in cold weather and capris in warmer climates)
1 pair running tights – Nike Lady Filament Long Running Tights. This is a super high-quality tight – I have had my pair for 8 years. I had these in black, so I wore them both casually and during workouts.
1 pair jeans… or jeggings if you're planning on traveling to France or Italy #justsaying. Any brand will do!
1 fleece – North Face Women 'Denali' Fleece Jacket. This fleece is super warm and much needed for the very cold nights.
1 zip up hoodie – North Face Women's Mezzaluna Hoodie. This non-bulky, slimming hoodie was perfect for cooler temps and in the evenings.
1 rain coat – North Face Women's Resolve Jacket. This jacket is windproof, waterproof, and perfect for layering in rainy weather.
3 quick-dry/no stink shirts – Icebreaker Women's Siren Tank. Worth the splurge! These tanks are incredibly durable, warm, and stylish. Go for the solid prints, all in different colors for added versatility – I had one in black, light grey, and navy.
6 pairs undies – ExOfficio Women's Give-N-Go Lacy. I Love these! They are cute, moisture-wicking, quick-dry, and odor shielding. I purchased 3 thongs and 3 briefs for the trip.
1 sports bra – The Nike Pro Bra was my jam!
1 regular bra – Any kind works
1 bikini – Any kind works
1 pair heavy socks – Smartwool Women's Hiking Medium Crew Sock. These warm, high socks are perfect for chilly weather and hikes.
2 pairs regular socks – Smartwool Light Micro with ReliaWool. These socks are lightweight, moisture wicking, and prevents blisters on long hikes.
1 alpaca sweater, 1 alpaca hat, 1 set of alpaca gloves – I purchased these in Peru when we hiked the Inca trail, but they were great for the places we traveled to that were much cooler than others.
1 sundress – You are going to want to look cute on occasion! My advice: Pack a sundress. This Mireno Wool dress from Icebreaker is travel-friendly and stylish. They barely take up any room in your suitcase, are super light, comfy, and cute… Plus, they are incredibly suitable for strolls through a foreign city on a hot day. Aside from Mireno, I would recommend packing a silk dress that doesn't wrinkle.
1 travel makeup kit – I can't remember which brand I purchased but this one looks legit.
1 lightweight scarf – I bought a bold print blue one in Croatia, but it was the perfect accessory to make any outfit pop with a splash of color.
1 shawl – I bought a beach shawl from a roadside stall in Thailand and practically lived in it on the islands!
Packing Cubes – I was OBSESSED with the Eagle Creek Packing Cubes, as they kept all my clothes and odds & ends organized and compressed everything into a tight ball for more space in my pack.
Other items: Nuun Energy Hydration Tablets (for emergencies), medications, toothbrush, toothpaste, baby wipes, hand sanitizer, comb, hair elastics, bandaids, Advil, small pieces of jewelry, etc.
I am really glad we went with small bags. I remember seeing backpackers wandering around Europe with 75L bags and I was in pain just seeing them haul all that weight around.
It really is true that if you have room in your pack you will somehow find a way to fill it. With these small bags, it's impossible to overpack and weigh yourself down.
Couple o' questions back at y'all: If you are planning to travel longterm (or have traveled longterm), what do you think is the best size bag? And what's your go-to travel item every female traveler MUST have on the road? Please share below in the comments!
About Meg
Exhausted from traveling every week as a Business Management Consultant early in my career, I took a year off in 2012 to travel at my own pace. I am a high-energy girl that loves being active, eating food, drinking wine, and exploring the world with my partner-in-crime (and husband), Tony! I now reside in Portland, Oregon and continue to write about travel, food, wine, and the awesome adventures we have in the Pacific NW!