Our week in Umbria for the Travel Bloggers Unite conference was undoubtedly the best week of Tony's and my RTW trip to-date. Since the moment we arrived in Assisi, we felt like a red carpet had been rolled out to all the travel bloggers attending the conference.
Festivals in Narni were held in our honor, the traditional Italian flag throwing marching band, The Compagnia Sbandieratori e Musici,  greeted us at Valle Di Assisi, and wineries and farm houses all across the region open their doors to TBU delegates with a friendly smile.
Despite the royal treatment we received during the five days at TBU and during the Post Conference Tours of Umbria, our most cherished day in Umbria was the day we spent at the Il Fontanaro Organic Farm House in Paciano, Italy.
To put it simply, Il Fontanaro is an 18th century organic farmhouse that the Pinelli family has grown over the past 30 years into a beautiful Italian estate complete with olive trees, an extensive wine cellar, and a small resort.
Mother and daughter, Lucia and Alina, have a passion for travel and entrepreneurship so they decided to combine these two passions to create an Italian getaway for those looking to escape the fast live to live the slow life.
What started as their hobby to build the perfect home turned into the beautiful Il Fontanaro farm.
To put it even more simply, Il Fontanaro is a home away from home.
Walks of Italy, a tourism company specializing in small group and private guided tours throughout Italy, graciously arranged for us (along with Ted and Bethany from Two Oregonians) to attend an Italian cooking class and wine tasting at Il Fontanaro. This service at Il Fontanaro is typically only available for overnight guests of the property, but Walks of Italy has collaborated with the farmhouse to offer exclusive tours for outside patrons.
What we thought would be a basic cooking class turned out to be an entire day full of cooking, eating, drinking wine, and relaxing in the garden getting to know these two fabulous ladies – My idea of a perfect day!
At Il Fontanaro time seemed to stop and I never felt the need to look at a clock. I was only there for a day, but I could only imagine how relaxed someone could be staying at one of their villas for an entire week.
As a long-term traveler, I was feeling a little homesick going into month four of our trip but Lucia and Alina made us feel so welcome at Il Fontanaro that this feeling immediately washed away upon arriving at their farmhouse.
They welcomed us with open arms and treated us like part of their family. We had immediate chemistry with these two fascinating ladies and had amusing dialogue with them all day… I would like to brag and say that they were huge Mony fans, but something tells me that they treat all their guests like this.
Many wineries and resorts have a pretentious feel to them, but the entire property of Il Fontanaro felt cozy and relaxed.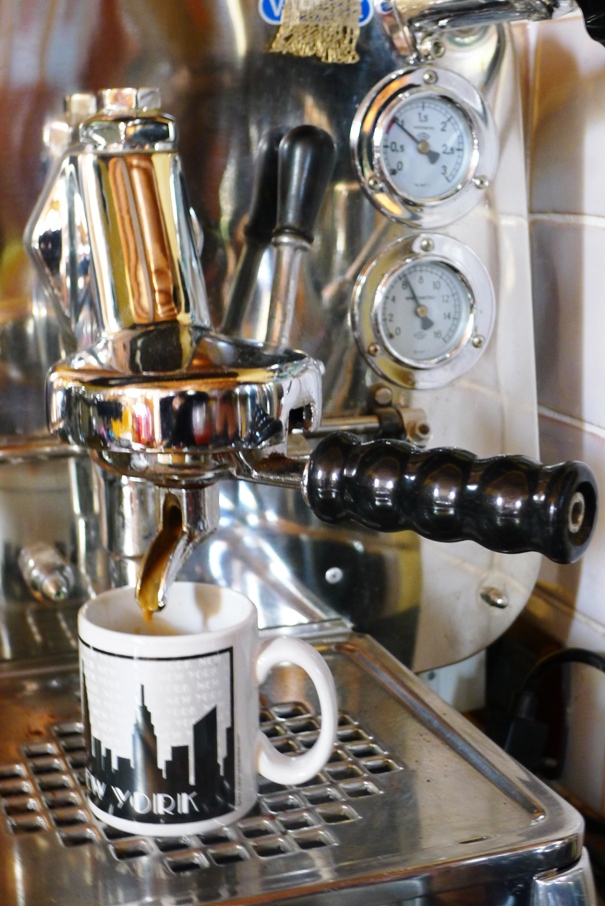 If I had to think of a dream home for Tony and I, this place would be IT.  The farmhouse was humble and welcoming with two country kitchens that would make Martha Stewart drool.  Not to mention, the main kitchen came equipped an old fashioned espresso machine and a deli meat slicer…
… Tony and I were OBSESSED and Tony couldn't help but sneak a few slices of fresh prosciutto into his belly numerous times throughout the day!
What made this place feel like home were the little things:
The fun decorations plastering the fridge, the way Lucia gently teased me when I did or said something absolutely ridiculous (happens a lot), seeing Lucia light up when she was showing us her family photo albums, and Lucia and Alina's adorable (and GINORMOUS) chocolate labs, Hector and Bacco, who followed us around the entire day…. Oh how I LOVED these dogs!
I could seriously write an entire article on how much these dogs rocked. Huge, cuddly, and friendly with AWESOME names. Take Bacco for example, which is the "Italian colloquial word for Bacchus, or Dionysus, God of fruitfulness and vegetation – or more simply, food and wine…"
… Ladies and gentleman, if you could think of a more suitable name for Tony's and my future pet/kid/goldfish, please let me know!
Let's just say that I have been dyyying to get a dog with Tony and these dogs intensified this desire tenfold.
But apart from the farmhouse's décor, the dogs, and Tony's beloved meat slicer, the service at Il Fontanaro was out of this world.  Not to mention, Lucia and Alina conducted an incredibly knowledgeable and fun cooking class for us.
We loved the class and the food so much that we will be writing an entire article just on the meal we cooked with them… But for now, I will just say that it was quite possibly the best meal of my life – All made with fresh, organic ingredients (much of it from their very own garden at Il Fontanaro).
In my eyes, there is nothing better than combining great food, great wine, and great people… our experience at Il Fontanaro was the ultimate trifecta.
Alina mentioned to us that their goal for Il Fontanaro was to make the property feel like home for whoever visits.  For us, Il Fontanaro did not feel like the home we had in Miami but the home we always dreamed of having.
So whether you are looking to take a cooking class in Italy, partake in a wine or olive oil tasting, go on a food tour, or just need a few days to relax in the Italian countryside, Il Fontanaro is the place to be.  Lucia and Alina have created a magical experience for their visitors and can make anyone fall in love with the slow life in Italy (and the Pinelli family in general)…
… And if you don't believe us, just check out their five star rating on TripAdvisor!
LandingStanding is focused on sharing our adventures as a couple on the road, but also on providing you with helpful advice so that you can hopefully join us. We partnered with Walks of Italy as we love food and view cooking classes as one of the best activities you can do to learn about the culinary culture of a country. In return for a sponsored class, Walks of Italy and Il Fontanaro asked us to write an unbiased review of our experience. As always, all opinions are our own and we would tell you if we hated it. But we didn't. It rocked.
About Meg
Exhausted from traveling every week as a Business Management Consultant early in my career, I took a year off in 2012 to travel at my own pace. I am a high-energy girl that loves being active, eating food, drinking wine, and exploring the world with my partner-in-crime (and husband), Tony! I now reside in Portland, Oregon and continue to write about travel, food, wine, and the awesome adventures we have in the Pacific NW!