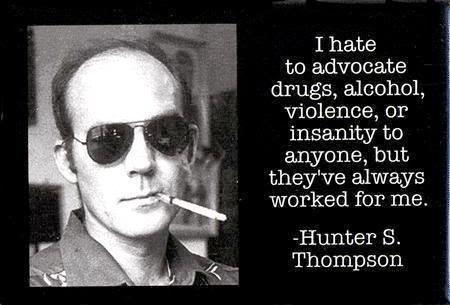 We asked last Monday.
You answered all week.
And now we have the winner of our $50 in Roomorama credit.
The Question
Where will you use your $50 of Roomorama credit and who is the one person (living or dead) that you would want to go with you?
The Winning Answer
@benwebb1: 1950s PR [Puerto Rico] with Hunter S. Thompson & we would reach legendary status. A bold and daring claim, but we like bold and daring!
While, sadly, the great HST has passed and cannot join Mr. @benwebb1, we're sure he will be able to find a suitable replacement. If not, there are plenty of great places offered by Roomorama that are perfect for the solo traveler as well.
If you don't know who Hunter S. Thompson is, take a few minutes to read his Wikipedia entry. He is an icon.
We also offered a secondary prize of a $25 Amazon gift certificate for the most shared answer on twitter and facebook. We are quite happy to say that the most shared answer was also the most sentimental.
Congrats to @kippvisi for his heart-string tugging answer:
@kippvisi: Hungary w my dad for some good borscht. See what he did there? In 8 words he mentioned food, a foreign country, and family. Way to play to the crowd Mr. @kippvisi!
Going Forward
Thank you to everyone for participating in our first major giveaway. This was a test of sorts for us and we enjoyed the feedback. We had some incredibly creative answers, although I must say, there is a large proportion of people who said they wanted to travel with someone already deceased… where is the love for the living?
Let us know what you thought of the contest and what you think of Roomorama. After @benwebb1 uses his credit, we will try to have him back on to discuss his experience.
Also, I just wanted to remind you to check out our Roomorama widget on the lower right hand side of our blog. Test it out to see if you like what they offer and let us know!
Note: For the winners of this contest, we will be in touch with you via email with next steps on claiming your prize.