March is National Kidney Month and has inspired me to share one of my major reasons for traveling. Read on to learn more about me and hopefully steal a little inspiration as well.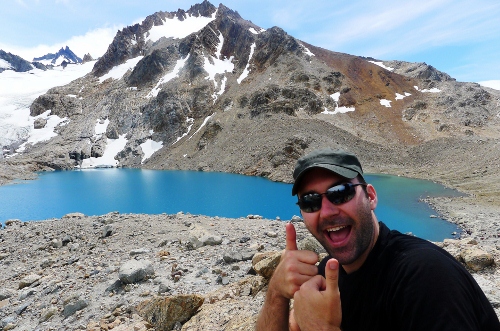 Working your ass off and retiring with oodles of cash at 65 is a good goal, if a little traditional. So don't misunderstand the point I am about to make.
We have seen enough fun-loving old couples in our 3 months of travel to appreciate the joy you can have when experiencing the world in your later years.
But we have also seen a great number of those fun-loving old couples struggle up ancient steps at ruins and have to pay more to stay at a nice hotel because their backs could not handle a hostel bunk bed.
And how many people who saved their whole lives to travel during retirement never made it that far? How many left this wild game of life early due to heart attacks, car accidents, and slips in the shower?
You never know what your future holds, no matter how confident those guys in the Charles Schwab commercials seem about their ability to secure your retirement plans.
Forget the unforeseen circumstances that might derail your retirement plans, what if you are already living with a chronic disease?
Can you never travel? Are you just dealt a bad hand and have to deal with it?
NO!
If anything, living with a chronic disease can you give you freedom to chase your dreams (no, i'm not crazy).
You know what you can expect down the road from your condition, so any reason you have for waiting to travel the world should be non-existent.
Trust me. I know. This is one of the big reasons why I got off my butt NOW to see the world.
My Story  – Living & Traveling With PKD
I was diagnosed with something called Polycystic Kidney Disease (PKD) at the age of 9. What is PKD?
Polycystic Kidney Disease affects an estimated 1 in 500 people, including newborns, children and adults regardless of sex, age, race or ethnic origin. It comes in two forms:



1. Autosomal dominant (ADPKD) is one of the most common life-threatening genetic diseases.  ADPKD affects approximately 1 in 500.  It does not skip a generation. There is usually a family history of ADPKD.  Parents with ADPKD have a 50 percent chance of passing the disease on to each of their children.

2. Autosomal recessive (ARPKD) is a relatively rare genetic disorder, occurring in approximately 1 in 20,000 individuals. It affects boys and girls equally and often causes significant mortality in the first month of life.

A normal kidney is the size of a human fist and weighs about a third of a pound. However, with the presence of PKD, cysts develop in both kidneys. When many cysts develop, the kidneys can increase in both size and weight, sometimes weighing many pounds each.  There may be just a few cysts or many, and the cysts may range in size from a pinhead to the size of a grapefruit.
I have ADPKD and am one of the 13% pf people with the disease where it occurred due to a spontaneous mutation, just like the X-Men.
I have high blood pressure due to the disease, treated with medication, and pretty big kidneys. If the average kidney's are about 10 centimeters long (4 inches), mine are closer to 20 centimeters (8 inches).
If I am lucky and if I live clean, I might get lucky and never have major complications. But most likely, my kidney function will start to deteriorate at some point… leaving me on dialysis and searching for a suitable donor.
But right now? I have beautiful kidney function, blood pressure that is medicated and under control, and the desire to live my one life to its fullest.
My kidney's might not always cooperate with my dreams, but right now they are champs. So why wait?
Why would I wait until i'm 65 to see the world when who knows how well I could manage the travel.
Whether it's my kidney's that keep me grounded in the future or some random even like not looking both ways when crossing the street, I do not want to take the chance.
Life is too rare an opportunity to rely on being around in 40 years to finally enjoy it.
NOW is the time to follow your dreams.
NOW is the time to travel.
With this being National Kidney Month, I will be writing a few more articles about PKD and travel. Sharing my story and a few of the extra preparations needed to travel with a chronic disease.  I hope you enjoy and please check out the good work being done by the PKD Foundation and their 31 Days of PKD Challenges.