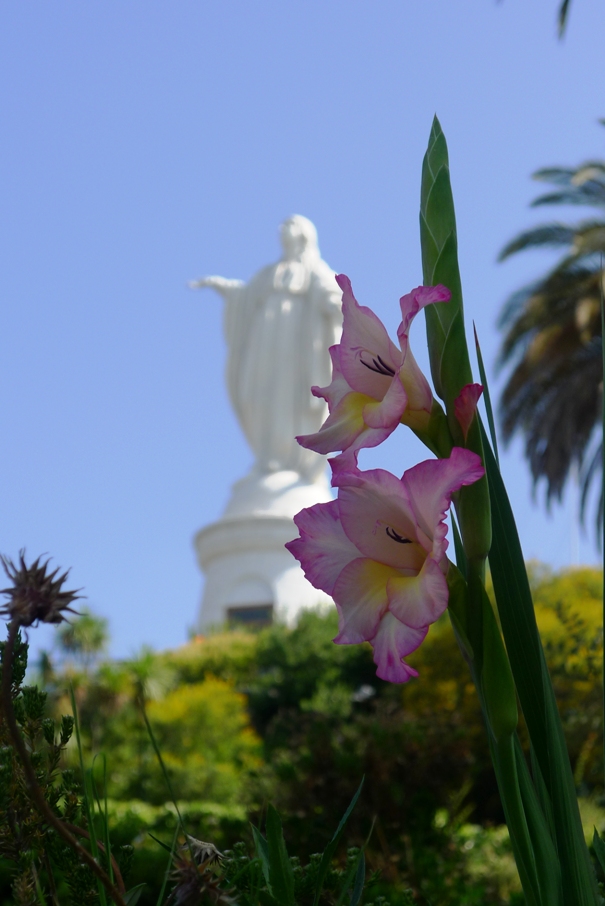 Cerro San Cristóbal
From the beginning of our RTW planning, Tony and I knew we wanted to start our journey in Santiago, Chile.  From everything we read, Santiago was rumored to be safe, modern, and inexpensive.  In addition, we heard fabulous things about its great weather, food scene, and friendly locals.
Having just spent a large majority of the past month in this magical city (we have since moved on to Argentina), I am left reflecting on my personal experiences with the city and comparing them to my initial research and my initial first impressions.
So did it live up to my high expectations?
I am going to have to say YES!
Santiago – What I Will Remember
Weather: Since we arrived in the beginning of the summer season, we were expecting to soak up the sun – And the city didn't disappoint.  In January, the temp was always in the 80's, there was low humidity, a constant breeze, and the evenings were always cool – The perfect recipe for some impressive weather.  It also didn't rain the entire time we were there, which was pretty sweet coming from dreary Boston.
Museo Nacional de Bellas Artes
The City in General:  Santiago is an incredibly modern city for South American standards.  In fact, Santiago is an incredibly modern city by North American standards!  It is the capital of Chile and has undergone steady economic growth over the years. In many neighborhoods around the city, high rise buildings line the streets (especially in Las Condes), there are dozens of shopping centers, and WiFi cafés can be found on almost any street corner.  In many places around the city, I almost felt as though I were back in the states.
However, Santiago still has some extraordinary culture and old architecture.  Many historical buildings (from the Spanish colonial period) have been destroyed from the country's frequent earthquakes, but some great places to visit to soak up some culture are Plaza de Armas, Cerro Santa Lucia, Cerro San Cristóbal, Museo Nacional de Bellas Artes, and Bellavista to name a few.
People:  To put it simply, Chileans rock. They are some of the friendliest people I have encountered in a foreign country.  In Europe, you are often looked down upon as a tourist (and an American), but everyone in Chile is so eager to help out and interact with you.
As Emily In Chile pointed out when we met her for drinks, the locals are often concerned and protective about your well being and will lend friendly advice to you when possible.
As an example, I was walking down the street with a nice necklace on when an older woman stopped me to kindly tell me to be careful wearing such nice jewelry around bad neighborhoods.  The funny thing was, Tony and I rarely stumbled across any bad neighborhoods…
Safety: As I previously mentioned, Tony and I didn't really come across any bad neighborhoods and the city overall felt pretty darn safe.  We may have just been lucky during our time there (and you should of course take the standard precautions when travelling to any foreign city), but pick-pocketing didn't seem to be a big issue, the streets and parks were well lit at night, and the police force seemed responsive and present.  Tony and I even comfortably walked home 2 miles at 1AM from a local bar one night and never felt in danger… This is something we wouldn't even do in Boston!
Transportation: Clean stations, fast trains, easy to navigate through.
Best.
Friggin.
Metro.
System.
Ever.
The Santiago Metro hands-down schooled any city metro system in the U.S.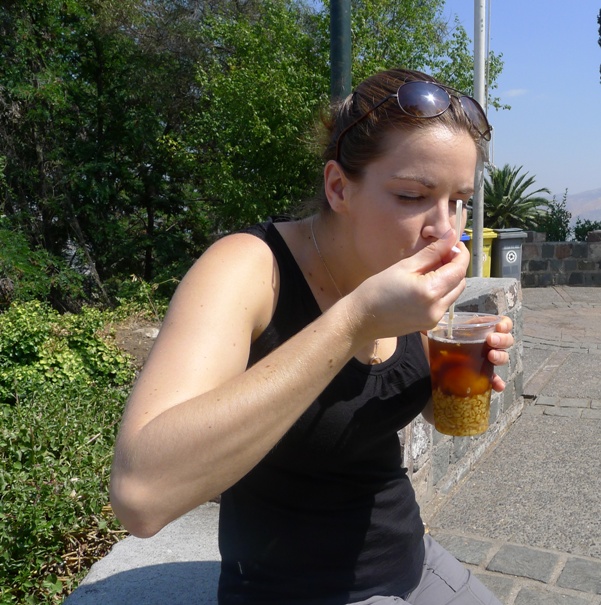 Mote con Huesillo… Not a fan
Food: When we first arrived in Santiago, we were staying at a hostel in the Santa Lucia area, which was more or less the tourist center of the city.  As you can imagine, the streets were littered with Chilean hot dog stands, Cafés con Piernas (or 'coffee with legs' = Scantily women serving your coffee in a standing room only café), and sub-par looking ice cream shops.
I also was having an incredibly difficult time finding a place to get fresh fruit and vegetables.  This is not what I expected.  Some sh*t didn't even look appetizing… and Don't even get Tony started on his opinion of the Chilean drink, Mote con Huesillo!
However, once we ventured out of the Santa Lucia area, the food scene took a turn for the better.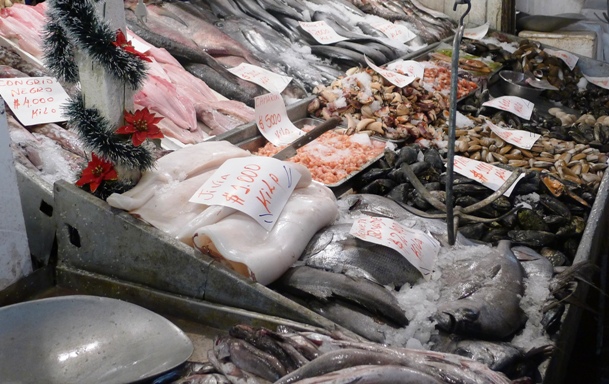 Mercado Central
We discovered Mercado Central (Santiago's huge fish market) and La Vega (an equally huge fruit and vegetable market), which had everything we needed to make an amazingly fresh and delicious meal – for a fraction of the supermarket prices.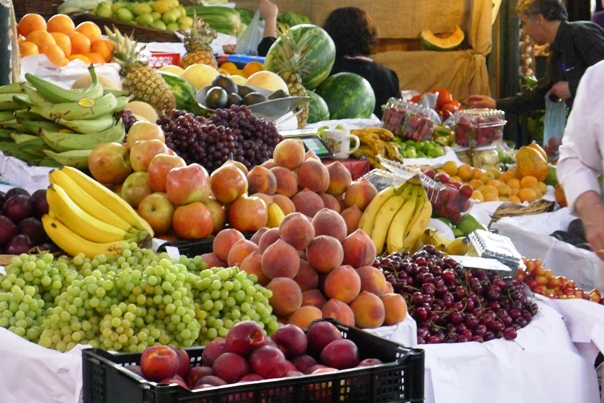 La Vega fruit and vegetable market
We also ate at some fabulous places such as Aquí Está Coco, Emporio La Rosa, Fuente Alemana, and Restaurante Coquinaria.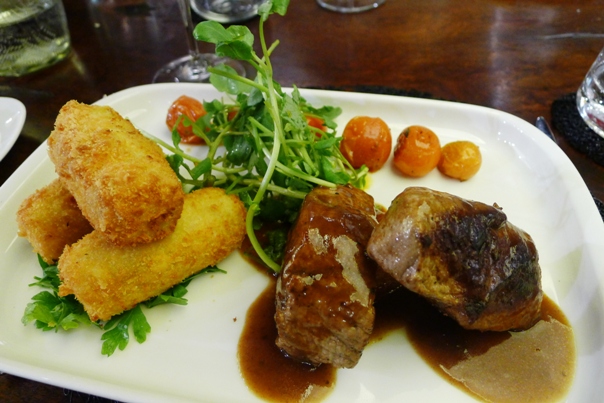 A fine meal at Coquinaria
One dish that we absolutely fell in love with during our time in Santiago (and Chile in general) though was Empanadas – particularly Empanadas de Pino and Empanadas de Queso. Tony and I were obsessed with calzones back in the states and these baked (and sometimes fried) pastry turnovers were a perfect South American substitution.  Nom nom!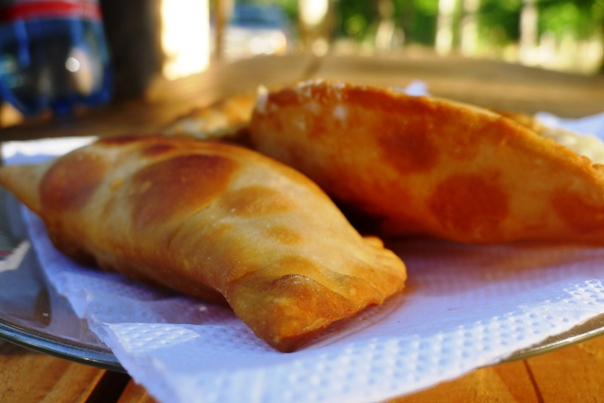 Made to order queso empanadas… Heaven
Overall, Santiago was a great city for us to begin our RTW journey.  I almost look at it as a South American city on training wheels.  It has the perfect balance of South American charm with the luxury of modern marvels (that us gringos often have a hard time initially letting go of!).
If you ever get the opportunity to travel this far South, Santiago is certainly worth a visit!
Up next: Buenos Aires, here we come!
About Meg
Exhausted from traveling every week as a Business Management Consultant early in my career, I took a year off in 2012 to travel at my own pace. I am a high-energy girl that loves being active, eating food, drinking wine, and exploring the world with my partner-in-crime (and husband), Tony! I now reside in Portland, Oregon and continue to write about travel, food, wine, and the awesome adventures we have in the Pacific NW!