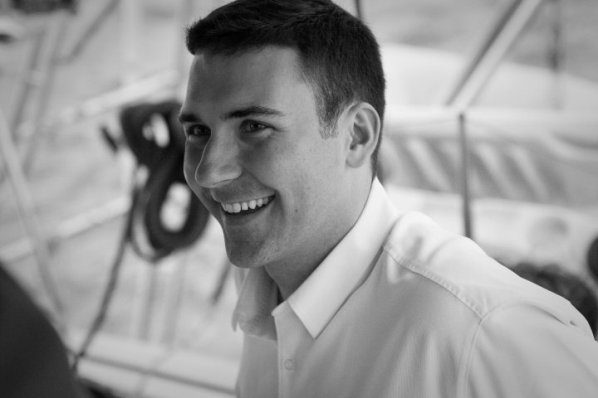 A thorough reader of our many articles might have realized that there was a level of anonymity behind every word. This was my fault and I truly apologize; however, I had yet to officially tell my boss of our grand plans and did not want to advertise our big trip too soon.
The big announcement at work has finally occurred and now it is all out in the open. Work knows and in three months I am set to retire (mini-retirement style).
Since my job now knows my big plans to travel the world, it is well past time I let you get to know me.
Let Me Introduce Myself…
Born in Minnesota, raised in Georgia, and spent my formative years in Massachusetts. But despite the different locales, I consider myself a Boston boy at heart. Wicked pissahhhhh.
I am a HUGE Boston sports fan. My biggest problem these last two years in Miami has been the lack of access to my teams. Luckily, you might have noticed that every Boston sports team plays for a championship these days,  so I have been able to catch all of the important games down at the local bars.
"You're a huge Boston sports fan but you don't get the cable package that includes NESN?" I know, I know… I lose some fan credibility with this one. But the more I learned about backpacking and the minimalist lifestyle, the more I came to appreciate having less. Why spend $100 per month on the high end cable when I can head to bars to catch the important games? Living a non-materialistic life is definitely a trait I will continue to improve on as we travel.
Just because I strive to live minimally, does not mean I don't like to spend. I just believe in conscious spending where I only spend money on things that I truly desire and ruthlessly avoid the things that I view as not necessary. This is how I can justify spending a mini-fortune to travel the world while I miss out on most regular season Sox games on NESN.
"Change before you have to." – Jack Welch. Standing still scares me. I want to always get better, learn more, and experience new things. Whenever I have had to face change, my life has gotten better. More importantly, when you look for change, you open yourself up to incredible opportunities that are not visible from your current place in life. I can't even imagine how my life will be different after traveling a year with Meg.
An important corollary to my "change is good" philosophy is a deep belief that things will always work themselves out. Naive? Probably. True? Definitely. If you are genuinely open to change than you will always find a way to make that change work in your favor.
I am a soccer fan without a team. Every 4 years the World Cup shows up on TV and mesmerizes me, but because I have no rooting interest outside of Team USA… I can't keep my soccer passion going. Since soccer is the Global sports, I figure there is no better time to finally jump in and start becoming a fanatic so that I can pop into pubs all over the world to catch a game. So can I just pick a team? I have heard rooting for a team in the Premier League is the best bet since they are so often on American TV… any recommendations?
I LOVE books. I love opening a brand new book, turning the crisp pages, and that wonderful feeling of accomplishment when you turn that last page. Just in time for my big trip though… I have become hooked on the Kindle. Sacrilegious to the true bibliophile, but indispensable to the intrepid traveler. I have many favorite authors, from Hemingway to Asimov… but I worship Vonnegut. I need lots of great recommendations on what to read on the long bus rides ahead, so I am hoping you help me out!
I graduated from Babson College, which focuses heavily on entrepreneurship. After getting the startup bug, I joined the corporate world as a Commercial Banker. While I was still able to apply some entrepreneurial skills at work, I crave the chance to start my own company.
I love dogs. The only time you might catch me crying is when I am reading "Where The Red Fern Grows" or watching "Old Yeller." Can you blame me?
I would much rather hang out with friends and drink a few beers than drink at a club and scream to friends over loud music. This might make me an old man… but it makes me a happy old man.
They say goals are only reached when you broadcast them to the world… so here it goes. When I return from my RTW trip, I will have six-pack abs. I just want them once in my life and then I can let it all go. Meg has to love me no matter what, right?
I love the city of Boston but hate the weather… I still cannot decide if the city's wicked awesomeness outweighs those chilly winters.
Part of the reason I want to travel the world is to spend more time with my lovely bride. Due to Meg's brutal work schedule, I have only averaged seeing her 3 days per week for the past 4 years. Not fair! I cannot wait to have her all to myself for an entire year.
Haircut's will be a hassle on the road, so I am either going to grow it out or shave it all off. Maybe I will put it to a vote on the site and let you decide? One thing I know though is I plan on growing some super sweet facial hair… but can I ever top this beautiful 'stache below?
So this was just a start… but I hope you now know me a little better and will feel comfortable joining in on the conversation at LandingStanding. We need your help and advice to prepare us for our grand adventure and we promise to return the favor with recaps of our ridiculous antics on the road.