Before I begin our story, I want to apologize for our recent lack of posts on LandingStanding. The past month has been incredibly insane and wonderful all at the same time as we drove our Camry (aka Little Blue) across the US visiting friends and family along the way.  Between all of the dinners out and jumping from one friend's couch to the next, we have been BUSY.
But life became a little more chaotic this past Saturday when this happened: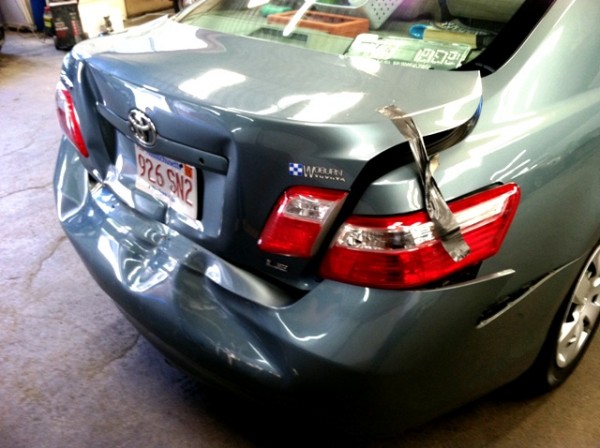 Yes, that is duct tape holding the back of our car together.
Our car stayed strong and we made it all the way across the country with no issues…. But the hills of San Francisco changed all that.
Here's our car crash story:
We were moving from our friend, Noah's, in the Haight over to Nob Hill to stay with our friend Peyton for a few days. Peyton was helping us find a parking spot… and in SF this is no easy task. We finally came across a parking spot but it was on a road with an 89.99 degree incline. Up for the challenge Tony began working his parallel parking magic into the tight spot… Contrary to your current judgments based off of the picture above, he actually is a good driver and is a master at parking.
As he was backing into the spot, the car started giving into gravity and began rolling backwards down the hill. Panicking, Tony meant to slam on the brake… but whoops, he accidentally hit his foot on the gas while the car was in reverse.
CRUNCH.
The most god awful sound was made as we collided with the vehicle parked behind us. Peyton was in the car with us and all three of us just sat there in silence for a moment reflecting on what just happened. After hearing the noise I was scared of even going outside to check the damage.
But we did.
This was the other car.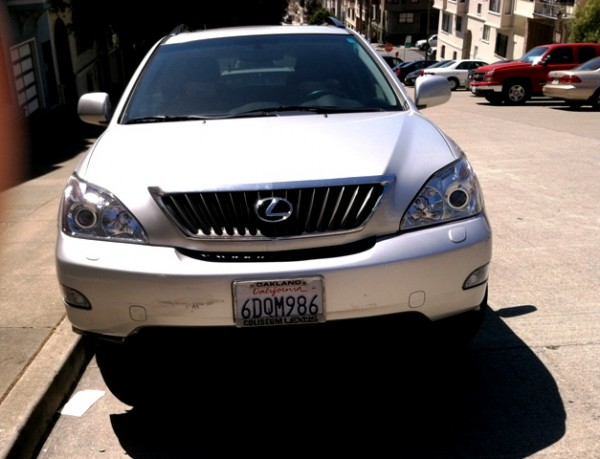 Phew!
Buuut this was ours…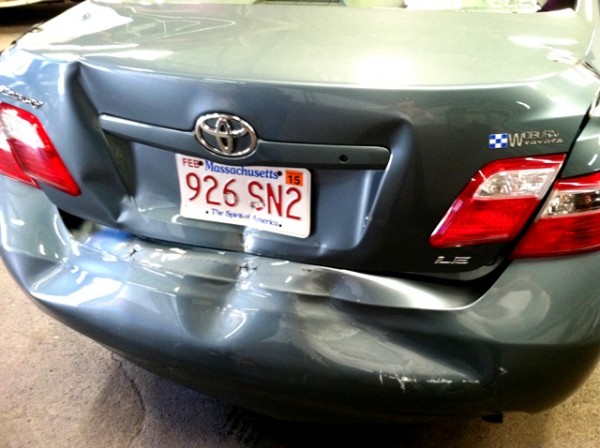 FRACK!!!
Needless to say, the Lexus SUV won this battle.
Long story short, our car insurance will be covering all the damage to both vehicles and Little Blue will be back on the road in a couple weeks. But you now know why we have been a little MIA on our blog.
But more so than anything, this parking fiasco was a lesson learned that ANYTHING can happen when you travel. You can drive safely all the way across the US only to get to your final destination and crash your vehicle when doing something as minor as parking.  My lesson for you is to plan for the worst. Plan for the unexpected. Get insurance.  And…
Write and schedule your blog posts in advance.
Your Turn: What was one unexpected accident you experienced during your travels? How did you recover from the incident? Please share below in the Comments section!
About Meg
Exhausted from traveling every week as a Business Management Consultant early in my career, I took a year off in 2012 to travel at my own pace. I am a high-energy girl that loves being active, eating food, drinking wine, and exploring the world with my partner-in-crime (and husband), Tony! I now reside in Portland, Oregon and continue to write about travel, food, wine, and the awesome adventures we have in the Pacific NW!