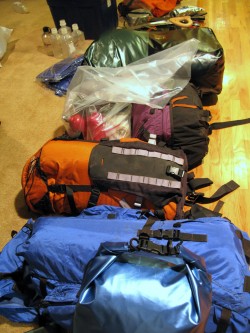 My job officially ended at the end of October 2011, but we weren't going to start our trip until January 2012. My time between those two dates was spent mostly researching and buying all of the travel gear we would need… and I read everything about what size backpack to get: product reviews, travel forums, blogs…
In all of this research, I kept seeing that small backpacks were the only way to go. It honestly sounded like we would be laughed out of any hostel if we showed up with anything more than a 40 liter bag. So I told Meg to get ready, because we were going to fit our lives for the next year into two 32 liter backpacks.
But I soon learned that the two biggest reasons I told Meg for why she had to leave all her dresses at home were total BS.
While I was definitely wrong about my initial reasons, I still believe in traveling with the smallest backpack possible. Check out this constantly updated list of…
The Top 5 Travel Backpacks Under 45 Liters In 2015
Deuter Futura 32L Daypack (our actual bags)
Osprey Farpoint 40L
Osprey Porter 30L
Kelty Redwing 32L
Gregory Fury 32L
The Wrong Reasons For Wanting To Travel With A Small Backpack
1. Because You Don't Want To Check Your Backpack On Flights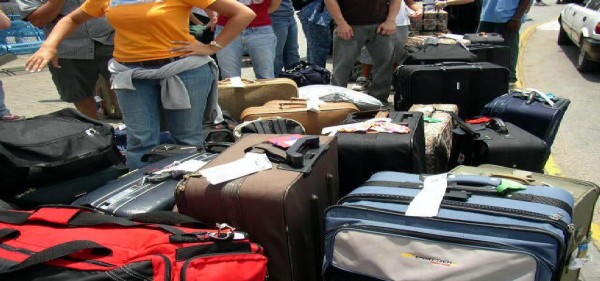 This was definitely our #1 reason for wanting small bags.
If everything you need is in one bag, that bag becomes pretty valuable. You do not want it getting thrown around by baggage handlers and being lost on a foreign airline.
But if you're traveling on a budget, and almost all long-term travelers are, you are going to have a hard time avoiding checking your bags.
Why?
Because of all the incredibly cheap, yet incredibly restrictive, foreign discount airlines.
Instead of limiting carry-on bag size to certain size dimensions (which almost any 32 liter bag would fit), these discount airlines do it by weight. The most common restriction we saw was a maximum of 5 or 7 kilograms and when you pack your whole life into a tiny bag… it is going to be more (ours were 10 kilos).
Since these smaller backpacks do look they should be allowable as a carry-on, you can always try not checking them and see if anyone at the gate will stop you. But then you run the risk of paying extra to check the bag at the gate… discount airlines never miss a chance to charge!
For those of you thinking about buying an Around The World plane ticket, you might have better luck since you're flying on the bigger airlines. Hopefully someone can tell us in the Comments section if they had any issues carrying-on when using an Around The World ticket.
Bottom-line? Don't go for a small backpack just because you don't want to check your bag. Odds are you will be checking it no matter what.
2. Because Everyone Else Is Going To Have A Small Backpack
HA!
After my few months of backpack research, I thought that everyone travelling would have ultralight bags. That's what reading all of those minimalist blogs will get you!
We never once came across anyone else on the road who had smaller or even the same size backpacks as us. We did see a lot of 60 and 75 liter bags though… how do people carry so much?!
While I don't think it sounds fun (at all) to carry around such a big bag, don't think you have to go light just because that's what travelers do. Meg would definitely have preferred the convenience of a few more shirts to the inconvenience of a slightly larger bag. Our small bags were such novelties that it became a running joke how often people would ask to see our backpacks at hostels.
The Right Reasons For Wanting To Travel With A Small Backpack
Fits Overhead On Most Buses

While you probably will still have to check your backpack on most flights, you definitely can get it onto most buses as it will fit in the overhead racks. Plus, if you travel like we do, you will spend A LOT more time on buses anyway and the ability to keep it with you greatly reduces the risk of theft.
You Really Don't Need All Of Those Clothes
You really don't.
The small bag takes away your ability to over pack so that you only take exactly what you need. And do you know what?
Even that is probably too much.
There were definitely some items I packed that I never (or rarely) used – and I only had a 32 liter bag. Think small and pack even less.
Small Backpacks Are Easy To Carry When Scrambling Around A City Trying To Find Hostel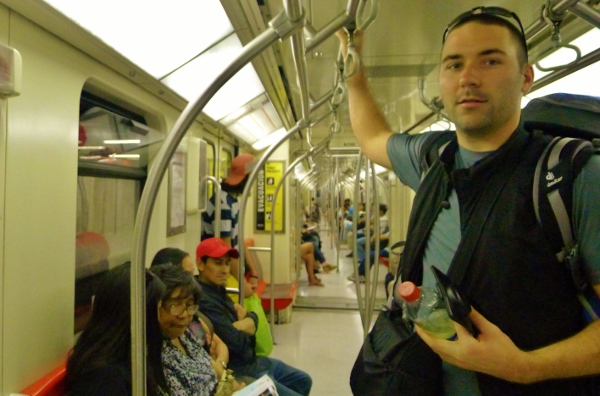 Do not underestimate how much time you will spend walking around cities with your backpack strapped on. You might think that your backpack is just luggage and that you will only wear it from airport to hostel… but you would be very wrong.
You will get dropped off by buses and taxis in the wrong location and have to walk to your destination. You will switch hostels and need to walk the 10 blocks to get there. There will be roads that cars can't go down when you have to carry all of your own gear.
Just trust me. However much time you think you will spend carrying your bag… triple it.
A Small Backpack Means Less Packing & Makes You More Mobile
Watch someone with a 75 liter backpack try to find anything in their bag or pack it up after a 3 night stay at a hostel and you will be so happy to have a smaller bag. Since you have so much less and it is all accessible in such a small space, you can normally be packed and ready to go within 5-10 minutes.
This is a monster stress-reducer when you're already late for that bus and haven't started packing.
The Top 5 Travel Backpacks Under 45 Liters In 2015
Deuter Futura 32L Daypack (our actual bags)
Osprey Farpoint 40L
Osprey Porter 30L
Kelty Redwing 32L
Gregory Fury 32L
Your turn: What size backpack are you thinking of getting and why? What size backpack did you already travel with and would get a different size if you could do it again? 
About Tony
Quit his job to try actually following his dreams for once... and is currently loving it. He is working hard to to make this life-style permanent by writing about his adventures and brainstorming money making opportunities with his partner-in-crime, Meg.