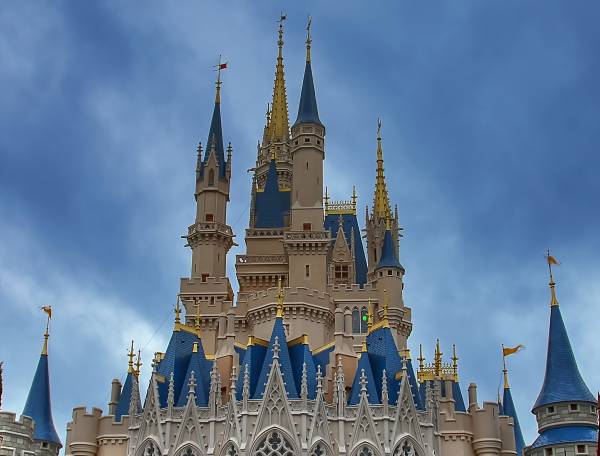 We just celebrated our one year wedding anniversary(!) by spending a long weekend thoroughly and impressively dominating Orlando (meaning Disney World and Universal).
Orlando is often viewed as for families only.  We want to show you that if done right, it can be an incredible trip for couples as well.  So if you are a kid at heart but have no kids in tow, listen up and we hope these tips are helpful…
Want some great advice? Check out our rankings of the best rides at Disney & Universal and tell us what you think!
Preparation:
Bring a backpack and make sure you have the following tucked safely inside:
Suncreen – You would not believe the number of lobster-red people we saw dragging their feet through the parks at 5pm.  Save yourself the pain and put on sunscreen immediately upon waking up and then reapply if you're still outside at noon (you shouldn't be if you follow our plan!)
Water – We packed a big Nalgene bottle and had it filled with water.  Then we were able to refill it from water fountains throughout the day.
Snacks – Pack some healthy snacks like almonds, apples, oranges, granola bars, and some PB&J sandwiches.  You will want to indulge during dinner at one of the great Epcot restaurants so save a few bucks and calories by eating healthy pre-packed snacks throughout the day.
Bandaids – If done right, you will be getting blisters on your feet from all of your hustling around the parks.  Be prepared.
For Universal:

Buy the dual park pass –  You can access both Islands of Adventure and Universal Studios.  Trust me… you will, without a doubt, want to ride the roller coasters at both.
Buy the Express Pass- Allows you to skip the long lines at certain rides.  I know you might be trying to save a few dollars but you will not have time to enjoy both parks in one day (necessary for Orlando domination) if you skimp.  Plus, you are saving money already by packing your own snacks so spend those savings on something that is worth it.  The Express Pass ranges in price depending on the season but if it is at its low point, you will actually be OK to not get it since the parks will not be that crowded anyways.
Make reservations at a good restaurant in City Walk, a great outdoor mall located at the entrance of both Universal parks.
For Disney World: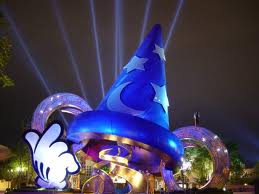 Buy a two-day multi-park ticket – Allows you to visit more than one park in a day and with a two-day pass you will ride every great ride (twice if you want) at all four parks.
Research the Fast Pass – No costly Express Pass like Universal, but you actually have to grab a Fast Pass at the individual rides that offer them.  They will tell you what time to come back to bypass the line.  Two points to focus on: 1) You can only have one Fast Pass per person at any time and 2) You will not, no matter what, be allowed to use the Fast Pass before the time it gives but you can typically show up much later and still have the line attendant accept it.
Stay at a Disney resort – You will feel the need to save money by staying somewhere cheap, nearby, and not affiliated with Disney.  Resist this urge.  Stay at a low to mid-range Disney hotel and you will be allowed early entrance to a different park each day (one hour before non-Disney guests) as well as late access to a different park at night (for three hours after non-Disney guests).  Plus, you get free bus, tram, or boat transportation (where available) to the parks along with free parking (up to $20 a day otherwise).
Make restaurant reservations – We loved eating at Epcot as they have a fantastic man-made lake that is surrounded by different "countries" with each having their own restaurant.  These get booked early so be sure to reserve a time at least two weeks in advance (one month if you are on top of your game).
Know in advance the best way to leave Parks during peak hours – Most of the Disney parks have a main street where the entrance funnels everyone into the park.  Trying to walk against the oncoming noon-time families to make your escape is near impossible.  However, the shops that line the streets are connected, much less crowded, and air conditioned.  Save yourself the hassle and cut through the gift shops on your way out of the park.  Just try not to spend too much on all of the trinkets they sell!
Domination:
If you stick to the schedule we followed, three days is the perfect amount of time to visit Orlando if you aren't chasing kids around.  One day for both Universal parks and two for the four parks at Disney.  Now that you have prepared for total domination of Orlando, let's breakdown what we did so you can get the most out of your trip:
Day 1
We decided to visit Universal first since neither of us had ever been.  Universal's Islands of Adventure opened at 9am so we were parked and waiting in line by 8:15am.  A key to getting the most out of your Orlando trip is to show up early.  Do NOT sleep in.  Families spend all morning getting children dressed and fed, so they are nowhere to be found until 11am (especially at Disney).  Take advantage of other people's hectic mornings and get to the park as it opens so you can try the most popular rides first.
We focused on the rides that did not have fastpass lanes first, since the lines would be the shortest at these right at park opening.  And being able to ride the new Harry Potter ride (Meg's absolute, must-do ride) while the lines were still short was a big payoff for the early morning strategy.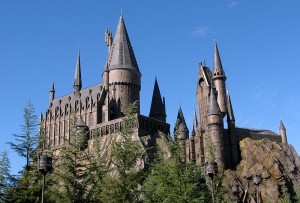 Time will fly by as your adrenaline peaks during the rides and then crashes afterwards.  Pace yourself as it is going to be a long day.  Plan to eat those sandwiches and apples you packed around 11:30am like we did.  A little early for lunch but since we ate an early breakfast (just to ensure we were early to the park) we were hungry already.  Plus, when we were done snacking at noon all of the families were just starting to pile in at the food stands, which meant the lines were even shorter than normal!
After the early lunch, we went back to a few of our favorite rides while everyone else was just starting to eat and then headed over to Universal Studios for the afternoon.
What did we do at Universal Studios?  Stuck to our game plan!  We leveraged those fastpasses for all they were worth and ran right by all of the families waiting in the regular lines… and don't worry, the guilt of cutting people is heavily outweighed by the joy of not spending 45 minutes in line to ride a 2 minute roller coaster.
At 6:30pm we hopped on the last coaster ride of the day and then headed off to dinner at Emeril's Orlando (and to catch the last of the great happy hour prices).  We got back to the Disney resort around 10pm, crawled into bed, and were unconscious before the hotel door clicked shut.
Day 2
Exhausted from the day before, despite 8 1/2 hours of sleep, we dragged ourselves to the car to drive to Magic Kingdom.  This park had its early opening for resort guests on Day 2, so we of course were in line by 7:30am for the 8:00am opening.
Magic Kingdom, more than any of the other Disney World parks, brought back that sweet nostalgia from my childhood visits.  I was hoping the magic had not worn off just because I was tall enough finally to ride all of the rides…
The bad news?  If you're older than 13, Magic Kingdom probably has the least to offer out of all of the Disney parks.
But that's OK.
We were on a mission to dominate and dominate we did.  We headed right for Space Mountain, while much less impressive as a coaster after experiencing what Universal had to offer, still gave thrills.
We grabbed the Space Mountain Fast Pass, then it was over to Splash Mountain for some goofy animatronics with one great roller coaster dive to finish it off.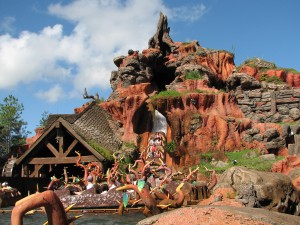 We toured some of the classic rides, like Pirates of the Carribbean (because you have to… right?) before finishing off with one more Space Mountain ride (no waiting since we had our Fast Pass!).
After 3 1/2 hours, Magic Kingdom had given all of the thrills it could.  So that set phase two of our Day two plan into motion… Nap time!
We were in it for the long haul and realized that we needed to pace ourselves.  Epcot had extended resort guest hours this night (from 9pm-12am) and we had dinner plans there at La Hacienda de San Angel at 7pm.  So we rested up and caught the free resort bus over to Epcot around 5pm.
Epcot is great with the park-hopper pass because of the great restaurants that surround the man-made lake.  But the rides?  Well in Meg's own words: "LAME!"
Being a space nerd, I loved the simulation ride that let you experience the G-forces of a space shuttle launch (read that again and you will be amazed that I not only attracted a female, but got her to marry me).  But that was about it.  Although the fireworks show at 9pm is pretty impressive…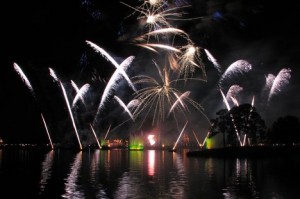 We tried as many rides as we could after dinner, but were spent by 11pm.  It was back to the resort to rest up for a final push towards Orlando domination!
Day 3
Time for early resort-guest hours at Hollywood Studios!  Got there before the gates opened at 8am and went straight for the Rock 'n' Roller Coaster Starring Aerosmith.
WOW.
Great ride and we had no wait since we were some of the first people in line.  It was definitely a coaster that needed a second ride, so we grabbed the Fast Pass and headed over to The Tower of Terror.
Still, almost no line since families do not even bother to show up until 11am.  Another great ride, but since we already had a Fast Pass for the Rock 'n' Roller Coaster, we could not grab a Fast pass.
So back to the Rock 'n' Roller Coaster to use our Fast Pass, then back to The Tower of Terror to grab a Fast Pass, and then off to explore the rest of the park.  Do you see how mind-numbingly repetitive I am being with this Fast Pass talk?  Good!  Plan out how you are going to use those Fast Passes so that you maximize your Disney experience.
After touring around the rest of the park and seeing what it had to offer, we used our Tower of Terror Fast Pass to get in one more ride before heading to our biggest surprise of the trip… Animal Kingdom!
Animal Kingdom came out of nowhere to be one of our favorite Disney parks.  After Hollywood Studios, we drove over to Animal Kingdom at noon to find that it had been infested with families.  Yet the park did a great job of keeping the lines moving and due to our Fast Pass prowess, we avoided standing around as much we could.
There are three rides you have to do at Animal Kingdom: Kilimanjaro Safaris, the Kali River Rapids, and Expedition Everest.  While no coaster at any of the Disney parks surpassed how great some of Universal's were, Expedition Everest was definitely one of the most unique coaster experiences we had.  Check.  It.  Out.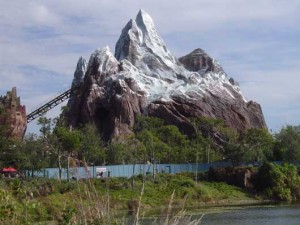 Drained after three days of hustling around Orlando, we were able to grab a quick nap back at the resort.  Then it was off to our 9pm dinner reservations at Epcot's Japanese themed restaurant, Teppan Edo (third theme park of the day for those of you keeping count… now that is how you make the park hopper pass worth the price!)  A fun, delicious way to end our whirlwind of an anniversary!
Final Thoughts
Are you as exhausted after reading all of this as we were after living it?  Probably… and for that I apologize.  But I hope you will be able to take advantage of our tips so that you can also dominate Orlando.  Universal and Disney are not just for families with kids.  If done right, they can be the perfect destination for the young couple looking for fun thrills.
If you are heading to Orlando for a vacation and want some more tips, feel free to comment below or on Twitter and we will try to help.  But if you want advice on the best rides, check back next week for my breakdown of the must-rides and must-skips at both Universal and Disney.
If you haven't checked it out, you should really take a look at our rankings of the best rides at both Disney & Universal.