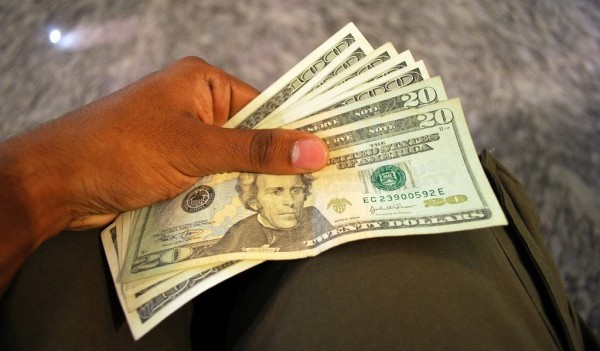 334 days of travel. $36, 774 spent.  14 countries visited.
So what was the cheapest country?
What was the most expensive?
What were the biggest surprises?
I know these are your most burning questions because you all told me. It basically comes down to everyone wondering how to travel the world on a budget.
In the budget survey we did last month, you all gave some great feedback about what you are most curious about. Since I spent the painstaking and mind-numbing time last year of chronicling every penny spent, you might as well get some benefit from them.
Hopefully all of that work will provide some real value to anyone interested in visiting a few of these places.
So let's dig into the numbers!
But First, Some Ground Rules About Analyzing How To Travel The World On A Budget
If you are curious at all about travel costs, you have probably already found a ton of different answers. I know I did when we first started researching our trip. So let me be upfront about what is included and excluded in our budget.
While I did keep track of flight costs and health insurance costs, I removed these from our daily average expenses below. This means that our total expenses of $36,774 become $24,913.
Why?
Both the cost of flights and the cost of health insurance can vary greatly by traveler!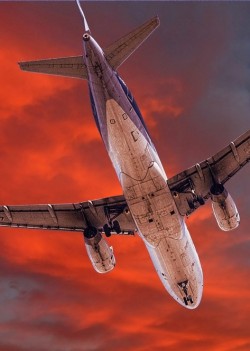 Almost everyone will pay for flights, but some get around the world tickets while others pay as they go. Since Meg had a lot of airline miles, we decided to spend them on the most expensive leg of our journey, from Lima to Paris, and payed out of pocket the rest of the way to get a little more flexibility.
This resulted in total flight expenses of $5,347.
In addition to varying costs, some long distance flights are very expensive and can artificially inflate a country's daily average expense rate. Just because we flew from Berlin to Bangkok and paid $1,400, doesn't mean you need to consider that when visiting Berlin from London.
Additionally, I removed health insurance costs.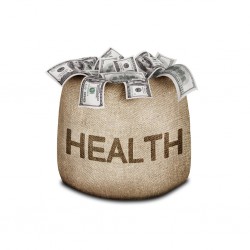 You might have universal health care from your home country or decide to use a different insurance package from the US than we did.
I have a pre-existing condition and did not want to lose creditable coverage back in the US. That means I stayed on COBRA and had to pay a really big chunk of change every month to stay insured. Meg and I also got travel insurance so that we could receive care overseas.
This averaged out to roughly $19.50 per day of travel or $6,513 total… yikes!
Many travelers just get travel insurance overseas, which can cost MUCH less. So do your homework and you could save big bucks on this budget item.
So with flights and health insurance costs taken out of the daily country averages, you get the closest apple-to-apple comparisons I could create. There are of course differences in styles of travel, but I will try to point out anything major that might have inflated a countries average.
The Big Travel Budget Reveal
So with the ground rules out of the way, the below list shows the average daily expense for a couple traveling to the 14 countries we visited, in descending order: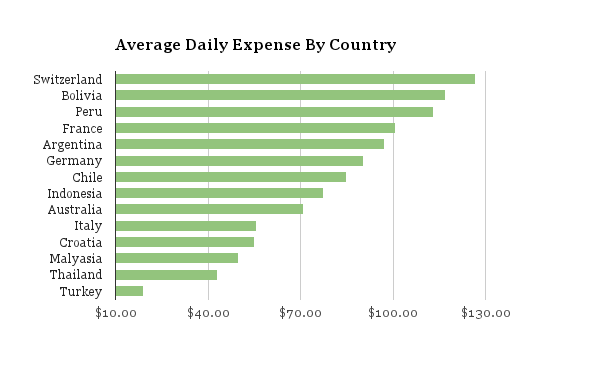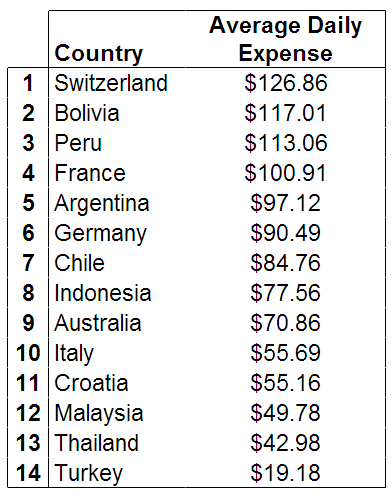 Turkey at the bottom is an outlier. The takeaway there is to invite your parents to visit you at some point in your trip and hope that they treat you to a whole lot of nice things… Thanks Mom & Dad!!!
Now lists like this always allow the reader to take away some obvious ideas about travel expenses in different countries. But I want to point out something that jumps out at me that you can't tell from just the numbers.
The Importance Of How You Travel
Don't be intimidated by the perceived cost of a country. There is so much that goes into travel budgets beyond basic costs of living. You could take the cheapest country and turn it into your most expensive vacation.
I discussed in an earlier Budget Breakdown article the big surprise that Europe was actually a cheaper destination than South America. A large portion of this was due to the epic adventures we had to pay for while in South America. We hiked the Inca Trail to Machu Picchu, ventured through the Atacama Desert to the Bolivian Salt Flats, and explored Patagonia.
The rest of our trip around the world held much fewer costly adventures, but we also explored alternative ways to travel.
We tried WWOOFing in Italy, Housesitting in Thailand, and tried housesitting again in Australia. Because of this, all of these countries are in the bottom half of our daily expense list. In the weeks to come, I will explore each of these methods of travel in more detail, but for those of you asking how to travel the world on a budget, I would highly recommend trying anything that removes the accommodation expense from your budget for a few days.
Most Expensive Country In A Year Of Travel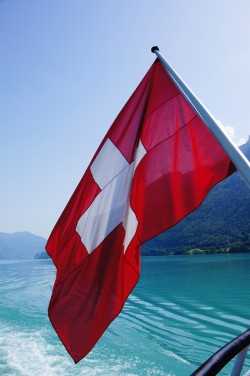 Congratulations Switzerland!
Even though we paid nothing for accommodations thanks to the generosity of friends, we still paid a fortune compared to the other countries ($126.86/day). The best example I can give that showcases the cost of this country is that a 20 minute train ride costs $10 per person… for just a one-way ticket!
I would say skip a place this expensive, but it is seriously one of the most beautiful places I have ever been. Our entire time in Switzerland was spent in the small town of Gerra Gambarogno, but we were able to visit a few nearby villages that were all just as spectacular.
If you have the time and the budget, definitely spend a few days exploring the incredible lakes in the south of Switzerland. You will not regret it.
Biggest Surprise About Our Travel Budget
Indonesia is higher up on the list than I would have thought.
But then I remembered that this daily average expense of $77.56 included the cost of getting me SCUBA certified and taking extra dives. When people tell you that you can stretch a dollar in Southeast Asia… they are not lying.
We stayed on the tiny island of Gili Air, just east of Bali, for 3 weeks. I was able to get my PADI certification for SCUBA diving while taking almost all of my lessons in open water. I cannot recommend this highly enough. Meg got certified when she was much younger, but had to do it in a pool in upstate New York. She often reminded me of this point as I swam with Sea Turtles on my training dives.
What Do You Think?
Do you think you could live on these daily averages as a couple? How much do you spend now on just rent and weekend bar visits?
It was seeing budget breakdowns like this that first got me intrigued about the idea of traveling for a year. Do you have any interesting thoughts about how to travel the world on a budget?
If you are thinking about taking a long-term trip, let me know if this list helps or if I can add any more detail.
If you have already traveled to these countries, I would love to see how our budgets compare.
Be sure to leave your thoughts in the Comments section below and to share this post on Facebook so that we can keep the conversation going.
About Tony
Quit his job to try actually following his dreams for once... and is currently loving it. He is working hard to to make this life-style permanent by writing about his adventures and brainstorming money making opportunities with his partner-in-crime, Meg.