Throughout our journey we have stayed in a plethora of accommodations.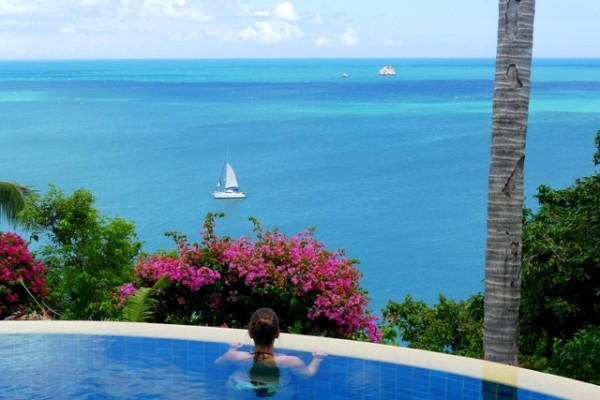 In South America, we were fresh into our RTW trip and trying to embrace the "true backpacker lifestyle".  To save a few extra bucks, we would cram ourselves into shared dorm rooms at hostels… But we soon realized that privacy was an amenity worth paying for as a couple.
In Europe we decided to shun all hostels and discovered the joy of traveling slow and renting apartments (for weeks at a time) through short-term rental companies. We also secured our first WWOOFing gig on an agroturismo in Tuscany, where we did volunteer work on the farm in exchange for food and accommodation.  We even leveraged some of my hotel points in the more expensive cities (i.e. Paris) and enjoyed the luxuries of some great five star hotels.
But it wasn't until Asia that we discovered our favorite way to travel…
Housesitting
Shortly before arriving in Asia, we registered and created a profile with Trustedhousesitters.com.   After a few days of being a member on the site, I saw a listing on the website that was for a dog sitting and housesitting job in Koh Samui, Thailand that fit our travel schedule and immediately contacted the owner.
Being new to the site and new to housesitting, I was pretty sure my email would just get ignored… but we heard back from the British owners, Ian and Deb, within a few hours. We sent a couple of emails back and forth, setup a date to Skype, and secured the job in a matter of a week.
To say our first housesitting gig was too good to be true is an understatement.
Here were all the things that rocked about our first job housesitting:
The Job
Our main responsibility was to look after Ian and Deb's two charming German Shepherds, Zeus and Zara.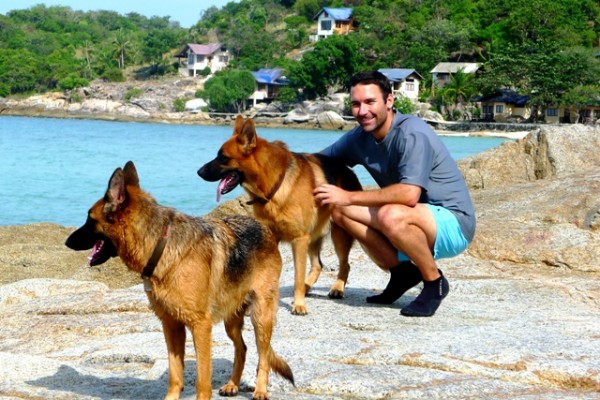 Besides general caring for the pups, we were tasked with walking and playing with them daily and making sure they felt comfortable and loved while their masters were away.  As much as Tony and I adore dogs (especially large ones), this was not what we considered a "job."
Some other responsibilities included feeding the fish in the Koi pond, cleaning the pools & testing the chlorine levels, and checking the general flips and switches of the house – water pumps, etc.
Not too difficult, right?!
Location And home
For 4 weeks, we were housesitting on the beautiful Thai island of Koh Samui. The house itself was a luxury villa/mansion perched on top of a peninsula on the Northeast side of the island that boasted panoramic views of the Gulf of Thailand from every room in the house.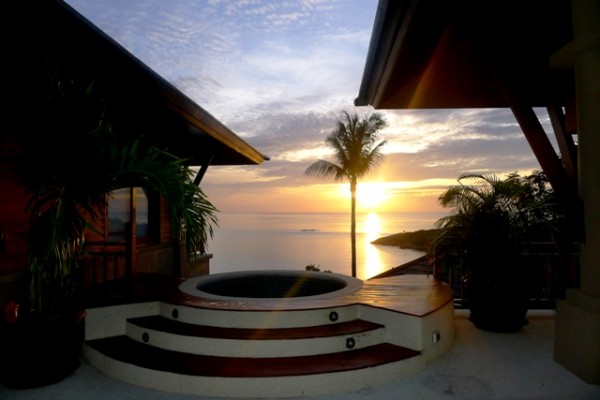 Prior to the trip, Ian sent us the link to the property's website, and I legit thought we were getting setup to be axe murdered.  Remember I said how we thought it was too good to be true?  Well, you had to see this place to believe it.
Not one but TWO swimming pools, a jacuzzi, a full gym, a media room, a Snooker room, a pool-side bar and entertainment system…. The list goes on! This place was over the top and we were so excited to be spending the month there!
Owners
Our "bosses" and owners of the home, Ian and Deb, were so nice and welcoming when we arrived.  They actually stayed on the property for 4 days prior to leaving for their trip to Europe, and during this time we had a great time over shared meals and drinks by the pool getting to know them and learning about their wonderful life together.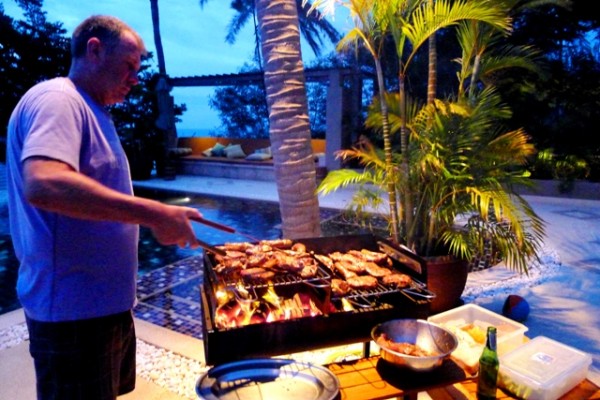 During their time away from the home, Ian and Deb were also very relaxed and hands-off.  We now consider them good friends and look forward to hopefully seeing them again in the future.
Dogs
The dogs, Zeus and Zara, were the best part about our entire trip.  These giant German Shepherds were puppies at heart and were the most lovable creatures ever.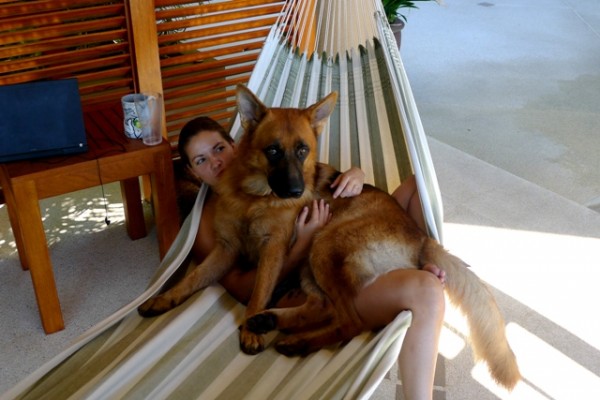 After just a few days, Tony and I were able to create a great bond with them and for the rest of our time there, Zeus and Zara followed us around everywhere, played with us every morning at the beach, and snuggled up in bed with us at night.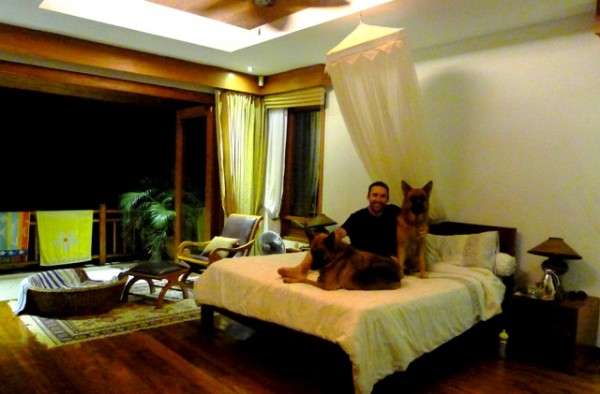 At the end of our stay, Tony and I were actually pretty darn sad to be parting ways with Zeus and Zara.  We always talk about how much we want to get a dog of our own, and looking after Zeus and Zara during our time on Koh Samui only intensified this desire… In fact, we are now talking about wanting TWO dogs!
Other Amenities
Deb and Ian gave us full access to their car, motorbikes, and mountain bikes.  During our stay, there was also a full-time staff of three.  Never having exposure to this before, Tony and I always felt weird having people clean up after us and wait on us, so we tried our best over the four weeks to keep their work around the property at a minimum.
Some other amenities included giant flat screen TVs in almost every room and access to 2,000 movies via WiFi.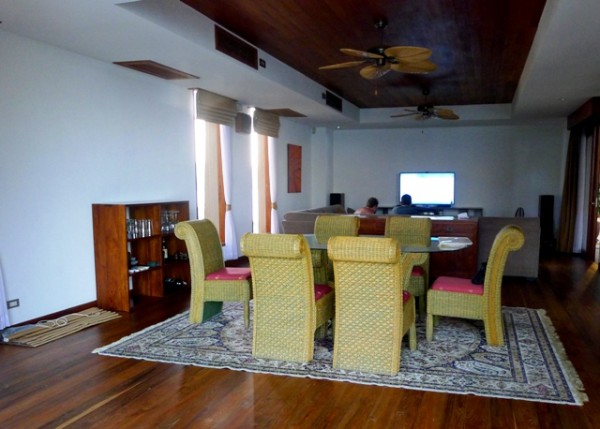 With a TV in the gym, Tony and I also cranked out some intense P-90X and Insanity workouts to keep us in proper shape to play with the dogs at the beach.
Conclusion
I'm going to go out on a limb here and say that one should not consider our experience to be a "normal" housesitting experience.  Our situation being as wonderful as it was is not the norm.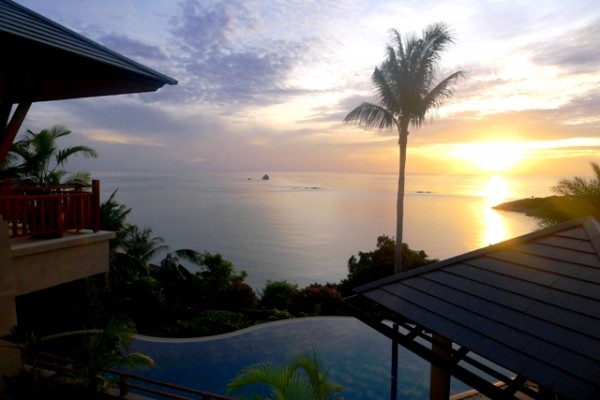 But I do believe that housesitting is an excellent way to travel the world, have a home away from home, live like a local, brush up on some responsibilities as a homeowner, and meet some fabulous people (and pets!) in the meantime.
Your Turn: Have you ever tried housesitting?  What experiences do you have? Please share your stories in the Comments section below!
About Meg
Exhausted from traveling every week as a Business Management Consultant early in my career, I took a year off in 2012 to travel at my own pace. I am a high-energy girl that loves being active, eating food, drinking wine, and exploring the world with my partner-in-crime (and husband), Tony! I now reside in Portland, Oregon and continue to write about travel, food, wine, and the awesome adventures we have in the Pacific NW!